Speed, agility and a touch of mischief got Gary Taylor on a bus carrying a women's cross-country team without notice, but sheer luck landed him in the seat next to Erin McCarthy.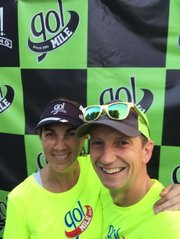 Erin, who grew up in Clarence Center, N.Y., was a junior at the University of Arkansas at Fayetteville when Gary arrived from London as a freshman, both of them on cross-country scholarships.
The first time I saw my future spouse:
She says: "I thought he was fun-loving and an incredible athlete. The first time I saw Gary I thought he was funny and fun-loving."
He says: "I thought she just looked very cool and kind of relaxed-looking and very easy-going. And that's nice."
On our wedding day
She says: "I couldn't wait to get married. I was so excited and ready to start my life with him."
He says: "I've never had my picture taken so many times as I did then. Erin is rarely on time for things. If it's 15 minutes late she's on time, the way she looks at it. But on our wedding day, she got there early."
My advice for a lasting marriage is
She says: "Really like each other. Be friends first is one of the keys because you really genuinely like each other. And you have to be good travel companions. If you can travel well together and deal with all the crazy things that happen when you travel and you like each other, you're probably going to be OK."
He says: "Don't take anything too seriously. Just because you're married, you don't have to act like you're married — you can still act like you're dating. You can still be friends and just don't act like you're married."
On an August weekend in 1982, before the semester even started, two buses -- one for the women and one for the men -- had transported the teams to Mountain Home for a race hosted by the Baxter County Booster Club.
"We didn't really treat the race very seriously. It was a little bit of a team-building kind of thing, more of a getaway," Gary says. "We were two hotshots. It was fairly easy to notice that the girls kind of liked the accent, and my friend and I decided that we might be sneaky about it and go onto the girls' bus on the way home."
They had to be quick, lest they get bumped off if the driver saw them.
"We jumped on the bus and there happened to be an empty seat next to this tall, long-legged brunette, and I sat down next to her and we got talking," he says.
They talked all the way back to Fayetteville. In fact, they chatted every time they saw each other after that -- at practice, while they trained, when they were injured (coincidentally, at the same times) -- and working out at the pool, at get-togethers with other athletes.
Gary went home to England for Christmas while Erin went home to Clarence Center. They both cut ties with their hometown sweethearts on that break.
Erin hoped Gary would ask her out when they got back to school, but their schedules were hectic.
"If you're a college runner, as soon as you get back off Christmas break it's straight into track season," Gary explains.
Erin, though, got tired of waiting.
"I just couldn't wait to go out with him, and I didn't know why he wasn't asking me," she says.
"I said to my roommate one day, 'Oh, that's it. Even if he asks me out now I'm not going to go out with him,'" Erin continues. "And then the phone rang and she picked it up and she handed it to me and said, 'Erin, it's Gary.' I said, 'You are lying like a big dog.' But it was him."
Their first date, in February 1983, was hiking and caving at Devil's Den State Park. The trails were mostly deserted and they held hands as they explored caves.
Over spring break, they borrowed a car and drove to Fort Lauderdale, Fla., where Gary's parents were staying. That summer, Gary stayed with Erin's family in New York for several weeks before heading home to England. And the next year, she visited him in England.
"We did a whole bunch of stuff because my sister is a travel agent and she put us on this stand-by list for short, quick vacations. We went to Amsterdam, we went to Paris, we went all over the place, and all around England while I was training and racing," Gary says.
Erin graduated with a degree in marketing and advertising in 1985 and took a job as a communications liaison in Washington while Gary finished his education.
They had Thanksgiving together in Arkansas, and at Christmas they went on a little tour. Stopping in New York, Gary asked Erin's father's permission to marry her, then they crossed the Atlantic to Windsor, England, where he proposed.
"He took me out to Windsor Great Park, where the kings and queens hang out and ride horses and stuff like that, near Buckingham Palace," Erin recalls. "He sat me down on this rock with a beautiful day with a gorgeous view and he got down on one knee and proposed to me."
They saw the Nutcracker ballet that night and ate fish and chips and drank Champagne on the floor of Gary's family's home, still in their formal attire.
They exchanged their vows on July 11, 1987, in Our Lady of Peace Catholic Church in Clarence Center.
Gary and Erin have four children -- Reed Taylor of Dallas; Jordan Taylor of Little Rock; Brendan Taylor of Norman, Okla.; and Kieran Taylor, who just graduated from Catholic High School for Boys and will follow in his parents' footsteps and run for the Arkansas Razorbacks track team this fall.
The Taylors own Go! Running in Little Rock. They still run together often, but it's the walks Erin enjoys most.
"We walk our dogs together in the mornings. I wouldn't trade that for anything, being with him like that," she says. "We just talk, and sometimes he holds my hand. It's very sweet. I love that."
If you have an interesting how-we-met story or if you know some one who does, please call (501)425-7228 or email:
kdishongh@sbcglobal.net
High Profile on 07/10/2016