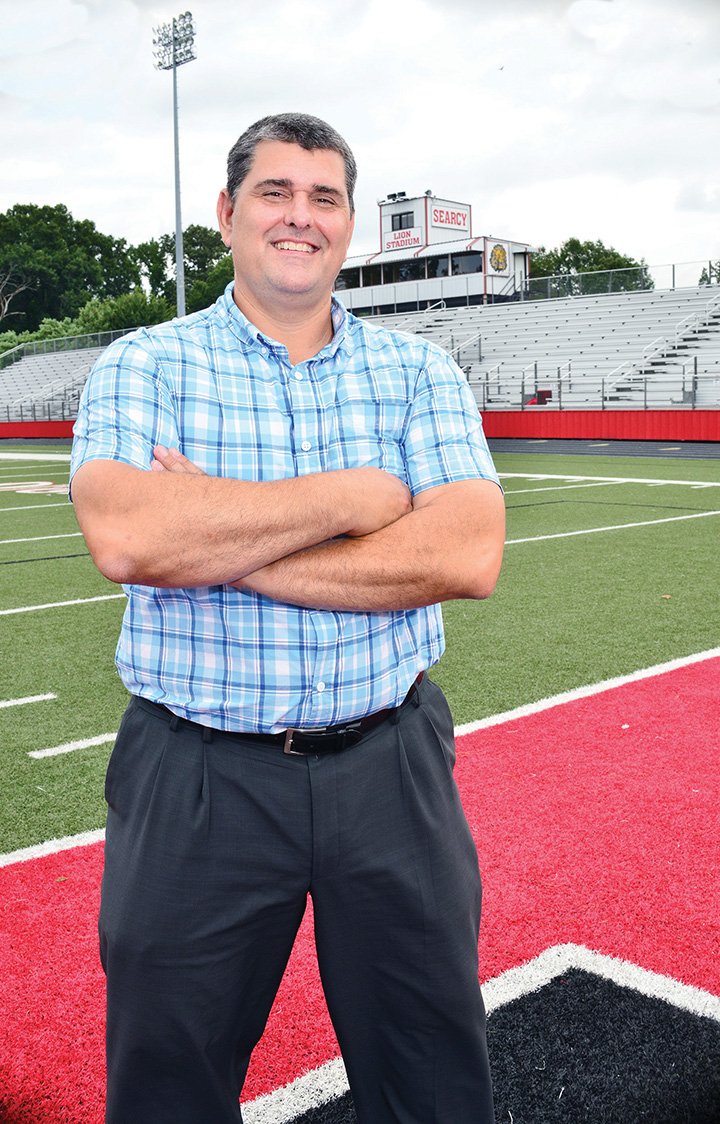 Melvin "Butch" Schucker was recently hired as the new athletic director for Searcy High School. Schucker has served in education for 26 years, including the past 13 at Clarksville High School as an assistant principal. ( William Harvey)
Resting in the bookcase behind Melvin "Butch" Schucker sits the golden apple his late father, Melvin, received after teaching chemistry and coaching for more than 32 years. The apple serves as a constant reminder of how important education is to Schucker.
"Education is the most important part for a student-athlete," Schucker said. "I'm over athletics, the facilities and the coaches.
"But also important are academics and becoming good citizens, and I want to preach that to these coaches."
Schucker was recently hired as the new athletic director for Searcy High School after James Frank resigned to go into private business in Texas. Schucker has served in education for 26 years, including the past 13 at Clarksville High School as an assistant principal. For 10 years, he coached football, track and girls basketball at Morrilton High School from 2003 to 2013.
"My goal as athletic director is to work with all the coaches and maintain a good relationship with not only our staff, but also our administration and the parents here," Schucker said. "And I have had experience with all of those, and they are all important because they intertwine and go hand in hand.
"They need me, and I need them. It is a perfect fit."
Schucker said he wants athletes to attend and pass classes, but he also wants them to become good citizens.
"Not everyone is going to play college ball or make it to the pros," Schucker said. "We want them to graduate, to be good citizens, to find a spouse and have kids and help coach, come back and support athletics.
"Education is No. 1. You are going to have that the rest of your life."
Originally from Pennsylvania, Schucker played football on a scholarship at the University of Central Arkansas in Conway under head coach Harold Horton from 1985 to 1989. Schucker played offensive and defensive line for the Bears.
Schucker's plan is to make the athletes and coaches accountable.
"Coaches, administration and the teachers are going to email each other, and if they see one of the students start to not do well, we are going to see what we can do to make these young men or women better," Schucker said. "If they are struggling in a core class such as math or English, then we are going to send them to a help center so they can get the extra help."
He said they will also be checking attendance and making sure the kids are continuing to come to school.
"My goal is to see everyone graduate," Schucker said.
Schucker said athletes in high school should also stand out in their appearance, as well as their attitude.
"They are getting stronger by lifting weights and exercising," Schucker said. "Athletes are running, lifting and jumping. Their bodies should change and be molded. We should see a difference in them from other students.
"If things are done right — exercise and a proper diet — we should be able to spot the athletes from the nonathletes."
As the new athletic director, Schucker said, he will also put a focus on technology.
"Technology has come such a long way," Schucker said. "Now we can see the small things almost instantaneously."
For instance, if a baseball player is striking out and getting frustrated at the plate, a coach is able to record him with an iPad or other tablet device, slow it down and show the player exactly what he is doing wrong.
"Using technology is important, and it helps teach them the small things so they can do it right the next time," Schucker said.
Even though Schucker hasn't been a coach at an organized level in 13 years, he never really got out of coaching.
"I coached my kids through different youth associations, and while that doesn't have the same feel as coaching at the high school level, it has changed my perspective," Schucker said.
"I have been a coach, a parent and an administrator," he said. "Because of that, my coaching philosophy has changed.
"Parents pay money to sit in the stands to watch their kids play, so we need to try to give everyone that opportunity."
Schucker has been married to his wife, Jennifer, for 26 years, and they have three children: Trey, 23, Audrey, 21, and Mason, 16. Schucker said it takes a special kind of woman to be married to a coach.
"They have to deal with a lot," Schucker said. "Coaches work long hours and spend a lot of time on the road. That's time away from the family.
"So coaches' wives are special."
Schucker said he plans to visit with all the wives at some point to introduce himself and get to know them better.
Bo Dean, who serves as the principal at Clarksville and has worked with Schucker for the past 13 years, said one of the deciding factors for when he originally hired Schucker was how family oriented he was.
"You can take a look at his three kids and tell what kind of man he is," Dean said. "He and his wife, Jennifer, have done a good job raising them."
Dean said he and Schucker didn't spend much time together outside the office, but he said they had a very good relationship, and Schucker will be missed at Clarksville.
"I think he will do a great job at Searcy," Dean said. "The people will really like him, the community will like him, and I believe the coaches will enjoy working for him.
"He loves athletics. This is the perfect job for him."
Staff writer Sam Pierce can be reached at (501) 244-4314 or spierce@arkansasonline.com.
Sponsor Content