"I like the hat," Pulaski County sheriff's Deputy Ed Johnson says of his county-issued cowboy hats. "I wear one off-duty. It makes me feel better to put it on." ( Stephen B. Thornton)
The Pulaski County sheriff's office has added cowboy hats to its uniforms, an accessory that Sheriff Doc Holladay said completes the outfit and gives deputies a more professional appearance.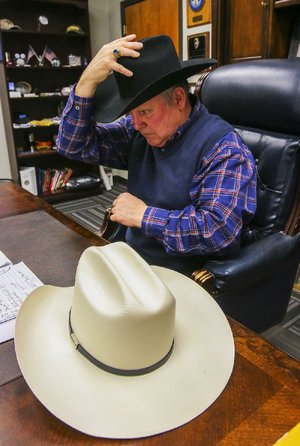 Photo by Stephen B. Thornton
Pulaski County Sheriff Doc Holladay puts on his county-issued $155 Stetson in his office Thursday. On his desk is a Resistol hat.
Over the past four months, the sheriff's office purchased 120 Stetson felt hats at $155 apiece, 142 Resistol straw hats at $42.49 apiece and one hat cover for $50.36, according to department invoices. The records were released under the state's Freedom of Information Act.
Altogether, the hats cost $26,761.65.
That's 44 percent of the department's $60,000 annual clothing and uniform budget, which covers the purchase of new uniforms, alterations and repairs for 140 sworn personnel. It's under a larger operations budget of $10.5 million that includes building maintenance, phone and utility expenses.
"The money was available," Holladay said. "It's a part of what we provide to the deputies for their uniforms that's not an expense to them. It's one of those things that's a required part of the uniform, and everyone had to go in and everyone had to have their head sized. Everyone had to participate. So it's just utilizing part of our uniform budget to complete the uniform."
The cowboy hats are optional while deputies are on patrol. But the hats, which the sheriff described as "proper, professional headgear," are required, along with a tie, at ceremonial events such as funerals and awards banquets.
It's not the first time wide-brim hats have been part of the uniform. Decades ago, deputies wore campaign hats, headgear that Arkansas State Police troopers and, perhaps most famously, the Royal Canadian Mounted Police wear.
Pulaski County sheriff's deputies in recent years have worn baseball caps with the sheriff's office emblem on them, but there's been no official hat for some time, according to Holladay.
It's the third image revamp Holladay has made at the department since he was elected sheriff in 2006. The first was changing the uniform color from dark blue to tan.
"Everybody back then -- us, Little Rock, North Little Rock, even court personnel at Little Rock municipal court -- everybody was in blue," he said. "You could stand on the street corner at Markham and Broadway with all four agencies represented, and unless you looked at the patch, you couldn't tell who was whom. So we decided we needed our own identity."
Holladay also changed the appearance of sheriff's office vehicles, switching paint and decals from white-with-blue stripes to black-and-gold.
He said the cowboy hats are probably his final department makeover.
"I've been looking for something, a more professional look, to complete the uniform. And so we explored the possibilities, the options that were out there, and decided that this cowboy hat look was appropriate because they're styles that are most common in sheriff's departments around the country," he said.
Not all sheriffs share Holladay's sentiment.
The sheriff in Sublette County, Wyo., banned cowboy hats and boots at the department last year, saying he wanted a more uniform and professional look for his deputies. At least one deputy resigned over the new dress code, according to reports.
In Texas -- where cowboy hats have a long history and popularity with lawmen, and are part of the Texas Highway Patrol official uniform -- the Bexar County sheriff's office banned the hats for two decades. A new sheriff, elected in 2013, brought back the cowboy hats as an optional accessory.
The Pulaski County sheriff's office bought its hats from Cavender's Western Outfitter and Crossroads Western Wear. Cavender's advertises the Stetson cowboy hat as "the essence of the spirit of the West and an icon of everyday American lifestyle."
Holladay said the hat's association with the Old West wasn't a factor in the purchase, though he does enjoy a good Western film -- mostly Henry Fonda classics -- and has an interest in the era.
In his office, the sheriff has several books on John Henry "Doc" Holliday, the famed American gambler and gunslinger whose nickname Holladay adopted. There are also framed photos of Holliday, alongside family portraits, election certificates and the sheriff's collection of coffee mugs.
The sheriff's cowboy hats, size 71/8, had been placed below one of those Holliday photos during a recent interview.
Deputy Ed Johnson has been wearing the department-issued hats since January. He wears his own Resistol-brand hats at home, where he has five riding horses.
"I like the hat. I wear one off-duty. It makes me feel better to put it on," said Johnson, a tall man with beard stubble and a slight Southern accent.
Johnson said that in southwest Pulaski County, where he patrols, many residents wear cowboy hats. He said his new work headgear has been well-received.
"Everybody so far has said they like it," he said.
Holladay also said public feedback has been positive, but a deputy's appearance is worth only so much.
"Even if you have your uniform, unless you talk to people professionally and treat people professionally, the hat, the uniform, all that, it doesn't make a hill of beans," he said.
Metro on 03/27/2016
Print Headline: Sheriff's office going for a new look; Holladay pays out $26,761 for cowboy hats for deputies
Sponsor Content