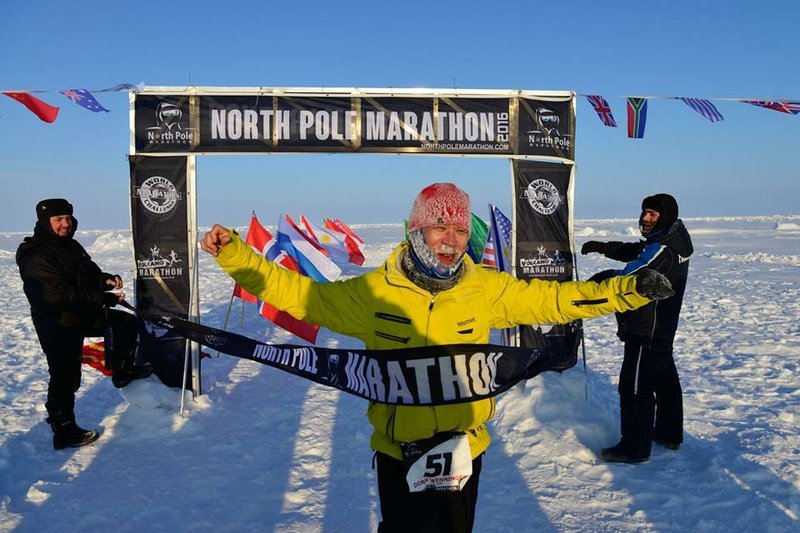 Dorn Wenninger, vice president of global food sourcing in Latin America at Wal-Mart Stores Inc., is the first to cross the finish line at the North Pole Marathon in April.
Dorn Wenninger describes himself as an adventurous person, and it was apparent as he hunkered down in a tent for three days at the North Pole.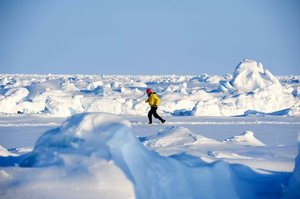 Photo by Special to the Democrat-Gazette/NORTH POLE MARATHON
Dorn Wenninger, a vice president at Wal-Mart, runs across the Arctic's frozen surface. He won the North Pole Marathon in April.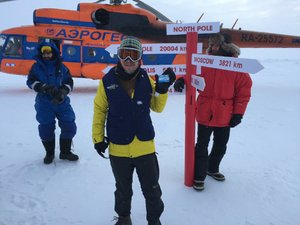 Photo by Special to the Arkansas Democrat-Gazette/NORTH POLE MARATHON
On his way to the North Pole Marathon, Dorn Wenninger took a helicopter ride to 90 degrees north latitude — the top of the world — for a photograph. Vice president of global food sourcing in Latin America at Wal-Mart Stores Inc., Wenninger wore his Wal-Mart vest and held his employee badge in the photo.
The 47-year-old, the vice president of global food sourcing in Latin America at Wal-Mart Stores Inc., traveled to the top of the world in April for an extreme event called the North Pole Marathon.
But there was a problem before the race could even begin. The arrival of half of the registered competitors was delayed because of a large crack in the ice runway that served as the landing strip, leaving Wenninger and others stranded in temperatures that dipped as low as minus 40 degrees.
"Most of us wanted to just run, but they wouldn't allow us to run because of the risk of hypothermia, frostbite, further ice cracks or polar bears," Wenninger said. "You're at your most dangerous when you're out on the polar ice, and the organizers weren't willing to run the race if it wasn't possible to evacuate anyone in the case of an emergency. So they forced us to wait until they built a new runway."
The runway work was finished after three days, allowing the rest of the marathon's competitors to arrive. Then Wenninger and the group got their wish to run.
He also became the first of 47 participants to cross the finish line, claiming the title of 2016 North Pole Marathon champion after completing the event in 5 hours, 17 minutes and 33 seconds.
The unexpected victory has led to plenty of renown at Wal-Mart. He was welcomed back to work in Bentonville by applause from co-workers and received congratulatory emails from Wal-Mart employees around the world. Wenninger also got a social media pat on the back from Wal-Mart Chief Executive Officer Doug McMillon, who recounted Wenninger's story in an Instagram post and said it was an example of "incredible associates doing incredible things."
"I never intended or even thought that I would win," Wenninger said. "I love to run and push myself and do things that people don't think are possible, including myself, because the reality is that they are possible. To me, I was just fortunate to be at the North Pole and even more fortunate to be running."
That desire is simply part of Wenninger's makeup, according to his wife, Dominique.
Wenninger, originally from Kent, Ohio, is an avid runner who also has spent much of his life traveling the world. Dominique Wenninger said her husband's interest in the latter was "sparked" as a teenager when he volunteered for a nonprofit organization and traveled to Central and South America.
"He's had this adventurous spirit for a very, very long time," she said.
By his own count, Wenninger has been to 95 countries and run marathons on five continents (North America, South America, Antarctica, Europe and Asia) before the race.
The North Pole Marathon, established in 2002 when race owner and director Richard Donovan ran alone, is held on the frozen waters of the Arctic Ocean. Less than 500 competitors have completed the "World's Coolest Marathon," where gun-carrying guards protect the route to make sure polar bears don't attack participants.
There's no way to prepare for elements, Wenninger said. Being in Arkansas during a mild winter didn't help either. He prepared for the marathon by running on mountain biking trails behind Bentonville's Crystal Bridges Museum of American Art in an attempt to mimic the terrain he would be facing.
"Running on snow and ice and in the Arctic Circle is completely different than running on pavement," Wenninger said. "So I would run on the single-track mountain bike trails, which, because of the gravel, dirt, hills, it builds the lateral strength and the core strength."
Wenninger's self-funded excursion was supposed to span a week but stretched into two because of delays associated with the unpredictability of the Arctic Circle.
So just making it to race day proved to be an exercise as Wenninger flew from Arkansas to Chicago to London and then Oslo, Norway. His next flight was to Svalbard, a group of islands located halfway between Norway and the North Pole. There, Wenninger lingered for five days because of delays.
"This was not a typical pre-race regiment of having your night-before pasta dinner and a great night's sleep," Wenninger said.
He finally made it to the North Pole and, after arriving, took a helicopter ride to 90 degrees north latitude -- the top of the world -- for a photograph. Wenninger wore his Wal-Mart vest and held his employee badge, which fell off because the rubber connector froze and shattered in the extreme cold.
He returned to the race's base camp and, about an hour later, a giant crack split the runway and delayed the start of the race for three days. Wenninger was able to contact his wife on a satellite phone to tell her he was stranded but safe, and that there was plenty of food while they waited for the repairs.
He asked her to call his boss at Wal-Mart to let him know his return to work would be delayed for a few days.
"At that stage, it was up to Mother Nature when I was getting home," Wenninger said. "Being in the produce business, I'm very accustomed to being at the whims of Mother Nature."
Race day finally arrived, and Wenninger, bundled in Arctic gear along with the rest of the competitors, began his journey.
Meanwhile, his wife and their two daughters anxiously followed along at home on the marathon's Facebook page. She credited the organizers for doing a good job of updating everyone as often as possible, but said there was about a two-hour time lag.
"Someone would have to phone with a satellite phone to someone who had Internet connection to be able to update Facebook," she said. "So it was pretty tense."
Wenninger trailed other competitors for most of the race but realized he had a chance to win around the 20-mile mark. He moved into the lead with about 5.5 miles remaining.
The final stretch was challenging as Wenninger ran through ice and patches of knee-deep snow, but he was able to cross the finish line first. The second-place finisher arrived 13 minutes later.
"Weirdly, all the training I had done behind Crystal Bridges, I knew that I had it in me in such harsh conditions," Wenninger said. "The last six miles were almost as if you're in a trance and you're just oblivious to the cold and overexertion and the pain and just focused on finishing the race."
Wenninger has recounted the victory numerous times with friends, family and co-workers in the two weeks since returning home, a trip that spanned five flights. But he hasn't grown tired of talking about the adventure. He also said Wal-Mart has been exceptional in its support of his accomplishment, asking him to share his experience during an officers meeting the first Friday he returned to work.
While he hasn't been home long, Wenninger already is looking ahead. He knows there are only 26 people in the world who have accomplished something even more remarkable, running seven marathons on seven continents in seven days. Wenninger would like to join the elite group.
"Right now, I've got my eye on that as my next big challenge," Wenninger said.
SundayMonday Business on 05/01/2016
Print Headline: Wal-Mart exec wins 'Coolest Marathon,' on top of the world
Sponsor Content