The number of state employees whose salaries are at least $100,000 a year increased by 137 to 2,722 this fiscal year.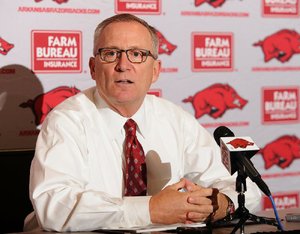 Photo by Andy Shupe
Jeff Long, athletics director for the University of Arkansas, is shown in this file photo.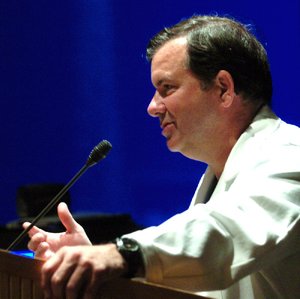 Photo by Democrat-Gazette file photo
Dr. Lowry Barnes, chair of orthopedics and other orthopedic surgeons at UAMS, is shown in this file photo.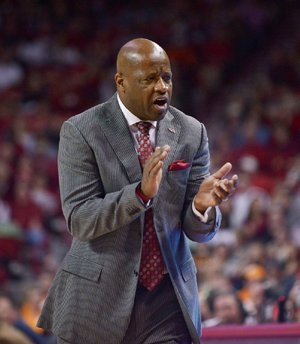 Photo by Ben Goff
Arkansas coach Mike Anderson reacts to a call on Saturday Jan. 6, 2016 during the game against Tennessee in Bud Walton Arena in Fayetteville.
Michiaki Imamura, who is chief of pediatric cardiovascular surgery at UAMS and practices at Arkansas Children's Hospital.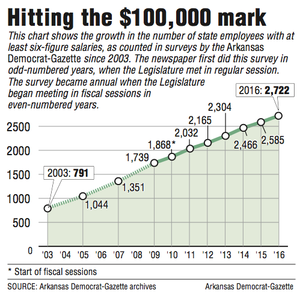 Photo by SOURCE: Arkansas Democrat-Gazette archives / Arkansas Democrat-Gazette
Chart showing state employees with at least six-figure salaries.
In recent fiscal years, the annual growth has ranged from 119 in fiscal 2015 to 164 in fiscal 2011.
About this story
Since 2003, the Arkansas Democrat-Gazette has surveyed state agencies and higher-education institutions for information about employees who make at least $100,000 a year. The surveys initially were done in years of regular legislative sessions and became annual when the Legislature began meeting in fiscal sessions.
The salary information was obtained in mid-fiscal 2016 under the state Freedom of Information Act by reporter Michael Wickline. Brian Fanney, another reporter, placed it in a spreadsheet and helped with verification. Sandra Tyler and Chris Carmody of the copy desk edited the information, and Kirk Montgomery of graphics put it in its final form.
The information was updated when the staff learned of position changes.
[SEARCH: State employee salaries]
[SEARCH: College/university employee salaries]
Most of this fiscal year's growth occurred at the University of Arkansas for Medical Sciences, a teaching hospital where the number of state employees making at least $100,000 increased by 74 to 1,254. That increase is the largest at UAMS since fiscal 2011, when the number increased by 80.
The ranks at other higher-education institutions increased by 43, to a total of 1,083. Higher-education institutions include two-year and four-year universities.
Among employees who work at state agencies other than higher-education institutions, 385 -- an increase of 20 -- earn six-figure salaries.
These figures are based on the Arkansas Democrat-Gazette's collection earlier this fiscal year of salary information from more than three dozen repositories of state employee information.
This newspaper has collected this information in concert with regular legislative sessions -- held in odd-numbered years -- since 2003. In 2003, the state had 791 employees who earned six-figure salaries, including 709 at colleges and universities.
Since 2010, when the state began holding fiscal legislative sessions in even-numbered years, this newspaper has gathered this salary information annually, in concert with the annual legislative sessions.
Funding for state government's 2,722 highest-earning employees comes from a variety of state, federal and private sources, including tuition, hospital billings and taxes.
The highest-paid state employee is Bret Bielema, who makes $4.1 million a year as the head football coach at the University of Arkansas at Fayetteville. His boss, Athletic Director Jeff Long, makes $1 million a year. UA Chancellor Joseph Steinmetz is paid $450,000.
"Each position has to be evaluated separately based upon skill level, private-sector salaries and demand," said Gov. Asa Hutchinson, when asked about the growth in the number of employees making six-figure salaries.
The newspaper's survey excludes elected officials. Hutchinson is paid $141,000 a year as the governor.
"If these positions are in the medical field, then the salary level may be justified. If the positions are not medical, then they should be comparable to the pay range for other state employees," the Republican governor said in a written statement. He was sworn in as governor on Jan. 13, 2015, succeeding Democratic Gov. Mike Beebe.
The governor doesn't have direct control of the state's higher-education institutions, but he appoints trustees to the universities' governing boards when terms expire or trustees depart before their terms end. The Legislature sets the maximum-authorized salaries for state employees.
Senate President Pro Tempore Jonathan Dismang, R-Searcy, said lawmakers tend "to look at [UAMS] differently" from any other state agency.
"We want to have talent at UAMS, and that requires an investment on the state side," he said. "You want to have the best of the best, and it's competitive and ... you get what you pay for.
"UAMS is a source of pride for the state," Dismang said.
UAMS
The number of UAMS employees earning at least six figures increased by 74 this fiscal year. Fiscal 2016 ends June 30.
UAMS "opened new educational and clinical programs to meet the needs of the state that have required hiring employees," UAMS spokesman Leslie Taylor said of the increase.
The institution opened various types of clinics in Little Rock, Maumelle and Fayetteville, and expanded regional centers in Jonesboro and Texarkana and its dental program.
"We recruited Dr. Lowry Barnes, as chair of orthopedics and other orthopedic surgeons," Taylor wrote. "We added a Doctorate of Physical Therapy degree program and internal medicine residency at our campus in Fayetteville. ... We hired new deans for the Colleges of Medicine, Nursing and Pharmacy. We recruited Dr. Fred Prior, who oversees the National Cancer Institute's Imaging Archive, as chair of the Department of Biomedical Informatics."
The total number of employees at UAMS is about 10,200, and that has remained relatively constant over the past year. UAMS faculty and staff salaries are lower -- in many cases, substantially lower -- than those at many other academic medical centers, according to an analysis of benchmarking data from the American Association of Academic Medical Centers, Taylor said.
UAMS employees received 2.5 percent pay raises last year.
The total budget at UAMS in fiscal 2016 is $1.463 billion, up from $1.405 billion in fiscal 2015, Taylor said.
Most UAMS funding comes from patient-care revenue, budgeted at $1.083 billion in fiscal 2016, an increase from $1.021 billion in fiscal 2015, she said.
UAMS' total state appropriation is $106.4 million in fiscal 2016, compared with $106.6 million in fiscal 2015, according to Taylor.
"Although we receive $106 million in state appropriation, $85 million of that is used as state matching funds for Medicaid programs, leaving only $21 million as our net state appropriation. That is less than 1.5% of our budget," she wrote in an email.
UAMS' grants and contracts are budgeted at $145.5 million in fiscal 2016, down from $155.1 million in fiscal 2015, while gifts and other funding sources are budgeted at $90.9 million in fiscal 2016, up from $85 million in fiscal 2015, Taylor said. And tuition and fees are budgeted at $37.45 million, compared with $37.49 million in fiscal 2015, she said.
Last month, UAMS Chancellor Dan Rahn warned that the institution was projected to incur $65 million more in annual uncompensated costs for providing services to uninsured people, if Arkansas' Medicaid expansion wasn't reauthorized. In April, a bill signed by the governor reauthorized the use of federal funds for the Arkansas Works program.
OTHER STATE AGENCIES
The number of employees who make at least $100,000 a year and work for state agencies other than higher-education institutions increased by 20, to 385, in fiscal 2016.
Sen. Bryan King, R-Green Forest, said it's difficult to justify such growth during the past several years at those agencies.
For example, he said, the Livestock and Poultry Commission, the Forestry Commission, the Plant Board and the Natural Resources Commission don't need directors and could be better melded into the state Agriculture Department. That idea hasn't gotten much traction in the Legislature.
Department of Human Services Director Cynthia Gillespie, a former aide to then-Massachusetts Gov. Mitt Romney, is the highest-paid of these employees. Her salary is $280,000, more than $117,000 a year higher than her predecessor, John Selig.
Gillepsie has been the department's director since March 1. For most of her first two months in the job, she worked under a consulting contract with the department until the Legislature raised the DHS director's salary. Previously, she worked as a principal at Dentons US LLP, where she led the health policy team with a focus on federal and state policy.
Hutchinson believes that the higher salary was needed so the state could hire the best candidate to manage its largest agency, Hutchinson spokesman J.R. Davis said when Gillespie's hiring was announced in February. The agency has an $8.3 billion budget and more than 7,000 employees.
Legislative leaders said they hope Gillespie can fix the various problems and make DHS more efficient and ultimately save millions of dollars.
Education Commissioner Johnny Key, a former Republican state senator from Mountain Home and former associate vice president for university relations at the UA System, is the second-highest-paid of these non-higher-education state employees. His salary is $233,489.
Hutchinson nominated Key for the job, and the state Board of Education confirmed him in March 2015. State law had to be changed so Key could qualify for the job. The change, adopted in 2015, allowed for either the education commissioner or deputy education commissioner to meet the minimum requirements for education, experience and licensure for the job. Although Key doesn't meet the standard, his deputy, Mark Gotcher, does.
Nathaniel Smith, director of the Health Department, is the third-highest-paid of these employees. His salary is $219,779. He has been the department's director since 2013.
In 2015, the Legislature authorized 1 percent cost-of-living raises in fiscal 2016 for non-higher-education employees. Last month, Hutchinson authorized merit bonuses of up to 4.5 percent for state employees at the end of this fiscal year.
About 27,870 state employees received the 1 percent cost-of-living raises, costing the state $10.9 million in fiscal 2016, said Jake Bleed, a spokesman for the Department of Finance and Administration. That boosted the average annual salary of employees on the Administrative Statewide Information System, the state's computerized accounting system that's often referred to as ASIS, from $39,337 to $39,598, he said.
In the fiscal legislative session that adjourned Monday, the Legislature and Hutchinson declined to provide funding for a cost-of-living increase for these state employees in the next fiscal year, which starts July 1.
The Legislature and Hutchinson included a $142.7 million increase in the state's fiscal 2017 general revenue budget that they passed last month. Most of the increased funds will go to the Department of Human Services and to public schools.
Hutchinson has ordered the finance department's office of personnel management to review employee pay plans and personnel policies, and "this review will result in the development of new, more-competitive pay plans and streamlined policies, which will be implemented by July 2017 for the 2018 fiscal year," said finance department Director Larry Walther.
Employees at the states' higher-education institutions are among those who aren't on the Administrative Statewide Information System.
Executives at the state's two-year and four-year colleges decide whether to grant pay raises, and they can tap funding sources other than state general revenue, such as tuition, fees and private funding sources.
Full-time employees at two-year and four-year higher-education institutions, other than at UAMS, earned an average annual salary of $50,214 last fall, compared with $49,707 in the fall of 2014, said Brett Powell, director of the state Department of Higher Education.
The number of full-time employees at higher-education institutions other than at UAMS was 15,154 last fall, up from 15,063 in the fall of 2014, he said.
HIGHEST-PAID EMPLOYEES
Bielema's $4.1 million salary includes a $100,000 pay raise that he received in January.
The coach's salary includes retention payments of $125,000, paid twice per year, while he remains with the Razorbacks. The UA portion of his fiscal 2016 salary is $3.35 million. The Razorback Foundation pays $500,000, and the retention bonuses make up the final $250,000.
UA hired Bielema in December 2012 from the University of Wisconsin, where he coached for seven years and led the Badgers to three consecutive Rose Bowl games.
The salary of the previous, non-interim, Razorback head football coach, Bobby Petrino, was $2.95 million. Petrino was fired in April 2012 after trying to cover up his relationship with a 25-year-old female employee of the football program.
Mike Anderson, UA's head basketball coach, is second-highest on the salaries list, earning $2.45 million.
Formerly head coach at the University of Missouri and the University of Alabama at Birmingham, Anderson was hired in March 2011 to succeed John Pelphrey, whose salary was $1.245 million before he was fired.
Michiaki Imamura, who is chief of pediatric cardiovascular surgery at UAMS and practices at Arkansas Children's Hospital, is the third-highest-paid state employee at $1.072 million. He receives $348,756 from private foundation funds, while the rest of his salary comes from professional fees, Taylor said.
Imamura began working in Arkansas in fall 2010, succeeding Robert Jaquiss, whose salary was $1.1 million before he left to take a job at Duke Children's Hospital in North Carolina.
Barnes, chairman of the UAMS Department of Orthopedic Surgery, is the fourth-highest-paid state employee at $1.056 million this fiscal year. He receives $223,788 from private foundation funds, and the remainder of his salary comes from professional fees, Taylor said.
Long, UA's athletic director, is fifth on the top salaries list.
In September 2007, Long was hired from the University of Pittsburgh, where he was athletic director, to replace Frank Broyles, Arkansas' athletic director from 1973-2008 and head football coach from 1958-76.
SundayMonday on 05/15/2016