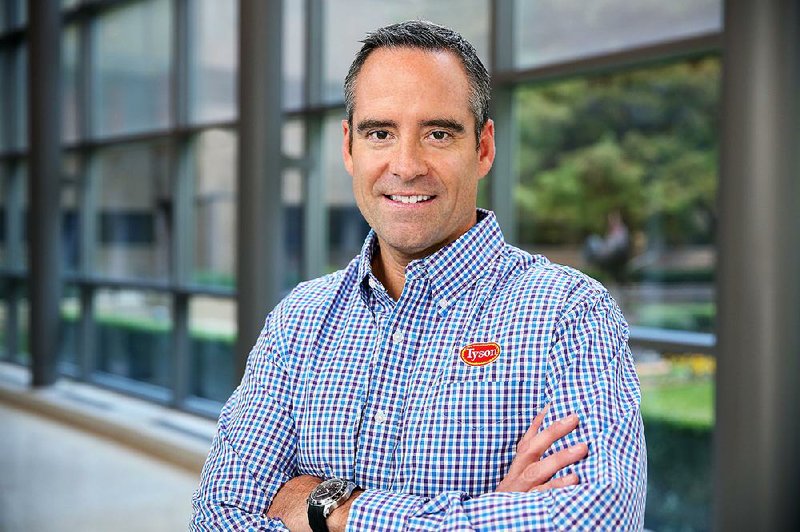 Tom Hayes, new Tyson Foods CEO
Donnie Smith, Tyson Foods' chief executive officer, is stepping down amid concerns about the meatpacking giant's ability to sustain high profit growth and as the company battles lawsuits over the poultry industry's chicken pricing.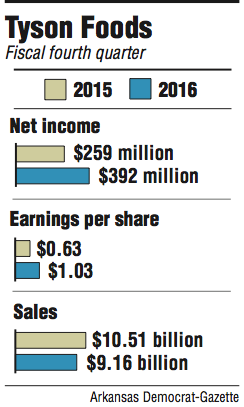 Photo by Arkansas Democrat-Gazette
Graphs showing information about Tyson Foods' Fiscal fourth quarter
Smith will leave Tyson at end of the year, the company said Monday. Tom Hayes, a former Hillshire executive, will take the company's helm after Smith's departure. Hayes was named president of the company in June, a title Smith once held. At the time, John Tyson, chairman of the company, described the move as "succession planning."
BMO Capital Markets analyst Ken Zaslow questioned the timing of the leadership change during a conference call with analysts Monday morning. The company canceled a conference call with reporters that it had scheduled before the Smith announcement.
"Donnie, I have to say that your timing of your retirement may not be perceived as optimal," Zaslow said during the analyst call. "Tyson is in the middle of a class-action suit. Earnings fell short of expectations on the perception that you've kind of reached peak earnings. ... Why not hand the reins over once the dust settles a little bit?"
Smith said that lawsuits regarding chicken-price fixing against Tyson aren't the reason for his departure. Earlier this year, an analyst at Pivotal Research downgraded Tyson shares after a number of lawsuits were filed against the company alleging price collusion in the chicken market. Tyson's stock price temporarily fell after the downgrade.
"We're looking forward to defending ourselves in court on the litigation," Smith said. "That has nothing to do with the transition."
The announcement of new leadership at Tyson comes as disappointing fourth-quarter results sent the company's stock tumbling more than 14 percent Monday. The shares fell $9.76 to close at $55.72.
Smith has seen the company's share price quadruple during his time as CEO. The announcement of his departure also contributed to the fall in Tyson's stock price on Monday, analysts said.
"When you see these kinds of changes, it creates turmoil," said David Anderson, an agricultural economist at Texas A&M University. "The company has performed so well for so many years, and now there's uncertainty."
Tyson attributed the lower-than-expected earnings to a planned slowdown in poultry production and a $20 million increase in feed costs. After a year of record meat production, some analysts are concerned that Tyson's high earnings growth has peaked.
The company reported at profit of $391 million, or $1.03 a share, which is an increase of 34 percent from the same quarter last year. Analysts surveyed by media and information company Thomson Reuters had forecast earnings per share of $1.17. Revenue slipped 13 percent in the fourth quarter to $9.16 billion, missing analyst estimates of $9.38 billion.
Tyson also estimated future earnings in a range of $4.70 to 4.85 per share, below the media and data company Bloomberg's survey of analysts at $4.99.
"They stumbled, and it was a combination of market conditions and execution," said Bob Williams, senior vice president at Simmons First Investment Group. "Grain prices are up, the demand for chicken was down, and despite their best efforts to pull themselves away from the commodity structure, they've been unable to completely do so."
Smith steered Tyson during years of rapid growth as the company has evolved beyond its commodity roots since he took over as CEO in 2009. For the past four years, Tyson has posted record profits, and the past 12 months saw the company's stock rise 54 percent. Smith has worked for Tyson for 36 years.
Smith's departure underlines a shift in the company as it focuses more on prepared foods and brands. Tyson acquired Hillshire and its portfolio of well-known brands, including Jimmy Dean and Ballpark, for $7.7 billion in 2014.
Hayes has reached the top spot at Tyson after two years with the company. He is one of several former Hillshire executives to rise rapidly in Tyson's ranks -- Joel Nichol, a former vice president at Hillshire, is now the senior vice president of Tyson's Wal-Mart Division.
As president, Hayes received an annual base salary of $950,000. Smith was paid about $1.5 million in the company's past fiscal year, according to Tyson's proxy statement.
"The timing I think from everybody's perspective couldn't be better given the great shape that Donnie's brought the company to," Hayes said during the conference call.
Smith will be available as a consultant for the company for three years. According to a Monday regulatory filing with the Securities and Exchange Commission, the company's board made Hayes its 10th member and heard about Smith's intent to resign last week.
"He's not going anywhere for three years," Hayes said. "He's going to be on speed dial for me."
A Section on 11/22/2016
Print Headline: Tyson CEO Smith leaving; Hayes to take role; shares fall as 4th quarter disappoints
Sponsor Content