HOT SPRINGS -- A whole book has been written about Adam Brown, but he could be summed up briefly.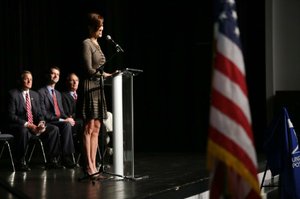 Photo by Mitchell PE Masilun
Kelley Brown, the widow of Adam Brown, speaks to a crowd of about 200 during a dedication ceremony Monday for the renaming of a post office in Adam Brown's honor. Behind her are U.S. Rep. Bruce Westerman (from left) and U.S. Sens. Tom Cotton and John Boozman.
Determined. Spiritual. Redeemed. And Fearless.
About 200 people gathered Monday at the Hot Springs Convention Center to honor Brown, a Navy SEAL who died in combat in Afghanistan in 2010.
They included family, friends, politicians and the Lake Hamilton High School Marching Band. Also postmasters, because the naming of a post office in Hot Springs in honor of Brown was the specific occasion.
The general occasion was remembrance. Fond, loving, admiring remembrance.
Fond: "He was goofy," his cousin Crystal Smith said. "He did the whole take your nose thing when we were little. He always found a way to make me and my little sister laugh or smile."
Loving: "You never get over it," his father, Larry Brown, said. "Not a day goes by that I don't think of Adam. But you don't want to forget."
Admiring: "SEALs may seem like supermen to us," U.S. Sen. Tom Cotton said. "But there are many lessons we can take away from Adam's life."
Maybe the most important lesson is that Adam Brown never gave up. He beat a drug habit picked up between high school and the Navy, when he was rudderless to the point that he stole from his own family. The low point was when Adam's parents, Larry and Janice, refused to bail him out of the Garland County jail.
"He was willing to try anything," Larry Brown said. "That got him into trouble. He did everything 120 percent. He got into drugs 120 percent. But no matter what your problem is, you are redeemable."
Adam Brown spent months in Teen Challenge, got straight, then found Jesus and the U.S. Navy. A friend's father, a Navy officer, went out on a limb to ensure Adam's enlistment.
Brown suffered an injury to his right -- dominant -- eye in a training exercise, learned to use his left eye to shoot and stayed a SEAL. He eventually needed a prosthetic eye.
He nearly lost the fingers on his right hand when two combat vehicles collided in Iraq. Again, he beat the medical odds and was serving in the famous SEAL Team Six when he suffered, fatally, numerous wounds in a raid on a Taliban outpost in Kunar province. He was posthumously awarded the Silver Star.
All this and more is detailed in the 2012 book Fearless, written by Eric Blehm with the cooperation of the Brown family. Blehm, speaking from his home in San Diego, said Brown's story "gets people."
"People walk away with the lesson that no matter how bad it gets you can overcome those darkest hours of your life. Some people say God doesn't give you what you can't handle. Adam showed you can overcome your darkest hours if you have faith and never give up."
"I think there are a lot of people who overuse the word hero," Blehm said. "Adam was a small-town boy who overcame a lot of obstacles. It's a beautiful message, a little glimpse into the heart of America. Anyone who wants a taste of what it is to be an American, to illustrate that classic American hero, read this book, read his story."
The post office isn't the city's first commemoration of Brown. A statue of him was dedicated on Pearl Harbor Day in 2014. Dick Antoine, who was involved in raising money to have the statue built, said it cost about $60,000. The statue is at the veterans memorial on Orange Street, across from the farmers market.
The statue is 8 feet high and stands on a 4-foot concrete platform. Greg Marra of Sarasota, Fla., sculpted it.
"It's unbelievable," Antoine said. "It looks exactly, exactly, like Adam."
Down to the eye.
In one hand, Brown holds a Bible. In the other, a shoe hanging by its strings. The Bible represents Brown's deep faith. The shoe represents the 500 pairs of shoes sent to him in Afghanistan by people in Hot Springs. Barefoot Afghan children were the recipients.
Money for the statue was raised at an event in 2014 at First Baptist Church in Hot Springs. Pastor John McCallum didn't know Brown but was moved by his story. He read the book, as did everyone he knew in Hot Springs, McCallum said.
"Even the strongest and most fearless among us need faith, something larger than ourselves," he said.
Brown's life had a deep spiritual element.
"Adam Brown was strong, fearless, but still saw the need for Christ as his highest commander," McCallum said.
Monday's dedication was notable for the congressional brass.
U.S. Rep. Bruce Westerman, a Republican from Hot Springs, joked that the naming of a post office required an act of Congress. His bill to rename the post office at 620 Central Ave. the Chief Petty Officer Adam Brown Post Office was approved unanimously in the House and Senate.
U.S. Sen. John Boozman, a Republican from Rogers, was on hand. "I hope that in the future young people look at the post office and ask who Adam Brown is, and their parents will relate that this was a man who served his country."
Cotton, the Republican senator from Dardanelle, choked up a little bit during his remarks to the crowd. Cotton is an Army combat veteran of both Iraq and Afghanistan.
Larry Brown gave him a copy of Fearless on Memorial Day 2013, Cotton said.
"It's inspirational in every way. You don't have to be a SEAL or serve in combat to learn the lessons of Adam's life."
Cotton was the littlest bit wrong about supermen. When Brown died in Afghanistan, he was wearing the Batman briefs his kids -- Nathan and Savannah -- gave him for his 36th birthday in February 2010. He promised to wear them on every mission.
Brown didn't make his 37th.
"Time helps, but the wound never goes away," his widow, Kelley Brown, said.
Adam's life lesson was to be fearless, she said.
"Be fearless in the way you love people. And be compassionate -- that's the fearless I know."
Metro on 10/25/2016