On Wednesday afternoon, Little Rock Central High School sophomore Kleontae Green had to make the 45-minute trek from school to the homeless shelter on Roosevelt Road where he lives with his mother.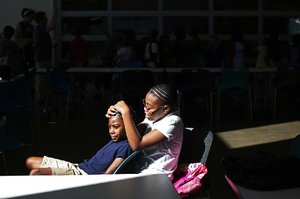 Photo by Mitchell PE Masilun
Arkansas Democrat-Gazette/MITCHELL PE MASILUN Rihanna White (left), 9, takes part in an after-school program at the Our House shelter in Little Rock with Annea Cunningham, 10, Friday. The program is open to any child and is not limited to those who stay at the shelter. Rihanna does not live at the shelter.
School let out at 3:45, and he had only a five-minute window between the last bell and when his bus departed. After discussing homework assignments with teachers after class, he had -- not for the first time -- missed his bus. If that happens in the morning, the 45-minute walk costs Kleontae an absence in his first-period class.
The 15-year-old and his mother, Shuntel Green, moved to the Little Rock shelter Our House in April after escaping a domestic abuse situation in Dallas, where they lived in shelters, friends' apartments and motels. But here the level of support Kleontae is getting from teachers and district administrators as a homeless student pales in comparison to what he got back home, they said.
"He's struggling here. He's struggling more here than he was in Dallas," Shuntel Green said.
Having no car, transportation is a big problem for the family. Shuntel Green is particularly upset about the short amount of time Kleontae has to catch the school bus, and the frequency with which he's left behind.
Beginning Saturday, provisions in the Every Student Succeeds Act -- a federal education bill signed into law last year -- will require school districts around the nation to re-examine how they identify, support and track homeless students like Kleontae Green.
The number of homeless students enrolled in Arkansas schools is nearly 12,000, more than double what it was a decade ago. Topping the list is the Little Rock School District, with 600 students classified as homeless. The Pulaski County Special School District has 476, the North Little Rock School District has 370, and the Bentonville School District has 369.
Nationwide, the homeless student count is more than 1.3 million. That number is expected to rise as schools train educators to better identify, enroll and provide support to homeless students.
Bobbie Riggins, the social worker and homeless services liaison for the North Little Rock School District, said today's imperfect process of identifying homeless students within the district allows some students to fall through the cracks.
Students are classified as homeless or as "unaccompanied youths" if they cannot provide proof of residence upon enrollment or are living in a shelter. But students can fall into homelessness in the middle of the school year and are then recognized as homeless only if they are brought to Riggins' attention via teachers, bus drivers, shelters, parents or the students themselves.
The North Little Rock School District's homeless student count jumped 43 percent between the beginning and end of the 2015-16 school year, state data show.
Recognizing homeless students in the middle of the school year is difficult.
"It's word of mouth from my staff, the parents -- just everybody," Riggins said. "And we do miss them. Unaccompanied youth are the No. 1 thing we miss."
Unaccompanied youths are those not in the physical custody of their parents or guardians. They stay with friends or find other accommodations under borrowed roofs. More than 70 percent of the state's homeless students have been recorded as living in "doubled-up" situations -- couch-surfing or sharing residences with another person or family.
"Those families who are barely staying out of the shelter system, they're not sleeping in their car, but the 9-year-old is staying with a cousin; the mom and boyfriend and the 2-year-old are staying with the boyfriend's mom; and the 13-year-old is sleeping on the couch of a friend," said Georgia Mjartan, executive director of Our House. "That picture right there, that's a homeless family. That's a family in which the kids are missing school."
It's this variation of homelessness that's hardest for school administrators to identify.
"I think these students may not think that they are homeless," said Nina Scaife, the homeless services liaison for the Little Rock School District.
Often the students are reluctant to self-identify as homeless for fear of being labeled as such, something they view as derogatory. And Scaife said it's not uncommon for students to resist her efforts to connect them with services to help them. Parents also can be reluctant to identify their children as homeless for fear of losing custody of them, Mjartan said.
The tendency to hide their housing status is something Kleontae understands. He often hides his situation so well, he said, that his teachers don't realize he's homeless. But because Our House reports its student-age residents to the school districts, Kleontae is included on the Little Rock district's homeless student rolls.
"There are some people in this world that will make fun of you just because you're homeless and you don't have everything that they do," Kleontae said. "There are a lot of kids that do that. That's why I don't let everyone know I'm at a shelter."
According to Mjartan, the success in identifying under-the-radar homeless students and getting them added to a district's roster depends on communication among teachers, administrators and counselors. When a student's chronic absenteeism is considered in conjunction with his tendency to fall asleep in class, for instance, educators can begin to form a picture of the student's home life.
"That level of communication allows for those flags to be raised. But if you don't put it all together, if you don't ask those questions and look at that data thoughtfully, it's really easy to miss," Mjartan said.
Once a student is identified as homeless, school districts can use grant money and donations to help the student pay for school supplies, groceries, prescription medicines, clothes and transportation.
During this 2016-17 school year, the state has distributed more than $600,000 of federal grant money to 17 school districts around the state, with the Little Rock, North Little Rock, Pulaski County Special, Fort Smith and Hot Springs school districts receiving the top amounts.
Scaife estimates that the Little Rock School District's homeless student count will rise by 10 percent to 20 percent under the new law, with the majority of those youths living in "doubled-up" situations.
Under the new law, states also will be required to keep track of homeless students' graduation rates -- something Arkansas schools have not previously done.
A single, definitive cause for the rise in student homelessness has not been identified, but experts point to the economic recovery from the 2007-09 recession that has not benefited all Americans equally.
"The families who were hardest hit from the recession have not benefited from the recovery," said Barbara Duffield, a spokesman for the National Association for the Education of Homeless Children and Youth. "We feel a lingering effect still from the recession where families are struggling to pay rent and are being evicted. And we also see local spikes and increases in homelessness caused by methamphetamine use and the opioid crisis."
Also, at the same time that the state's homeless student population has risen, the Little Rock district's homeless services division has had budget cuts.
Nearly 30 years ago, the federal McKinney-Vento Education of Homeless Children and Youth Assistance Act was implemented to fund support programs for homeless students through state-awarded grants. The law required school districts to have staff members -- like Riggins and Scaife -- dedicated to ensuring that homeless students get the same educations as other children.
Four or five years ago, the McKinney-Vento dollars that flowed through the state dropped from roughly $80,000 to $50,000 annually, officials said. At that point, Scaife's office lost a staff member and Scaife's responsibilities grew. On top of being the district's sole homeless services liaison, her duties include bookkeeping and student registration.
"I've been pretty much doing all of it," Scaife said.
Then during the 2015-16 school year, a paring of central office administration staffing eliminated one position in the district's Title 1 office, which is in charge of services such as shopping for school supplies and uniforms, said Little Rock Chief Financial Officer Kelsey Bailey.
It is not yet known to what extent new funding will be available for homeless services in Arkansas schools under the new federal education law, but the 2017 U.S. budget proposes a 21 percent increase for homeless student education, according to the U.S. Department of Education.
"It's never good enough for a law to say 'do more' without the funding. That's not going to be effective," Mjartan said. "But if there's money to do it, if there's money for that additional staff member to come back, then it'll make a big difference."
Metro on 09/25/2016