Rules governing who gets to grow and sell medical marijuana were given final approval by the Arkansas Medical Marijuana Commission on Tuesday, but must survive a review by lawmakers in order to go into effect on time.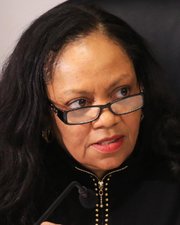 State lawyers have said one new provision -- to ensure dispensaries and cultivation facilities are majority-owned by Arkansans -- sets up a possible fight with the General Assembly, which rejected a bill with that same goal during this year's regular session that is now in recess.
The Arkansas Medical Marijuana Amendment -- as modified by the Legislature -- requires state rules to go into effect by May 8. A delay would result in the state going out of compliance with the constitution.
As it stands, Joel DiPippa, an attorney for the state Department of Finance and Administration, said the application period for dispensaries and cultivation facilities is expected to open July 1 and some marijuana sales could occur before January, with production ramping up around that time.
[INTERACTIVE MAP: Click here for a look at how laws related to marijuana have evolved over the past two decades.]
The Medical Marijuana Commission is one of three state agencies involved in implementing the medical-marijuana constitutional amendment. The commission is in charge of rules for cultivators and dispensaries. The Alcoholic Beverage Control agency is in charge of inspecting facilities. The Department of Health will issue registry cards for patients who are recommended the drug by their doctors.
The commission and the Alcoholic Beverage Control Board approved their rules this week; the Board of Health will consider its rules later this month.
Commission Chairman Ronda Henry-Tillman said Tuesday that she had received no complaints from lawmakers regarding the local-ownership provision.
"The whole point was to protect the interest of the state," she said.
And Commissioner James Miller, a former aide to Senate President Pro Tempore Jonathan Dismang, R-Searcy, said he did not expect significant opposition.
But Sen. John Cooper, R-Jonesboro, who urged lawmakers to defeat the ownership bill on the Senate floor, said in an interview Tuesday that he opposed the rule.
"The Legislature declined to do it, and now the commission's going to go ahead and do it," he said. "I thought it was unconstitutional before and I think this is worse unconstitutional now because a commission does not have the authority to modify a constitutional amendment."
Amendment 98, as the Arkansas Medical Marijuana Amendment is known, requires 60 percent of the facilities' owners to be Arkansans, but it doesn't specify what share of the businesses' ownership Arkansans must hold.
[EMAIL UPDATES: Get free breaking news alerts, daily newsletters with top headlines delivered to your inbox]
If there were 10 owners of a dispensary, seven could be Arkansans to satisfy the amendment, but the remaining three out-of-state owners could hold a disproportionately large financial stake in the organization.
House Bill 1371 by Rep. Douglas House, R-North Little Rock, was aimed at closing what he described as a loophole. It was approved by the House but rejected in the Senate in a 17-9 vote. Twenty-four votes are needed in the 35-member Senate to approve bills that would change the amendment.
Sen. Missy Irvin, R-Mountain View, presented HB1371 to the Senate and said lobbyists for out-of-state marijuana growers were lobbying heavily against the bill.
But Cooper said he opposed the bill because it's aimed at regulating commerce between states -- a matter the U.S. Constitution reserves for Congress.
Asked about the required rules review by lawmakers, Cooper said, "I need to do some looking into that."
The Medical Marijuana Commission's decision followed action by Alcoholic Beverage Control, which approved its final rules Monday. Changes include rules meant to set additional parameters on how many marijuana plants dispensaries are allowed to grow.
The Arkansas Medical Marijuana Amendment allows dispensaries to grow up to 50 "mature" plants.
The rules now define a mature marijuana plant as one that is flowering. They also set a maximum of 200 plants for dispensaries -- 50 mature and 150 immature.
"We wanted to make sure that dispensaries are not also serving as cultivation facilities. To put it another way, we want separation between those two types of business enterprises," Dan Greenberg, chairman of the five-member Alcoholic Beverage Control Board, said in an interview.
"If you don't have a limit on the immature plants, you essentially can have a large-scale production facility as part of the dispensary."
Meg Mirivel, a spokesman for the Department of Health, said its regulations will receive a final vote April 27.
Other changes to the Medical Marijuana Commission's rules given final approval Tuesday were less controversial.
They include selecting dispensaries purely on the basis of the merit of their applications instead of using a system that involved a lottery to establish the order in which applicants would go before the commission.
That was a priority for many speakers during a public hearing at the W. H. Bowen School of Law at the University of Arkansas at Little Rock last month.
The commission also finalized measures allowing them to give preference to marijuana facilities that demonstrate diversity or aid economic development in needy areas.
The approved rules authorize 32 dispensaries and five cultivation facilities.
The Arkansas Medical Marijuana Amendment allowed the commission to authorize between 20 and 40 dispensaries and between four and eight cultivation facilities.
All dispensaries will face a $15,000, one-time licensing fee and a $22,500 fee to renew the license annually.
Dispensaries will also need to provide proof of assets or a $200,000 surety bond and proof of at least $100,000 in liquid assets.
Commissioner Carlos Roman made a motion Tuesday to cut those requirements in half -- to $100,000 and $50,000, respectively -- but it failed to pass the commission.
"That'll push some people out that might otherwise have an opportunity," he said of the standards.
But Commissioner Stephen Carroll said dispensaries would not be able to get loans from banks and needed to prove financial wherewithal to receive a license.
During last week's meeting, the commission did away with a lower regulation and cost option for dispensaries that chose not to grow marijuana in order to set up an even playing field for the merit selection process.
Application fees remain $7,500, with half that amount refunded if an application is not successful.
Cultivation facilities will be chosen by the commission on the basis of the merits of their applications. An application will cost $15,000. Unsuccessful applicants will receive $7,500 back.
Cultivation applicants must provide proof of assets or a surety bond of $1 million and proof of at least $500,000 in liquid assets.
Successful applicants will have to pay an annual $100,000 licensing fee and submit an initial $500,000 performance bond.
A Section on 04/12/2017