When the verdict came in Thursday in her favor, the mother of a teenage burglary suspect who was fatally shot by a former Little Rock police officer in 2012 cried so hard that she shook.
After a second day of deliberations, the 11-member jury found Josh Hastings, 31, liable in the Aug. 12, 2012, shooting death of 15-year-old Bobby Moore III. U.S. District Judge James Moody Jr., filling in for presiding Chief U.S. District Judge Brian Miller, read aloud the verdict that awarded Moore's mother, Sylvia Perkins, and her family $415,000.
Josh Hastings criminal trials end in hung juries
"I know about the truth," Perkins said. "I just wanted him to admit what he did."
Hastings looked on solemnly and left immediately through a side door in the courtroom after the jury was dismissed. Keith Wren, Hastings' attorney, said he does not plan to appeal and did not know how his client, a delivery driver, would pay the damages amount.
The trial was the third for Hastings, but it was the first civil case related to Moore's death.
Hastings was tried twice in Pulaski County Circuit Court -- each on a manslaughter criminal charge -- but the juries deadlocked both times. Prosecutors chose not to try him a third time on a criminal charge.
The verdict Thursday did not change the nature of the case or the facts admissible in a criminal trial, said John Johnson, chief deputy prosecutor.
The unanimous verdict came in about 3:15 p.m., after nearly another six hours of deliberation. The jury in the federal trial appeared to be at an impasse the night before after more than nine hours of deliberation.
"If we feel confident that we cannot unanimously render a verdict one way or the other at this point and we no longer see that changing, what do we need to do?" the jury foreman wrote to Miller.
[EMAIL UPDATES: Get free breaking news alerts, daily newsletters with top headlines delivered to your inbox]
Miller sent jurors home for the night and asked them to return at 9 a.m. Thursday.
The case started April 3, with 12 jurors -- six men and six women -- seated late that afternoon. Before the trial started the next day, one juror had a health matter and was unable to sit for the remainder of the trial.
The jury was asked to decide whether Hastings used excessive force in the fatal shooting of Moore. Perkins alleged in a 2015 lawsuit that Hastings violated her son's Fourth Amendment rights by taking his life and that a reasonable officer would not have used the same type of force he used in the case.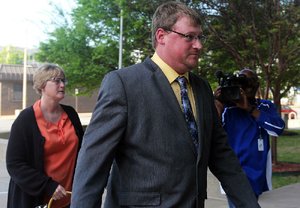 Photo by Jeff Mitchell
FILE — Former Little Rock police officer Josh Hastings arrives with his mother, Jan, on April 13, 2017, at the federal courthouse in Little Rock.
The original lawsuit included former Little Rock Police Chief Stuart Thomas and the city as defendants, but Miller dismissed them from the case earlier this year.
"Now that door is open," said Austin Porter Jr., co-counsel for Perkins.
Moore's family can appeal to the 8th U.S. Circuit Court of Appeals Miller's decision to drop the two parties from the case, Perkins' lawyer Mike Laux said, adding that he likes their chances of prevailing in such an instance.
Earlier Thursday, Miller reviewed courthouse security footage after Laux said he had heard about the "possibility of juror misconduct" from one of Moore's family members. Miller found no improper contact between the juror and Hastings.
The issue arose Friday after court had adjourned. Deazzaray Perkins said she and another family member were outside the federal courthouse when they saw one of the jurors emerge, linger and then go back inside to speak with some of the guards, Laux told the judge. Then, Hastings and his father, Terry Hastings, left the courthouse with that juror following "inches" behind them, Laux said.
The father and son spoke to each other while the juror followed, head down, the family members told Laux. The three crossed the street heading south. Then, as Sylvia Perkins' family tried to take a picture, the three dispersed and the juror got into a brown or tan truck, Laux said.
Neither the juror's name nor identifying details were mentioned in the courtroom.
Laux learned of the incident Wednesday and said he drew it to Miller's attention because he felt it was his duty to tell the court. He added that he was "not looking to milk something that's not there."
While Laux spoke, Josh Hastings turned around to shush his visibly upset family members, telling them to "stop it."
After deciding to review the tape, Miller ushered the jurors back into the courtroom. He did not tell them about the possible misconduct -- which, if justified, could have caused a mistrial -- and instructed them to reconvene and try again to reach a verdict.
As a juror, you must "be willing to re-examine your own view and change your mind," he said.
Hastings and another officer were investigating a report of car break-ins when the shooting occurred Aug. 12, 2012, at Shadow Lake apartments at 13111 W. Markham St. in Little Rock.
The two officers split up in an attempt to box in the suspects. Upon hearing glass breaking, Hastings parked his police car and peered through a gate, spotting three people. He scaled the gate until he found an opening to get into the complex grounds and started walking along a rocky embankment.
From behind a dumpster, Hastings saw the three teens try to get away. He stepped out from behind the dumpster to try to stop them from leaving in a Honda Civic.
The next series of events has remained in question.
Hastings initially thought the teens were trying to scare him, he said, but soon realized that they were trying to run him over. In fear for his life, he shot into the car, hitting Moore, the driver, three times, he said.
The two other teens in the car testified during the civil trial that they were trying to flee -- the car was in reverse -- and they did not want to run over the officer.
Moore was struck three times, with one bullet piercing a finger on his left hand and then striking him in the right side of his chest and another bullet going into his left temple.
Plaintiffs in civil trials have a lower standard of proof -- called the "preponderance of evidence" -- to win their cases.
Sylvia Perkins had to prove that Josh Hastings, acting under the color of the law, deprived Moore of his constitutional rights and used excessive force. The jurors were to decide whether those "are more likely true than not true," according to the instructions Miller gave them Wednesday.
Wren has said the evidence lined up with his client's account, that Josh Hastings waited until the last possible point to shoot to "eliminate the threat."
Laux and Porter have said that Josh Hastings -- the son of a high-ranking police captain who was good friends with then-Police Chief Thomas -- had received special treatment throughout his career as a law enforcement officer, which affected his state of mind the night of the shooting.
In closing arguments Wednesday, Laux told jurors to imagine a scale that is evenly calibrated. If they put a sugar cube on one side and the scale tipped 0.006 percent in that direction, Laux said, "then we've proven our case."
He reminded them of that again just before they left for deliberation: "A sugar cube. A feather."
Porter said Thursday that his faith in the justice system had been restored.
"There are times when my faith in the judicial system has been weakened," he said. "There are times when my faith in the judicial system has been strengthened. This is one of those rare times when justice has prevailed."
The verdict in favor of Perkins has been a long time coming, Laux said.
"This woman has been through the ringer since Aug. 12, 2012," he said. "Austin and I are happy to deliver justice to Sylvia and her family."
The case has never been about money, Perkins said, adding that she just wanted the truth to come out.
"It's been five years," she said. "Ain't nothing going to bring him back."
Metro on 04/14/2017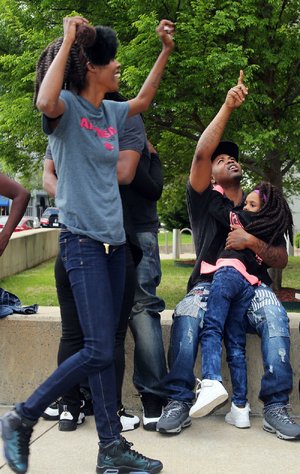 Photo by Jeff Mitchell
Family members celebrate outside the federal courthouse Thursday after a jury found former Little Rock police officer Josh Hastings liable in the death of Bobby Moore III.