A great number of film critics were left breathless after seeing Guillermo del Toro's previous film, Crimson Peak, a ghost-laden love story that I must say I found ludicrous and fantastically over art-directed.
At his commanding best, in films like the brilliant Pan's Labyrinth and, to a lesser degree, The Devil's Backbone, his peculiar mashup of pulp comic arcs, surreal visual stylings, big screen emotional vibrancy, and political commentary can create astute and gorgeous films that lacerate your heart. More recently, however, he has replaced the complexity of some of his earlier work with bigger, broader films that require an enormous amount of indulgence on the part of the audience.
The Shape of Water
86 Cast: Sally Hawkins, Michael Shannon, Richard Jenkins, Doug Jones, Michael Stuhlbarg, Octavia Spencer, Nick Searcy, David Hewlett, Lauren Lee Smith, Martin Roach, Allegra Fulton, John Kapelos, Morgan Kelly
Director: Guillermo del Toro
Rating: R, for sexual content, graphic nudity, violence and language
Running time: 2 hours, 3 minutes
His new film -- another love story, this one involving a mute woman, Elisa (Sally Hawkins), and an unnamed merman (Doug Jones) imprisoned in a high-security government lab for study by a cruel CIA operative named Strickland (Michael Shannon) -- will likely cause many of those same critics to swoon with rapture, but left me nearly as incredulous.
Set in the '60s, del Toro's film creates another blissful fantasy realm from his well-established bag of influences -- here, his heroine lives in a stunning, split apartment -- her best friend, the coquettish Giles (Richard Jenkins), lives in the other half -- that just happens to be above a magnificent, single-screen movie palace, allowing him to conjure the romanticized ghosts of cinematic history along with his hammy romance.
Elisa and the merman become entranced with one another, eventually leading her to concoct a daring rescue with both Giles and her friend Zelda (Octavia Spencer), that naturally leads to a scene where del Toro quite literally gushes over his characters, giving the pair of mix-matched lovers an opportunity to frolic in an improvised water tank.
It's the kind of over-the-top moment -- the planetarium scene from La La Land comes to mind -- that will either work in poetic harmony with the film's romantic vibe, or go a step too far, leaving its audience scoffing. I certainly don't hold it against del Toro for attempting it, if the man has proved anything throughout his career it's that he's blithely unafraid of such risk-taking, but in conjunction with the myriad of other, not particularly well thought-out details, the film's fancy becomes too little to hold onto by itself.
Del Toro's romantic style and comic book sensibilities can create genuine wonderment and emotional involvement, but here, he pushes the boundary of common sense so far, it's impossible to let go your disbelief. Of course, the principles are all excellent (Hawkins and Jenkins in particular have been lauded in the early award season), and, naturally, too, the film looks fantastic -- Elisa's apartment, the theater below her, even the stoic lab, all have an innate sort of beauty.
Del Toro is simply too talented a visual stylist to produce something dull and inanimate, but he goes so overboard, it seems, you either buy in and swoon, or stand there shaking your head. The ideas and art direction are there, I just wish he took as much care of his scripts as he does his set design.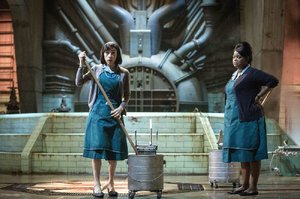 Elisa (Sally Hawkins) and Zelda (Octavia Spencer) are cleaning ladies working in a secret U.S. government bunker during the Cold War in Guillermo del Toro's The Shape of Water.
MovieStyle on 12/22/2017