Chavon Sewell Fortson designs for the woman who likes comfortable clothing with some punch.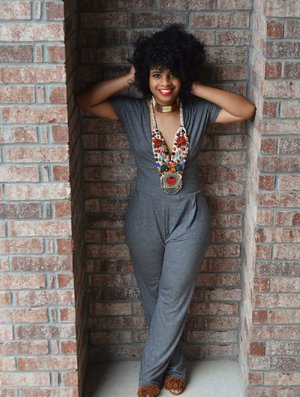 Photo by Special to the Democrat-Gazette/JESSICA ALSIP
Fayetteville designer Chavon Sewell Fortson models a creation from her fall/winter 2017 Chavon Shree collection, which she'll show during Northwest Arkansas Fashion Week in March. Her clothes, Fortson says, are for all ages: "I've had everyone from teens all the way to my sweet granny who wears her leopard kimono I made her with pride."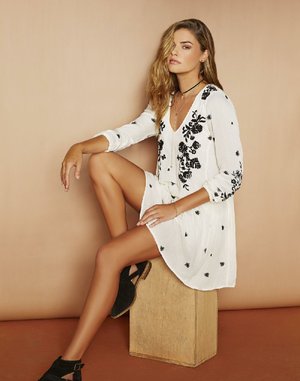 Free People, the Philadelphia-based, bohemian-flavored clothing line, can now be found at Dillard's Park Plaza in Little Rock.
"I describe my clothing as modern hippie street wear, so you get the easy-breezy feel of clothing with a touch of chic," she says. The wearer, she adds, doesn't have to worry about a bunch of pulling, twisting or other efforts to wear the garment, whether that garment is a flowing, tie-dyed caftan, a date-night dress, a high-waist pant embellished with pom-pom balls or a maxi dress featuring a masterpiece of hand-beading on its bodice.
The Fayetteville-based creator of the Chavon Shree line is one of the designers whose creations will be seen on the catwalk during Northwest Arkansas Fashion Week Spring 2017, scheduled for March 1-4 at various Bentonville locations.
A Conway native, Fortson says she "was destined to do something creative."
"Growing up, I was a very artsy kid. I sketched, painted and ... used to create all kinds of projects out of paper." Her "aha" moment came after a home economics class in the sixth grade. "It was truly amazing to me that we were making pajama pants and pillowcases all out of pattern pieces and fabric," she says. She continued to dabble with various fashion projects, and after graduating from high school, she majored in apparel studies at the University of Arkansas at Fayetteville.
It was after her college graduation that she got serious about Chavon Shree. "I was ... working as a textile specialist, so it was corporate America during the day versus creative control over Chavon Shree at night," she says. After a year, and with support from now-husband, former Razorback basketball point guard Courtney Fortson, she moved into designing full time. (The couple wed in July 2015.)
In 2011, Chavon Fortson made her debut as a featured designer for Little Rock Fashion Week and returned the following year. In 2013, her designs were featured in the city's Designers' Choice Fashion Preview. She's a two-time veteran of the annual Little Rock-based ALS in Wonderland fashion show and also has shown at fashion weeks in several larger cities.
Chavon Shree offerings -- available at Fortson's Etsy.com shop as well as Boutique Luv in Little Rock -- now include the spring/summer 2017 collection, with prices running from $30 to $448. Fortson's inspiration for the line came from a recent vacation in Turkey with her husband, who plays professional basketball for China. The couple visited Istanbul's famed Grand Bazaar. "It was truly amazing to see all of the colors there, from the different spices, trinkets, fabrics and more," Fortson recalls. While there, she did a sketch that she named "The Flowers Girls" and got it printed on fabric that runs throughout the collection.
Fortson hopes to eventually open a showroom in Fayetteville.
THE LINEUP
Northwest Arkansas Fashion Week events and ticket prices:
• Panel discussion: Creativity 360, 7-8 p.m. March 1, Great Hall, Crystal Bridges Museum of American Art. Hosted by the museum's Artinfusion young patrons program, this event provides a behind-the-scenes look at fashion-week production. Free with online registration.
• The gala: 7-11 p.m. March 2, 21c Museum Hotel Bentonville; VIP cocktail hour, 7-8 p.m. Gala tickets are $100 for general admission. VIP gala tickets are $75 for Artinfusion members and $125 for nonmembers.
• The shows: 7-11 p.m. March 3-4 at Record, off Bentonville Square; $50-$80.
Three-day general admission fashion week passes are $180; three-day VIP passes are $255. For tickets and a complete list of participating designers and boutiques, see nwafw.com.
PAUSE AND REFLECT
I have vivid childhood memories of getting my woolly hair straightened via a metal hot comb ... whether I wanted it or not. I still remember the smell of the comb as it sat on an oven burner in the kitchen of Mrs. Anderson or on the special, flame-lit hot-comb stove in the salon of Mrs. Gold. So the hot-comb stove on display at Esse Purse Museum took me back. It's part of Reflections: Images and Objects From African American Women, 1891-1987, the museum's collaborative exhibit with Mosaic Templars Cultural Center. The exhibit, which runs through April 30, features vintage handbags, other accessories and keepsakes, additional hair-styling tools and more.
Esse Purse Museum is open Tuesday-Sunday; admission $8-$10. Visit Essepursemuseum.com.
BY DESIGN
The Arkansas Arts Center will host a screening of AETN's Men and Women of Distinction, featuring Little Rock fashion designer Korto Momolu, at 6 p.m. March 9. A 5:30 p.m. wine reception and a fashion show will round out the evening.
Momolu gained nationwide fame as a Season 5 runner-up and fan favorite on the reality series Project Runway. The event is free but reservations are required. Visit Arkansasartscenter.org or call (501) 372-4000.
SHOPPING OPTIONS
Dillard Department Stores has been adding to its brand lineup in recent months. In November, the Park Plaza store in Little Rock welcomed the Philadelphia-based, bohemian-flavored Free People. The Jo Malone line of body, bath and home fragrances made its Park Plaza debut in January. Other additions: The Badgley Mischka designer line, as of November (different from Belle Badgley Mischka, the diffusion line offered for several years) and a shop featuring vintage designer handbags.
Dressing Room now appears monthly. Send Arkansas fashion-related tips and news releases to:
hwilliams@arkansasonline.com
High Profile on 02/19/2017