WASHINGTON -- After a renovation that lasted nearly three years and cost roughly $60 million, the top of the U.S. Capitol dome is open to the public again.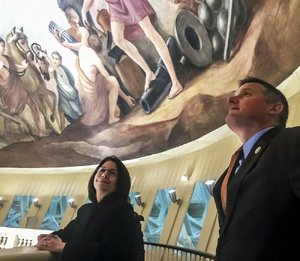 Photo by Frank E. Lockwood
U.S. Rep. Bruce Westerman and Hot Springs National Park Superintendent Josie Fernandez admire the artwork around the U.S. Capitol dome.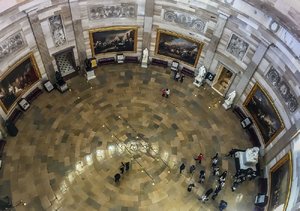 Photo by Frank E. Lockwood
This view of the U.S. Capitol rotunda, achieved after a lot of stair-climbing, is not for people uncomfortable with heights.
People with acrophobia -- fear of heights -- are unlikely to enjoy the experience, officials say.
Each visitor signs a waiver ahead of time. If things go poorly, he promises not to hold the federal government liable. A sign near the bottom hints at peril, stating: "Proceed at Your Own Risk."
Typically, a maximum of 64 visitors per day can be admitted.
The trek to the top and back takes roughly an hour and involves a lot of stair-climbing.
A member of Congress -- House or Senate -- must accompany each group. (Lawmakers with disabilities or physical challenges can designate a senior staff member to take their place.)
The 535 elected officials can vie for one of eight daily time slots.
This month, U.S. Rep. Bruce Westerman made his initial ascent, accompanied by his staff members and Hot Springs National Park Superintendent Josie Fernandez.
[EMAIL UPDATES: Get free breaking news alerts, daily newsletters with top headlines delivered to your inbox]
"It was cold and windy but beautiful," the lawmaker said after returning to solid ground.
The weather that day was cold and blustery -- 39 degrees at lunchtime with 20-mph winds whistling outside.
The Republican congressman from Hot Springs and the other visitors climbed roughly 300 steps as they worked their way to the top.
A tour guide from New Jersey, Meredith Sheren, led them upward, past a series of caution signs and defibrillators.
"If at any point you feel like you cannot continue, let me know and we'll call somebody to bring you back down. We certainly don't want you to go further than you're comfortable with," she said.
Sheren kept close tabs on the doors, making sure they closed properly. She didn't want to inadvertently trigger alarms or summon security, she explained.
The group paused briefly as it climbed, admiring the The Apotheosis of Washington and other 19th century frescoes that soar above the rotunda.
As they continued, Sheren described the multimillion-dollar renovation.
Rust has been removed. More than 1,000 feet of cracked cast iron has been repaired. Old paint has been stripped away and replaced.
The transformation is dramatic, Sheren said.
"It's so beautiful up there now. Everything is just so clean and freshly painted," she said.
The guides are enjoying their trips to the top, she said.
Taking the tour "gives us a bigger and better appreciation for the building that we work in," she added.
The 8.9 million-pound, cast-iron U.S. Capitol dome has been an iconic symbol of American democracy since it was completed in the 1860s.
It is capped by the Statue of Freedom, a bronze statue that's 19½-feet tall and weighs 15,000 pounds.
Visitors have been hiking to the top of the Capitol for more than 150 years. After ascending 210 feet above the East Front Plaza, they reach the outdoor balcony. Once there, they're able to gaze across the District of Columbia to Virginia and Maryland.
Typically, each group stays up there several minutes, taking photos and viewing the national capital's lesser landmarks.
On his tour, Westerman made it to the observation deck, but he wasn't able to savor the moment for long; he had to get back to work. But he expressed admiration for the Capitol's designers and builders.
"Being an engineer, I'm just fascinated by all the structure and how it was put together," he said.
If he can find the time, he may climb to the top again someday, he said. It's an experience he'd enjoy sharing with other constituents, he said.
Fernandez called it "the most marvelous view of our nation's capital" and said she'll be telling her friends back in Hot Springs all about it.
"I think people are going to get sick and tired of me talking about my trip," she said.
SundayMonday on 02/26/2017