SPRINGDALE -- Brian Stockslager first started using drugs as a teen. He battled a methamphetamine addiction for more than 20 years, finally breaking the cycle when he was 40.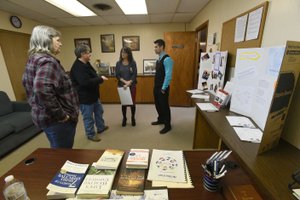 Photo by Flip Putthoff
Carla Jones (second from left), with The Choice Is Yours Ministries, talks with visitors Carrie Williams and Richard Short on Saturday during the open house.
Now Stockslager is devoted to helping other struggling addicts.
At a glance
The Returning Home Center opens Wednesday and plans to offer a multitude of services to former inmates trying to reintegrate into society. The center will be open from 10 a.m. to 4 p.m., Monday through Thursday.
Source: Staff report
He's involved with Reformers Unanimous, a Bible-based program designed to address addictive behaviors. Stockslager plans to hold weekly classes this spring at the Returning Home Center.
The 15,000-square-foot facility at 703 N. Thompson St. opens Wednesday and will provide drug counseling, resume assistance, clothing and more to former inmates hoping to reintegrate into the community, according to Nick Robbins, executive director of Returning Home Inc. On Saturday, more than 100 people toured the building during an open house.
"For former inmates to be successful, they need these services. And for organizations to be successful, they need to be able to coordinate at a high level, Robbins said. "The center is focused on getting everyone under the same roof. When someone comes through those doors, we identify and try to meet their needs. If we can't we'll have referral agencies that say here's where you need to go."
Groups at the center include TCIY Ministries, Narcotics Anonymous, Goodwill Industries of Arkansas and Dress for Success Northwest Arkansas, which provides women with professional attire.
Stockslager said the center "absolutely" will help lower the state's recidivism rate by putting former inmates in a position to succeed.
"Having a program like this, I'm really excited," Stockslager said. "You cannot crawl out to Uncle Joe who's cooking meth and think you're gonna make it."
Arkansas has about 56,000 parolees or probationers, according to figures from the Arkansas Community Correction. The agency, which oversees the state's community correction facilities, estimates 53.3 percent of Arkansas offenders will return to prison.
Robbins said the recidivism rate is high because former inmates often struggle to manage basic life skills once they're released.
[EMAIL UPDATES: Get free breaking news updates and daily newsletters with top headlines delivered to your inbox]
Claire Williams, an assistant director for re-entry with ACC, said there are roughly 7,900 former inmates living in Northwest Arkansas. Williams said a "resource hub" like the center is vital to successfully reintegrating offenders into the community.
"Hopefully [the center] will be a model for other parts of the state," Williams said. "From what I've seen today, the community has given amazing support."
Arkansas Community Correction describes re-entry as integrating an inmate back into the community as a "law-abiding citizen," according to its website. That process includes meeting a hierarchy of needs -- food, housing, employment -- that could take as long as six months.
The center plans to dedicate 5,000 square feet to nonprofit groups willing to help with re-entry services, according to a news release. Plans call for using the remaining 10,000 square feet for transitional housing with space for a weight room, library, computer lab, classroom and community room, the release said.
Phoenix Recovery Center of Arkansas will oversee the housing of roughly 65 to 75 men, according to Matt Bell, the center's executive director. The center provides sober living and treatment services, according to its website. A timeline for implementing the housing wasn't available Saturday.
"Returning Home Center is a very innovative solution to a large problem," Bell said. "There's nothing like this in the state."
Cathy Richardson, owner of Reclamation House, a rehabilitation group living center in Jonesboro, said she believes in Robbins' concept.
"It really does take a village to get someone back on their feet," Richardson said.
Robbins encourages former inmates to visit the center "whether they were released yesterday or 10 years ago" and wants local nonprofit groups to know they're welcome to participate.
"If we ever want to reduce crime, we need to invest in the individuals coming back to our area," Robbins said. "We think we can meet those basic needs and treat those core issues that has led to negative results."
NW News on 02/26/2017