WASHINGTON -- Donald Trump's pick for secretary of state on Wednesday promised a more aggressive approach toward Russia, abandoning much of the president-elect's emphasis on improving ties between the Cold War foes. Instead, Rex Tillerson suggested President Barack Obama's outgoing administration responded too softly to Russia's takeover of Ukrainian territory.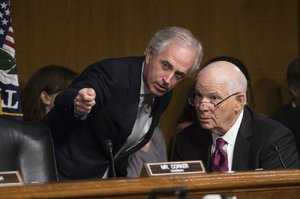 Photo by J. SCOTT APPLEWHITE / AP
Sen. Bob Corker (left), R-Tenn., and Sen. Ben Cardin, D-Md., confer Wednesday during confirmation hearings for Rex Tillerson, who is nominated to be U.S. secretary of state.
Tillerson, a former Exxon Mobil CEO and Russian Order of Friendship recipient, called Russia a "danger" to the United States and said he would keep U.S. sanctions in place and consider new penalties related to Russian meddling in the presidential election.
Although he said he hadn't read last week's classified assessment by the U.S. intelligence community, Tillerson said it was a "fair assumption" that Russian President Vladimir Putin would have ordered the operation that purportedly included hacking and propaganda to harm Hillary Clinton's candidacy and advance Trump's. But Tillerson conceded he hadn't yet talked with Trump about a Russia policy.
"Russia today poses a danger, but it is not unpredictable in advancing its own interests," Tillerson told the Senate Foreign Relations Committee. He added that Trump's administration would be committed to the defense of the United States' NATO partners, an obligation the president-elect called into question during the campaign if allies failed to meet defense spending pledges.
[TRUMP: Timeline of president-elect's career + list of appointments so far]
While his prepared statement reflected some of Trump's desire for improved ties, Tillerson quickly pivoted under pressure from both sides of the aisle. On Russia's 2014 annexation of the Crimea region, he said, "That was a taking of territory that was not theirs."
Still, he criticized Obama's sanctions on Russia, which ended up costing Exxon hundreds of millions of dollars. And he declared that he would have responded by urging Ukraine to send all available military units to its eastern border with Russia and recommending U.S. and allied support through defensive weapons and air surveillance, to send a message to Russia.
"That is the type of response that Russia expects," he said in a response to questions from Sen. Marco Rubio, Tillerson's toughest GOP inquisitor. "If Russia acts with force," Tillerson said, "they require a proportional show of force."
Trump offered a sharply different account of Ukraine during the presidential campaign and never proposed a show of U.S. military force in Ukraine. In an August interview, he claimed Russia would not enter Ukraine, not seeming to know Russian troops were already there. He suggested Crimea didn't count because the peninsula's people preferred being part of Russia, restating Putin's reason for annexing the territory in 2014.
Like Trump, Tillerson vowed complete support for Israel, which he called the United States' "most important ally" in the Middle East. He said the new administration would undertake a full review of the Iran nuclear deal to deny the Islamic republic the ability to acquire an atomic weapon. He said that might only be possible if Iran can no longer enrich uranium, which the accord permits under strict constraints and without which Iran wouldn't have made the deal.
Addressing some of Congress' most experienced architects of U.S. economic pressure, Tillerson called sanctions "a powerful tool" in deterrence that could, however, also project weakness if applied poorly.
He said neither he nor Exxon had lobbied against sanctions. But the company did try to influence sanctions legislation on Russia two years ago, congressional records and data from the Center for Responsive Politics show, and Tillerson made numerous White House visits, to no avail. Given a second chance on the subject, Tillerson sought to clarify his answer by saying he had expressed concerns related to security in shutting down an Exxon operation newly prohibited under the sanctions.
On climate change
Asked by Sen. Bob Corker, R-Tenn., about his personal position on climate change, Tillerson said he formed his views "over about 20 years as an engineer and a scientist, understanding the evolution of the science."
He said he believes "the risk of climate change does exist, and the consequences could be serious enough that action should be taken." But while the Obama administration and other world leaders have aggressively pursued efforts to slash carbon dioxide emissions and stave off global warming, Tillerson expressed little such urgency.
At another moment, he said that when it comes to climate change, "I don't see it as the imminent national security threat that perhaps others do."
Ultimately, he said, he concluded that increasing greenhouse-gas concentrations in the atmosphere are having an effect on the earth's climate. But he added, "Our ability to predict that effect is very limited," and precisely what actions nations should take "seems to be the largest area of debate existing in the public discourse."
Early in the hearing, Sen. Ben Cardin, D-Md., asked Tillerson whether he thought the United States should continue to play a leading role in a global climate agreement signed in Paris in late 2015. Trump has vowed to "cancel" U.S. participation in the accord, in which hundreds of countries collectively agreed to slash carbon emissions to help mitigate the effects of global warming.
"It's important that the U.S. maintains its seat at the table about how to address the threat of climate change, which does require a global response," Tillerson said. "No one country is going to solve this on its own."
Tillerson said multiple times Wednesday that the incoming president, who in the past has called climate change a "hoax," had solicited his opinion on the subject.
[EMAIL UPDATES: Get free breaking news alerts, daily newsletters with top headlines delivered to your inbox]
"The president-elect has invited my views on climate change, and he has asked for them, and he knows that I am on the public record with my views," Tillerson said. "And I look forward to providing those, if confirmed, to him, and in discussion around how the U.S. should conduct its policies in this area."
Ultimately, Tillerson said, he would carry out the new president's policies, "but I think it's important to note that he has asked, and I feel free to express those views."
Sen. Edward Markey, D-Mass., also pressed on whether the United States would continue to be a primary player in the Paris accord. Tillerson echoed Trump's position that any international agreement would above all need to benefit the United States.
"I'm sure that there will be opportunity ... to do a fulsome review of our policies around engagement on climate issues through global accords, global agreements," he said. "I also know the president as part of his priority in campaigning was America first. ... As we commit to those accords, are there any elements of that that put America to a disadvantage?"
In the past, Tillerson and Exxon Mobil generally have supported the Paris climate accord in the past, calling it an important international framework for tackling the problem.
Tillerson represents a break in a long-standing tradition of secretaries of state with extensive military, legislative, political or diplomatic experience. His supporters, however, point to Tillerson's lengthy career as a senior executive in a multinational company as proof he has the management and negotiating skills to succeed in the State Department's top post, particularly when facing tough foreign governments.
"It's brilliant what he's doing and what he's saying," Trump said of Tillerson during a news conference in New York that occurred as Tillerson was testifying. "He ran incredibly Exxon Mobil. When there was a find, he would get it."
His Exxon experience, however, has been criticized by Democrats for possible conflicts of interest because of the company's far-flung business dealings. Tillerson, who stepped down as CEO at the end of 2016, said he understood being secretary of state meant different responsibilities. He pledged to be a steward for U.S. national interests rather than corporate ones.
Information for this article was contributed by Matthew Lee and Richard Lardner of The Associated Press and by Chris Mooney and Brady Dennis of The Washington Post.
A Section on 01/12/2017