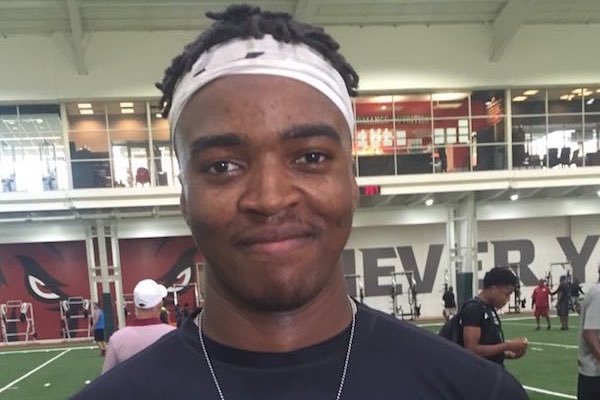 Arkansas commit David Porter ( N/A )
Joe T. Robinson defensive end David Porter has flipped his commitment from Colorado State to Arkansas after making an official visit to Fayetteville this weekend.
Porter, 6-2, 240 pounds also had scholarship offers from Iowa State, Kansas State, Louisiana Tech, Memphis and Louisiana-Monroe. He had late offers from Texas, Tulsa and Rutgers.
The chance to be a Razorback was too good to pass up.
"I guess this is a dream come true," Porter said. "I wanted it to happen, but I didn't think it would for awhile. I went up there for a visit at the last minute and I just knew something good was going to come out of it."
He learned of getting a scholarship offer after meeting with Coach Bret Bielema this morning.
"I was like this is actually happening right now and he made it official," Porter said.
He recorded 105 tackles, 24 tackles for loss, 10 sacks, a forced fumble and a pass deflection as a senior. As a junior, he recorded 84 tackles, 17 tackles for loss, 8 sacks, 1 pass deflection, 1 forced fumble and 1 recovered fumble.
Porter said he committed to Bielema about two seconds after hearing of the offer.
"I was like I'm all in," Porter said. "It didn't take long. It means a lot. I get a chance to represent the home state and my family. It's a big deal to me."
Tight ends coach Barry Lunney Jr. is his lead recruiter. While announcing his commitment to Arkansas on Twitter, Porter said "I promise you Arkansas, I will represent this state with everything I have".
"I'm going to do my best to keep my good image and show people the right way to do things and lead by example," Porter said.
'Porter is the second Senator to commit to the Hogs in the 2017 class. Receiver Koilan Jackson pledged to the Razorback during the summer. Arkansas freshman running back T.J. Hammonds also attended Robinson.
Arkansas now has 22 commitments for the 2017 class.
Sponsor Content