FAYETTEVILLE -- One second the Orange-clad crowd of more than 95,000 in Neyland Stadium was deafening.
The next second the home of the Tennessee Volunteers fell eerily silent.
"I remember you could have heard a pin drop in there," said J.J. Meadors, a freshman wide receiver for the Arkansas Razorbacks at the time. "It got real quiet real fast."
The Vols and their fans were left stunned after Todd Wright hit a 41-yard field goal with two seconds left to lift the Razorbacks to a 25-24 victory over No. 4 Tennessee on Oct. 10, 1992.
[COUNTDOWN: List of Hogs' most memorable games since joining the SEC]
It was the highlight of a wild first season in the SEC for the University of Arkansas, Fayetteville, which began with a 10-3 loss to The Citadel that led to Jack Crowe's firing as head coach and Joe Kines' promotion from defensive coordinator to interim head coach.
Arkansas, playing at Tennessee for the first time, came into the game as a 21-point underdog.
"It was one of those games where everything just kind of fell into place for us," said Kines, who is retired and living in Tuscaloosa, Ala. "Things went right for us and went wrong for Tennessee.
"We didn't make a lot of mistakes and just kind of hung around until late in the game. Then you look up and we've got a chance to win this thing."
The Vols were the highest-ranked team the Razorbacks had beaten on the road in 28 years, since a 14-13 victory at No. 1 Texas on Oct. 17, 1964.
"We have risen from the dead!" Arkansas Athletic Director Frank Broyles declared.
Razorbacks true freshman quarterback Barry Lunney Jr. made his first start at Tennessee.
"I think that was the first ray of hope for Arkansas fans that year after going through a pretty tough ordeal early on," said Lunney, who is now the Razorbacks' tight ends coach. "It was kind of a perfect storm of events that happens in football sometimes.
"Ours happened to be just good enough to beat a really good team."
Arkansas led 16-7 early in the second half, but Tennessee seemingly had avoided disaster when the Vols rallied to go ahead 24-16 with 10:28 left in the fourth quarter after quarterback Heath Shuler scored the second of his two rushing touchdowns.
After Tennessee forced a punt, Shuler scrambled for a first down on a third-and-14 play with less than three minutes left, but the gain was nullified by a holding penalty.
Instead of the Vols being able to continue running down the clock, Tom Hutton came on to punt on fourth down from the Tennessee 30.
"Tennessee helped us when they didn't punt the ball out of bounds," said Danny Ford, the former Clemson head coach hired by Kines as an assistant after Crowe's firing. "They shouldn't have punted it to Orlando."
Orlando Watters, a starting cornerback, fielded the punt at Arkansas' 29, cut to his right, ran along the Tennessee sideline, cut back to the middle and dashed 71 yards for a touchdown -- making several Vols miss tackles along the way -- to pull the Razorbacks within 24-22 with 2:28 left.
"Orlando was just a hell of a player all the way around," said Meadors, who co-owns and operates Salt County Sports Performance in Bryant. "He was a great defensive back, he could have played on offense, and he was so great on kickoff and punt returns.
"He wasn't the best athlete. He didn't run the fastest or jump the highest, but on game day I can't think of anybody else I'd rather have on my team in a clutch situation than Orlando."
Lunney was sacked by linebacker George Kidd -- who blitzed and shot up the middle untouched -- on a two-point conversion attempt.
Tennessee was still ahead but had to recover an onside kickoff to clinch the victory.
Instead, Arkansas linebacker Darwin Ireland recovered Wright's kick at the Razorbacks' 48.
The Vols sacked Lunney for the sixth time to put the Razorbacks in a third-and-16 hole from their 42, but Lunney hit Tracy Caldwell for a 22-yard gain to the Tennessee 36.
Lunney and Caldwell connected again to move Arkansas to the 24, setting up Wright's game-winning field goal.
Tennessee Coach Johnny Majors called his final two timeouts while trying to ice Wright, but the senior hit his fourth field goal of the game.
"Todd was solid," Kines said. "He wasn't flaky. I'd just as soon have him kicking it as anybody."
Kines said he and offensive coordinator Greg Davis decided early in the game week that Lunney should get his first start.
"Everybody knew he was going to be the guy eventually anyway," Kines said. "So we just made the decision, 'Hey, let's go ahead and get this thing moving right now. We might as well.' "
Lunney completed 13 of 19 passes for 168 yards, including a 50-yard touchdown to Ron Dickerson.
"I think I was just too young to be nervous about starting, to be honest with you," Lunney said. "There wasn't a lot of expectation going into that week, but it was a thrill for me to be able to get the nod.
"When I'm with people, they say, 'Man, you beat Tennessee in your first start.' I'm always quick to say, 'Listen, I started that game and I played. But there was Darwin Ireland recovering the onside kick. Orlando Watters' punt return. Todd Wright and his kicks. Jeff Savage ran the ball great. Tracy Caldwell made an unbelievable catch. Our defense made a lot of plays.'
"There were just so many guys who had a huge hand in that win. I did pretty good for a true freshman, but our football team played fantastic that day."
Meadors said Lunney never showed any signs of being rattled by the Vols or the crowd.
"From the first snap, Barry just expected to be out there," Meadors said. "He made some big throws and managed the game well. He did everything it took for us to win in a big situation like that."
Ford remembered the reaction of a Tennessee fan after the game.
"Walking out of the stadium, one of their fans in the end zone gave me the No. 1 sign," Ford said laughing, in reference to a rude gesture. "So that told me we'd done a good job.
"The Tennessee fans were in disbelief. They just couldn't believe Arkansas had come in there and knocked off their team."
Meadors said playing at Tennessee was an eye-opening experience.
"When you come to the stadium and the fans are parking boats on the river, that gets your attention," Meadors said. "Tennessee has a lot of tradition and it was a great atmosphere.
"Johnny Majors was standing over there on the sideline with a blazer on. So you knew it was a big game."
The game was the beginning of the end for Majors' 16-year run at Tennessee.
Majors, a former Arkansas assistant coach, missed the first three games after undergoing heart surgery in August. Offensive coordinator Phillip Fulmer served as interim coach and led the Vols to a 3-0 record, including victories over Georgia and Florida.
Tennessee won Majors' first two games after he returned to coach -- beating Cincinnati and LSU -- but then the Vols lost to Arkansas, Alabama and South Carolina by a combined nine points.
Majors was forced to resign after the regular season and replaced by Fulmer.
Kines said he has wondered whether playing Tennessee the week before Alabama came to Neyland Stadium worked in the Razorbacks' favor.
"We hadn't had a whole lot of success, so we thought we might catch them at a time where they were looking ahead to Alabama," Kines said. "Sometimes kids let things slide a little bit and put more emphasis on what's down the road."
The Razorbacks finished their first SEC season 3-7-1 overall, but they were 3-4-1 in conference play.
Along with beating Tennessee, they won 45-7 at South Carolina, played Auburn to a 24-24 tie on the road and beat LSU 30-6 in Fayetteville.
"We played real good ball three or four times that year," Kines said. "But we had a hard time sustaining it through the course of the season because of everything that was going on.
"Any time you fire a coach during the year, it kind of knocks the kids' feet out from under them a little bit."
Kines said his players had some extra motivation against Tennessee after reading a column by John Adams of the Knoxville News-Sentinel, who jokingly wrote that Arkansas' lettermen were so embarrassed by the team's performance they had suggested changing the UA's nickname temporarily from the Razorbacks to the Potbellied Pigs.
"That article got our players' attention and gave them a cause to rally around," Kines said. "I don't know how much it helped, but it certainly didn't hurt.
"The strange part about that whole season, if you go back and look, most of the time we played our best on the road. I've run that through my mind a lot of times over the years, why it was like that.
"I don't know the answer, but that team handled the away games about as well as anybody could."
That was especially true on the Razorbacks' first visit to Neyland Stadium.
Sports on 07/02/2017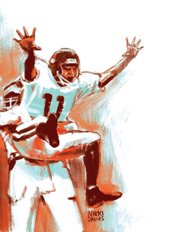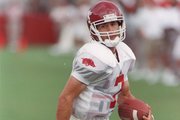 Oct. 10, 1992
Neyland Stadium,
Knoxville, Tenn.
Arkansas;3 10 3 9 — 25
Tennessee;0 7 10 7 — 24
FIRST QUARTER
ARK—FG Wright 31, 3:28
SECOND QUARTER
TENN—Hayden 1 run (Becksvoort kick), 11:01
ARK—Dickerson 50 pass from Lunney (Wright kick), 5:37
ARK—FG Wright 48, :00
THIRD QUARTER
ARK—FG Wright 46, 9:28
TENN—Shuler 4 run (Becksvoort run), 6:57
TENN—FG Becksvoort 53, 1:10
FOURTH QUARTER
TENN—Shuler 1 run (Becksvoort kick), 10:28
ARK—Watters 71 punt return (run failed), 2:28
ARK—FG Wright 41, :02
Attendance—95,202
;ARK;TENN
First downs;15;22
Rushes-yards;43-116;49-150
Passing;168;149
Comp-Att-Int;13-19-1;16-23-0
Return yards;154;70
Fumbles-lost;0-0;1-0
Penalties-yards;8-50;5-50
Possession time;27:59;32:01
INDIVIDUAL STATISTICS
RUSHING—Arkansas, Savage 17-64 Malone 13-53, Jackson 3-10, Gray 1-8, Lunney 9-(minus 25). Tennessee, Garner 20-97, Stewart 7-32, Brunson 4-9, Hayden 3-9, Phillips 3-9, Shuler 9-4, Colquitt 3-(minus 10).
PASSING—Arkansas, Lunney 13-19-1 168. Tennessee, Shuler 14-20-0 131, Colquitt 2-3-0 18.
RECEIVING—Arkansas, Botkin 4-49, Dickerson 3-69, Caldwell 3-37, Johnson 1-9, Malone 1-4, Savage 1-0. Tennessee, Fleming 7-76, Jones 4-31, Faulkner 3-25, Stewart 1-10, Phillips 1-7.
WHY THIS GAME MATTERS: Arkansas got its first major victory as an SEC member and beat a top 5-ranked team on the road for the first time since taking down No. 1 Texas 14-13 at Austin in 1964.
Arkansas 25, No. 4 Tennessee 24
Neyland Stadium, Knoxville, Tenn.
Oct. 10, 1992
Attendance 95,202