ROGERS -- When customers roll up to 7 Brew Coffee they're to be greeted with a smile, polite banter and quick, courteous service.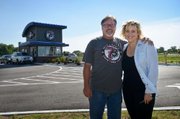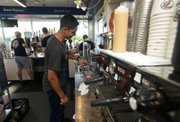 Ron Crume, president and co-founder of 7 Brew, says customer service is what he hopes makes his operation stand out. He wants every drive-thru customer to feel welcome, special and important and drive away from the store not only with a cup of coffee or specialty drink but impressed by 7 Brew's high-energy and cheery atmosphere.
"We want to change people's day with a smile," Crume explained. "It's not just about the cup of coffee."
That's not to say the product isn't vital, he added. The company's coffee is roasted specifically for the brand using a mix of coffee beans from Ethiopia, Colombia and Brazil, resulting in a medium blend that's appealing to a wide variety of palates, Crume said. Named for the biblical use of the number 7 to indicate completion or perfection, 7 Brew has a drink menu featuring both hot and iced coffee, teas, smoothies, Italian sodas and infused energy drinks.
In the U.S., the coffee shop industry includes about 30,000 stores with combined annual revenue of $20 billion, according to the National Coffee Association. Technomics, a food-service research firm, found in its 2016 Bakery & Coffee Cafe Consumer Trend Report that coffee cafes are the second-largest in the quick-service menu category, behind hamburgers but ahead of pizza.
According to data provided by business services company Dun & Bradstreet, consumer taste and income level drive demand in the coffee shop sector with profitability closely linked to a company's ability to secure prime locations and deliver high quality products. Bigger coffee companies like Starbucks have an advantage in purchasing power, financing and marketing, but smaller operations compete by offering specialized products, serving a local market, or providing superior customer service, according to Dun & Bradstreet.
Technomics' report also noted that offering beverages besides coffee is a way for a cafe to differentiate itself and boost the cost of the average transaction. It also negates the veto vote for customers who aren't so keen on coffee.
7 Brew has one location in Rogers on South 52nd Street off Horsebarn Road that opened in February. A second location in Bentonville at 2500 E. Central Ave. is under construction and expected to be open for business in mid-July. A third store going up on the 4200 block of West Walnut Street in Rogers should be serving customers by the end of summer. A location in Fayetteville and a third Rogers store are also in the works with planning underway for at least four more Northwest Arkansas locations.
Crume said all the locations will be company-owned.
"We want to be an national chain," Crume explained. "And we want our home to be here in Northwest Arkansas."
The idea for 7 Brew percolated for a long time. In the 1990s, while working as a custom builder in Northwest Arkansas, Crume, an Oregon native, hatched a plan to open coffee shops. He was inspired by the privately held Dutch Bros. Coffee brand, headquartered in his home state, and dreamed of building something similar in Northwest Arkansas. But the dream never materialized and Crume returned to Oregon in the late 1990s where he opened a hot-rod shop, foundry and machine shop, feeling at times like he missed an opportunity.
"I regretted it for years, but it wasn't the right time," Crume said.
He continued to visit his family in Oregon and considered his coffee shop concept while watching Northwest Arkansas grow. He noticed the region's coffee offerings were varied, from national chains to locally owned coffee operations, but still there were no dedicated drive-thru coffee shops.
The Technomics Bakery & Coffee Cafe Consumer Trend Report notes drive-thru coffee cafes are becoming more popular across the U.S. as owners look at ways to operate with a smaller footprint and fewer employees while providing convenience for customers.
Crume, with the support of his wife, Lisa, their two daughters and son-in-law, decided in 2015 he'd make a go of his coffee shop dreams. He put the skills he acquired as a builder to use, scouting and obtaining key locations. Crume opted to build his coffee shops himself, constructing them in modular sections in a Rogers warehouse, so they could be put up on-site quickly and efficiently.
He said the smaller footprint of his drive-thru stores allows him to move into prime areas with existing retail and shops where other expansion isn't possible. He designed the buildings, with large windows and lots of glass, to feel open and friendly and allow for more interaction with customers. Each location is operated with a staff of 12 to 15 workers.
In the end, while Crume had run his own companies for years, the leap of faith to establish 7 Brew didn't come without trepidation and worry.
"If you're dream isn't a bit scary, its not big enough," Lisa Crume said.
Ron Crume agreed, adding while for years he considered 7 Brew a lost dream, it ended up simply a dream delayed with time allowing for even better and unexpected outcomes.
"It took this whole team," he said of building 7 Brew. "I never dreamed I'd be in business with my wife and kids. We couldn't do it without them."
SundayMonday Business on 06/25/2017