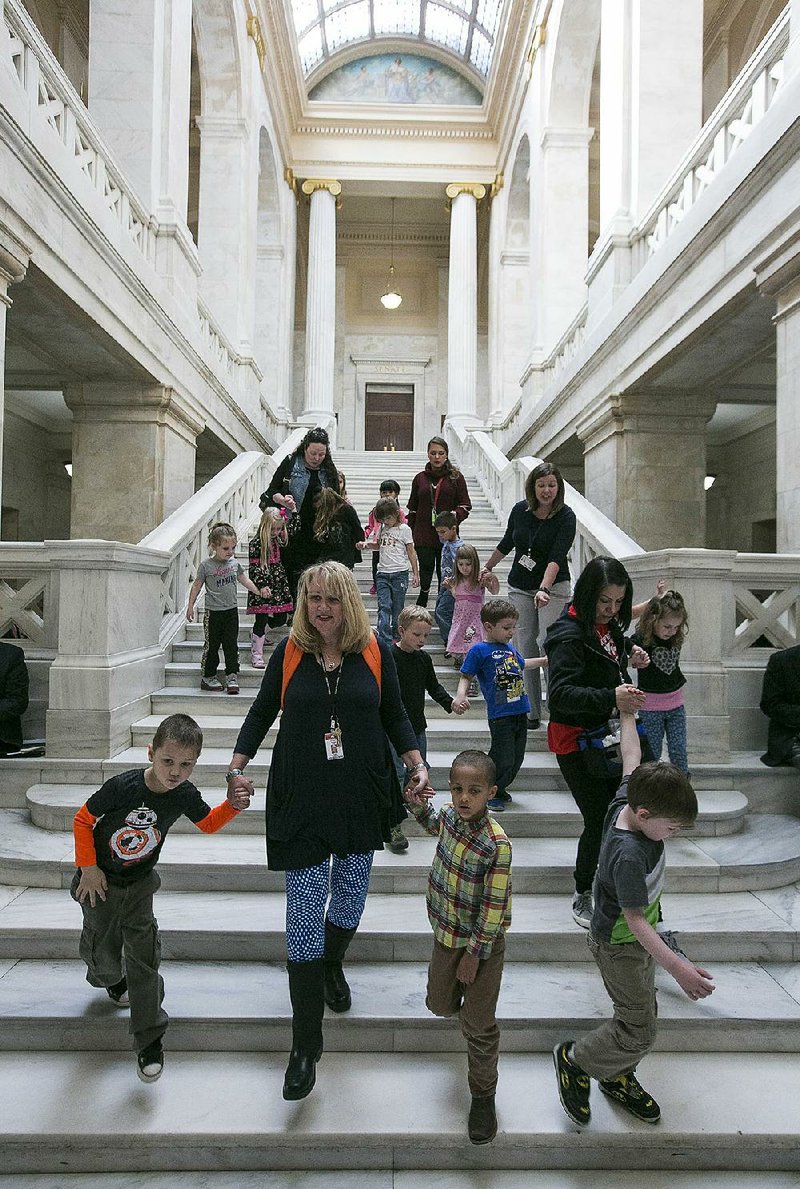 Teachers lead a group of pre-kindergarten pupils from the Cabot School District through the state Capitol on Wednesday. ( Benjamin Krain)
Arkansas' limited resources must be directed to well-researched, proven measures to raise student achievement and not be diverted to more "divisive" plans dealing with school choice and tax money to private schools, leaders of public education groups said Wednesday.
Recommendations that leaders of teacher, administrator, school board and other organizations cited as widely accepted ways to promote student learning included expanded pre-kindergarten, summer and after-school programs, family services, educator recruitment and retention, multiple measures of student achievement, and adequate buildings and financial resources.
"We want our lawmakers to focus on these recommendations to provide our state's children the excellent opportunities they deserve," Alyce Love of Dumas, leader of the Arkansas Public Policy Panel's Opportunity to Learn Campaign, said at a news conference in the state Capitol rotunda.
Katie Clifford, executive director of The Reform Alliance -- which is working this session to expand the ability of parents of special education students to receive state aid to pay their private school tuition -- said in reaction to the news conference that she does not consider the expanded school-choice options for parents to be divisive.
"These are the issues that parents are asking for," Clifford said. "We have polls that we have conducted for several years now that show that school choice is one of the most important issues to Arkansas voters. Arkansas parents are asking for educational options."
[EMAIL UPDATES: Get free breaking news alerts, daily newsletters with top headlines delivered to your inbox]
Love said at the news conference that separate studies by the different education organizations generated recommendations for continuing the educational progress seen in the state in recent years.
"These are not divisive proposals," she said of the work of the different organizations. "The recommendations in these reports are not theoretical or ideological experiments. They have been proven effective and are already in use in the highest performing schools around the globe."
Tracey Ann Nelson, executive director of the Arkansas Education Association, the state's largest teacher union, said the state "can't afford to be distracted by failed experiments that have hurt children in other states."
"There are no silver bullets in public education, and we must be wary of polarizing and untested experiments on our state's children, especially when so many proven reforms are left unimplemented," Nelson said.
The organizations' leaders said there are multiple bills and other efforts underway that they see as positive and that they support.
Those include bills that would provide financial incentives and loan forgiveness to teachers who agree to work in subject-area shortages and high-need areas of the state, and a bill that will be introduced that is meant to expand the overall teacher pool by allowing retired teachers to easily re-enter the teacher field.
There are also efforts to expand funding for pre-kindergarten programs and funding for after-school and summer programs. Also in the works is a bill on school disciplinary practices. There is work at the Arkansas Department of Education to move to the use of multiple measures of student achievement instead of relying on just one standardized test, said Tony Protho, executive director of the Arkansas School Boards Association.
But there are bills that are of concern, the organizations' representatives said, because they would divert taxpayer money to organizations that aren't held responsible for student achievement results.
"House Bill 1222 is one bill all of us can support to oppose," Richard Abernathy, executive director of the Arkansas Association of Educational Administrators, said at the news conference.
The bill, if passed, would authorize the establishment of education savings accounts funded with taxpayer dollars for use by parents to pay for private school tuition and home-school education.
"It would divert tax money to fund private schools and home-schoolers -- taking money out of general revenues," without the accountability requirements that are tied to the state funding that goes to public schools, Abernathy said. "When you attend a private school, there is no accountability, no testing, there is no nothing that public schools have to do. We will actively be opposed to that legislation."
Abernathy said other bills of concern would give open-enrollment charter schools easier access to unused traditional public school campuses, would limit funding for school building repairs, and immediately reduce rather than phase out funding to school districts that are losing students.
Rich Huddleston, executive director of Arkansas Advocates for Children and Families, said enacting legislation to expand school choices to parents becomes a problem when there is limited revenue -- the result of tax cuts made in 2013, 2015 and this year.
"I think it is more of the wrong emphasis rather than outright blocking," Huddleston said of education legislation or lack of it.
"If there is only so much money available, there is only so much you can do," he said. "To me that is indicative of the bigger problem: the wrong emphasis. Tax cuts and the big overwhelming emphasis on trying to do too much around choice -- when it is not dictated by the research and when a lot of these other strategies are supported by the research -- affects the investment you need to make in education and in other areas that impact children and families."
Metro on 03/02/2017
Print Headline: 'Proven' school actions pushed
Sponsor Content