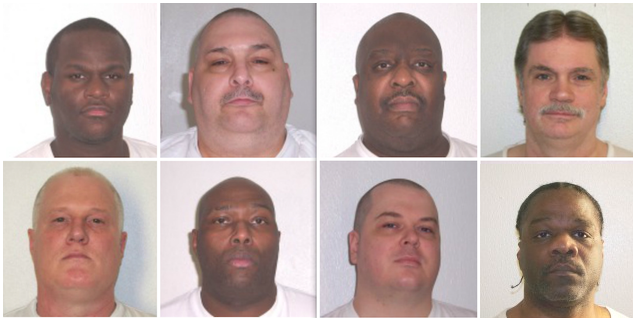 Executions have been set for (top row, from left) Kenneth Williams, Jack Jones Jr., Marcel Williams, Bruce Earl Ward, and (bottom row, from left) Don Davis, Stacey Johnson, Jason McGehee and Ledell Lee.
Arkansas has acquired a new batch of the lethal execution drug needed to carry out eight executions scheduled for next month, a prisons spokesman said Monday.
The state's supply of potassium chloride, the third and final drug in Arkansas' execution protocol, had expired in January. Without a new supply of the drug on hand, Gov. Asa Hutchinson went ahead with scheduling eight executions last month. They are set to be carried out between April 17 and 27.
It is not immediately clear how much of the drug the state had obtained, but Department of Correction spokesman Solomon Graves told reporters Monday it was enough to execute all eight inmates.
Graves declined to release the source of the drug, citing secrecy provisions in the 2015 law establishing the three-drug protocol.
Potassium chloride is used in executions to to stop the heart.
The state hasn't executed an inmate since 2005. Last month, the U.S. Supreme Court said it wouldn't review Arkansas' lethal injection law, which paved the way for the executions to resume.
Read Tuesday's Arkansas Democrat-Gazette for full details.
The Associated Press contributed to this story.
Sponsor Content