For one bill moving through the Arkansas Legislature, the National Rifle Association met a competitor that it could not best -- college athletics.
Lawmakers in the House voted Thursday to prohibit concealed weapons at collegiate sporting events, approving a bill that would dial back a gun law signed a week ago that the NRA had deemed its top legislative priority for the year. The House voted 71-20 on Senate Bill 724, sending it back to the Senate to agree on an amendment.
On March 22, Republican Gov. Asa Hutchinson signed Act 562, a law to create an "enhanced" concealed-carry license that would allow gun owners with extra training to take their weapons onto college grounds, into bars and churches, and at most publicly funded facilities, including the state Capitol.
The new law gained national attention after Greg Sankey, commissioner of the Southeastern Conference -- the top-tier collegiate sports league in which the University of Arkansas, Fayetteville, Razorbacks compete -- released a statement earlier this week. In it, he opposed the law and said it could affect scheduling and other aspects of the athletic program if guns were allowed into sporting events.
Then Razorbacks head football Coach Bret Bielema and players weighed in with their own concerns, and one lawmaker opposed to the law appeared on ESPN sports radio.
Others weighed in.
Arkansas State University head football Coach Blake Anderson called the law "a recipe for disaster," and officials from the Sun Belt and Southland conferences released statements Thursday supporting the changes that SB724 would make.
[EMAIL UPDATES: Get free breaking news alerts, daily newsletters with top headlines delivered to your inbox]
SB724 was drafted days after Act 562 became law. It originally included exemptions for the State Hospital and the University of Arkansas for Medical Sciences. In the House, it was updated to include collegiate athletic events and provide for "firearm sensitive areas" to be created with an approved state police security plan. The bill also would prohibit guns at state-owned day care centers.
More than 200,000 Arkansans are licensed to carry concealed handguns.
During Thursday's House floor debate, some Republican lawmakers lamented that voting for SB724 could endanger their support from the NRA. They included Rep. Charlie Collins, R-Fayetteville, the chief sponsor of the law to "stop crazy killers," Act 562.
Touting his A+ NRA rating, Collins pitched SB724 to his colleagues, saying it would not diminish earlier efforts to greatly expand concealed carry -- to a point that no other state has done.
"The reason we have difficult decisions is because we are leading, we are out in front," Collins said.
Not all lawmakers were comfortable making the split with the NRA. Rep. Jimmy Gazaway, R-Paragould, who voted against SB724, said the "impossible choice" came down to siding with the U.S. Constitution.
"If we vote one way, we make the entire Razorback nation mad," Gazaway said. "If we vote the other way, we make the NRA and the people who support the Second Amendment mad."
A lobbyist for the NRA told the Arkansas Democrat-Gazette that the group's analytic had tracked about 250 emails sent from members to each lawmaker in the hours leading up to Thursday's vote.
"We're very, very disappointed," said Anthony Roulette, the state liaison for the NRA. "This is an anomaly."
Collins, speaking to the House, said that in order to ease his concerns about relinquishing gun-carry rights, he was told that "sniper teams" would protect fans at football games.
A UA police spokesman, when asked about the use of "sniper teams," said police did not use such a term. Capt. Gary Crain referred to an announcement in August describing how "spotters" were to be used for the first time last fall at Donald W. Reynolds Razorback Stadium in Fayetteville. Crain said in an email that "spotters" will again be used this year at the stadium.
Randy Massanelli, a UA vice chancellor, "referred to the security spotters as 'snipers' in a conversation" with Collins, according to a Thursday evening email from Amy Schlesing, UA director of strategic communications.
Earlier this legislative session -- when the Legislature was considering an earlier version of the bill that became Act 562 -- officials with UA, ASU and the state's community college system had traveled to Little Rock to speak against allowing guns on campus.
Under a previous law -- written by Collins in 2013 -- public colleges and universities could adopt policies to ban guns on campus. Since then, every public institution in the state has adopted such a prohibition.
Collins' original bill to allow guns on campus would have extended concealed-carry rights to faculty and staff members, with an array of carve-outs for sporting events, disciplinary hearings, UAMS and the Clinton School of Public Service.
The Senate scrapped most of those exemptions in favor of requiring up to eight hours of active-shooter training in order to obtain the enhanced license. Collins became an outspoken proponent of that plan.
On Thursday, Collins said he had been surprised by the Southeastern Conference's reaction to Act 562. He said that before Act 562 passed, he knew of no conference or NCAA policy that was in clear conflict with the concealed-carry law.
Rep. Greg Leding of Fayetteville, a Democrat whose district encompasses the UA campus, said he doubted that Collins could be unaware of the concerns, given the years Collins has spent working on legislation to allow guns on campus.
"[Senate Bill] 724 lets Republicans off the hook for having passed ridiculous and dangerous policies," Leding said.
While Leding and most of his fellow Democrats voted for the new exemptions, they described SB724 as an imperfect bill that fails to address other concerns, such as chemistry labs, off-campus sporting events and libraries.
Those arguments raised the spectre of addressing further changes to the law during a planned special session this spring. Talks about that session have focused on approving changes to Arkansas' private-option Medicaid expansion in a few days and going home, but some lawmakers said it would be a good time to focus on narrowing the concealed-carry law.
Act 562 goes into effect on Sept. 1, but first the state police must devise the weapons training program.
Thursday's vote received praise from UA Chancellor Joseph Steinmetz and Athletic Director Jeff Long.
"We have always been concerned about guns on campus," Steinmetz said in a statement. "That is why all along that we have wanted to keep the law as it was, leaving this important decision to our board of trustees. While we have consistently asked to keep all of our campus facilities exempt, we are glad to have the carve-outs for our child care and athletic facilities provided through SB724 and are thankful for all the legislators who voted in favor of this important bill."
Information for this article was contributed by Jaime Adame, Jeremy Muck and Tom Murphy of the Arkansas Democrat-Gazette.
A Section on 03/31/2017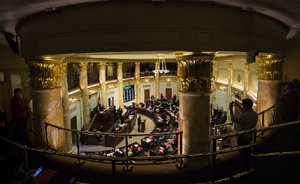 Photo by Stephen B. Thornton
Spectators get a view from the gallery of the House chamber Thursday as Rep. Charlie Collins presents his modified gun bill.