Mark Leonard approached a veteran wearing an American flag T-shirt and paused on his way to set up more registration signs for his organization's biggest event of the year.
"I want you to sit on this one here or that one there because I want you to have a new bike," Leonard said, pointing to two recumbent bikes sitting under a tent. "I want you to go faster."
Paul Bunn, a veteran who is getting ready to participate in a 24-mile bike ride, hugs Leonard and starts adjusting his new bike -- an eight speed instead of a three speed.
Leonard, 59, is one of the founders and organizers for Arkansas Freedom Fund, a nonprofit that works to get veterans active. The Arkansas Challenge Ride last month is its biggest event, Leonard said.
This year's ride was Bunn's second time to participate. He is an Army veteran who served one tour during the Persian Gulf War and one in Iraq. He returned with post-traumatic stress disorder that made venturing out into crowds difficult.
"In Iraq, you know who your friends were and who your enemies were," he said, crossing his arms over his chest. "When I came back here, it got hard to tell."
Bunn, 50, said he buried himself in charity work; he started an outreach center for veterans, but rarely left the center. Since he got involved in Freedom Fund, he gets out to ride his bike at least three times per week.
"It changed my life. It got me out of the house," Bunn said.
Leonard started Freedom Fund in 2010, after the Wounded Warriors Project pulled funding from its ride in Little Rock. He wanted to keep helping Arkansas veterans, he said.
"No one really took the veteran and got them active or motivated and things like that," Leonard said. "They do counseling and job placement, but nothing really was out there to take a veteran and say 'You need to be moving and you need to be active.'"
Since Leonard began work on the Freedom Fund seven years ago with just under $10,000 -- enough to buy 10 bikes -- the program has grown to include golf, hunting, fishing, hiking and martial arts.
A scuba diving program is set to begin at the start of the year.
Leonard organizes events for veterans nearly every weekend, said Charlene Ort, a Freedom Fund board member.
"It's a huge impact on the people's lives as they get involved with other veterans who have gone through the same thing," Ort said. "It's totally about the re-socialization through sporting events."
The goal is to provide veterans -- wounded or not -- with the resources they need to get outside. Veterans who have trouble walking can use mobile hunting devices that allow them to travel to stands or bow hunt without difficulty. Stands in the Freedom Fund's 650 acres of leased land in Calhoun County have ramps so wheelchair-bound hunters can access them, said Gary Wynn, hunting program chairman for Freedom Fund.
Biking is still the organization's biggest outreach program, Leonard said. The group has given away $220,000 worth of bicycles since its founding.
Veterans "check out" the bikes, promising to bring them back if they get tired of riding and often trade them in for a different type of bike, Leonard said.
Roger Wyckoff, 69, lost his left leg in 2006 because of an infection related to diabetes. He started out trying to ride a regular bicycle but switched to a hand cycle because his 9-pound prosthetic leg threw him off balance and rubbed blisters on what is left of his leg.
"It [the program] gets me out of my easy chair, which is good," said Wyckoff, a Vietnam War veteran. "Especially exercise, but exercise is hard. Walking even gives me sores."
Wyckoff, like many of the veterans who message Leonard, said he wouldn't get out of the house if it weren't for the Freedom Fund.
Leonard said he spends 20 to 30 hours per week managing Freedom Fund in addition to his full-time job as a programmer at University of Arkansas for Medical Sciences and an online business he runs selling bike gear to police officers.
"He doesn't ever take a day off," said Tammy Leonard, Mark's wife. "He's always got his phone. He's always available to them [veterans]."
Tammy Leonard said despite the hours of work Freedom Fund takes, her husband makes time for her and their three children, who are all grown. The couple met online in a chat room while Tammy Leonard was trying to escape an abusive relationship in Michigan; she moved to Little Rock after her divorce.
"I thought 'Well if I'm leaving to get away from the situation that I was living in at the time, it would be better to move somewhere where I at least knew somebody,'" Tammy Leonard said.
Their friendship became a romance, and Tammy Leonard said one of the things that drew her to Mark Leonard was his giving nature.
"Mark is a genuinely good-hearted person," she said. "When problems come up, he's the kind of fellow that just is like 'Tomorrow is a new day. We'll get through it, no matter what it is.'"
The two attend Church at Rock Creek in Little Rock where Mark Leonard leads a Bible study group for veterans. They call him and request certain topics, Tammy Leonard said.
Mark Leonard joined the Air Force on July 15, 1976, as a member of the security police. He later became a loadmaster, loading and unloading C-141 Starlifters and C-130s. This allowed him to travel all over the world -- he has even been to Antarctica.
"I always say I've been around the world twice this way," he said, drawing a circle with his finger through North America and Europe on an imaginary globe. "And once this way," he added, this time encircling the North and South poles.
But his path always took him back to Little Rock, where he lives now with his wife. He said he rides his bike, sometimes with her about once a month, and always checks to see if any of the Freedom Fund veterans want to come along.
"They're all my friends," Mark Leonard said. "Everybody knows me and they know how much I care."
To contact Mark Leonard or to get involved with the Freedom Fund, email him at arkansasfreedom@sbcglobal.net.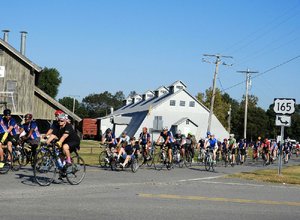 Photo by Special to the Democrat-Gazette
Veterans pedal through Scott in last month's Arkansas Challenge Ride, an annual event hosted by the Arkansas Freedom Fund.
High Profile on 11/19/2017