No injuries were reported when a jet aircraft ended up in a grassy area after it suffered brake failure late Monday at Bill and Hillary Clinton National Airport/Adams Field.
In a statement, Little Rock airport spokesman Shane Carter said a Cessna Citation CJ4 landed shortly before midnight at a runway on the side of the airfield for general aviation use.
The pilot, Greg Hatcher of Little Rock, reported that the aircraft's brakes did not function properly, causing him to turn the aircraft to a grassy area at the end of the runway in order to stop it, the airport said.
The jet was registered to Charter Express Inc. and was arriving from Las Vegas.
Hatcher and one other passenger were on board at the time, Carter said.
Two other runways at Clinton National Airport's, including its main commercial runway, remained open at the time.
The Federal Aviation Administration was set to investigate any damage to the plane Tuesday morning.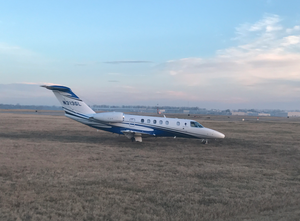 This photo released by the Bill and Hillary Clinton National Airport/Adams Field shows an aircraft that was forced to land in a grassy area after reporting brake failure.