SPRINGDALE -- Three Arkansas films that were lost for decades mysteriously turned up on eBay, where they were purchased by a volunteer at the Library of Congress.
The short films -- featuring 164 local kids -- were discovered last year during the demolition of Springdale's Apollo Theater, according to the eBay post.
That was news to Tom Lundstrum, co-owner of the Apollo, which has been renovated and reopened as an event venue.
"I would be shocked," he said.
No matter how they were found, the folks at the Shiloh Museum of Ozark History in Springdale were thrilled to hear about it. They had been looking for the local versions of The Kidnappers Foil, which were filmed in February 1937 in Bentonville, Fayetteville and Springdale.
Marie Demeroukas, an archivist and librarian at the museum, said she was surprised to hear the black-and-white films had been discovered two blocks away at the Apollo Theater.
Now the original nitrate films, which are on four separate reels, are 1,000 miles away in a vault at the Library of Congress' audiovisual conservation center in Culpepper, Va.
"It worked out perfectly," Demeroukas said. "We wouldn't have had the facilities to properly care for them or the funds to restore them."
[EMAIL UPDATES: Get free breaking news alerts, daily newsletters with top headlines delivered to your inbox]
She said the films range from 10-19 minutes in length, and include a talent show at the end of each one.
Besides the historic significance of the films, Demeroukas said they provide a link to the past that was lost for decades.
"Can you imagine if your kids could see a film of you 80 years later?" she said.
Demeroukas has been working to identify the 170 local people in the films. So far, about 70 have been positively identified.
She has been posting the results online at shilohmuseum.org/collections/kidnappers-foil.php.
Martha Westberg, 90, originally of Pea Ridge, said she remembers having a couple of lines in the Bentonville film and singing a Shirley Temple song, "Oh My Goodness," on a cold day at the talent show in Rogers.
"I had thought of it through the years, but to think of it being rediscovered was quite a thrill," she said.
Westberg now lives at Butterfield Trail Village in Fayetteville, along with two other women who were in the films -- Earlene Henry of Springdale and Rhea Segraves Dunegan of Fayetteville.
Among the other local kids in them were Don Tyson, who grew up to become chairman of Tyson Foods Inc., and Link Luckett, a helicopter pilot who performed a daring rescue of a group of climbers from Mount McKinley in 1960.
The Kidnappers Foil was a short film that itinerant filmmaker Melton Barker made hundreds of times across the South and Midwest from the 1930s through the early 1970s -- including at least 18 times in Arkansas.
The website meltonbarker.org lists more than 280 different productions of The Kidnappers Foil.
Besides the three recently found at the Apollo Theater, the other known Arkansas productions of The Kidnappers Foil include Hope and Camden in 1937, Newport in 1938, Fort Smith in the 1940s, Pine Bluff in 1952 and 1969, Little Rock and Texarkana on unknown dates, Fayetteville again in 1969, Paragould in 1973, and Blytheville in 1936, 1938, 1951, 1969 and 1975.
Barker would hold auditions, then cast many of the kids in his films, charging their parents a "small" acting fee. The majority of kids were extras, but Barker made sure to get all their faces on camera.
The plot was simple. A young girl is kidnapped from her birthday party and is eventually rescued by a search party of local kids after the criminals take swigs from a bottle and doze off. The townsfolk are so relieved that they throw a party to show off the musical talents of the youngsters.
The films were sort of local versions of Hal Roach's Our Gang comedy skits, which were syndicated for television as The Little Rascals beginning in 1955.
Barker would enlist local movie theaters and newspapers to sponsor and promote the productions. In Northwest Arkansas, he partnered with William Sonneman, who owned several area movie theaters where local versions of The Kidnappers Foil premiered.
Lundstrum noted that the Apollo didn't open until 1949. But it was preceded by several other downtown Springdale theaters, including the Concord, which Sonneman bought in 1931.
About 30 different versions of The Kidnappers Foil have been found, and 27 of them are now digitized, said Caroline Frick, an associate professor in the department of radio-television-film at the University of Texas at Austin. She's also founder and director of the Texas Archive of the Moving Image.
"It is hard to get an accurate assessment as some prints are held with private collectors who would like to sell them," Frick said in an email. "The numbers always change though as new prints are discovered. My dream is that we could uncover at least one from every state that Barker filmed."
Frick described The Kidnappers Foil as "unique socio-cultural and historical records of the past -- both of communities as well as the underwritten stories of non-Hollywood film history."
Finding three versions of The Kidnappers Foil at once was remarkable, said Todd Terpening, a volunteer with the Library of Congress who spotted the four Arkansas film reels on eBay, bought them for $400 and donated them to the library.
"I've seen one come up on eBay before but they were asking thousands of dollars," Terpening said. "To find something that's one of a kind is pretty fun. And to find three one-of-a-kinds in a box, that was a really exciting moment."
Terpening wouldn't reveal the name of the eBay seller, saying he asked permission to reveal their identity but didn't hear back.
George Willeman, the nitrate vault manager at the Library of Congress, said they now have 12 versions of The Kidnappers Foil.
"The ones from Arkansas are pretty much the earliest ones we have," he said. "They were in excellent condition. I don't believe there was any deterioration."
The Kidnappers Foil was added to the National Film Registry in 2012.
Home movies were an expensive hobby in the early 20th century, so Barker developed a business to provide them, according to a news release when The Kidnappers Foil was added to the registry.
Constance Waddell, 88, originally of Bella Vista, played the kidnapped girl in the Bentonville film.
"I do remember being very frightened -- or supposed to be frightened -- down by the old swimming pool that they used as their hide-out," said Waddell, who now lives in Claremont, Calif. "I remember that and getting kidnapped."
Waddell, who went by the name Connee May in 1937, said she was cast in the lead role because when asked if she could cry, she thought of her dead cat and big tears rolled down her cheeks.
A few weeks later, she was at the premiere at the Plaza Theater in Bentonville.
"It was a small town," Waddell said. "Bentonville was about a thousand people. It was a big deal. Everybody knew the Our Gang kids."
Waddell remembers sitting in her seat waiting for the film to start.
"I thought 'I'm going to be up there,'" she said. "A chill went through me. I thought, 'That's impossible.' It was magical -- just an amazing feeling."
The museum is planning a premiere of the local films on Nov. 4. Terpening will be the guest speaker.
Demeroukas said the museum will post the local films on You Tube after the Nov. 4 showing. Additional information will include a list of the actors and identification of the locations.
Waddell said she plans to be at the November showing.
"It was a million years ago, and this is another life," she said. "That's why it's fun for this to be dredged up."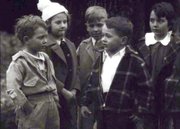 Metro on 10/01/2017