In the digital age, when emailing, texting and interaction on social media have eclipsed letter-writing and postcards as the predominant forms of written communication, the only thing more old-fashioned than fountain pens is a business that sells them.
But Vanness Pen Shop, a third-generation family-owned business in Little Rock that's closing in on its 80th year, is thriving, thanks partly, ironically enough, to the digital age.
"It's really interesting we survived all this," Lisa Vanness said. "We also made money."
Which is no small feat, considering that Vanness Pen Shop is one of only about 20 businesses left in the United States that are dedicated to selling fountain pens.
"The fact that Arkansas and central Arkansas has a pen shop is pretty amazing," said Grayling Hill, president of the Arkansas Pen Club. "There are many large areas larger than us that don't have any."
Dallas, for instance, doesn't have one. Little Rock has the same number of such shops as Manhattan has.
The survival of Vanness Pen Shop was a concern when the second- and third-generation members of the family huddled a few years ago to debate the future of the retail store that was established by Orville Vanness in 1938 in downtown Little Rock.
"Retail survival became an issue for us," said Lisa Vanness, whose husband, Mike, is Orville Vanness' grandson and the third generation in the Vanness family to sell fountain pens and other fine-writing instruments.
The decline of local retail stores has accelerated in recent years, thanks to Amazon and other online retailers.
Like many retailers that began in downtown Little Rock, Vanness Pen Shop eventually moved west.
Orville Vanness' two sons, Van and Dennis -- who is Mike's father -- operated the store downtown and near West 12th Street and South University Avenue before moving to North Rodney Parham Road and, now, in the Pleasant Ridge Town Center just west of Interstate 430 on Cantrell Road.
It could've been the end of the road. But it wasn't.
Lisa Vanness quit her job in social work to devote her full-time attention to the business, tapping into a background in communication that dated to her days at Arkansas Tech University in Russellville, where she edited the school newspaper.
She and Mike Vanness eventually began going to pen shows, first in Atlanta and then in Washington, D.C., that hosts the nation's biggest pen show.
About the same time, some members of the Arkansas Pen Club were trying to obtain a particular brand of ink, Akkerman, which is an ink producer in The Netherlands. But they couldn't figure out how to order it because the language was in Dutch. They turned to Vanness Pen Shop for help.
The Akkerman ink container was a unique design that, according to one online reviewer, is in the shape of a "genie bottle." The bottle contains a ball in the upper chamber that moves when the bottle is tipped and allows ink into the upper chamber to easily and cleanly refill a fountain pen.
Vanness Pen Shop agreed to pool the club members money and make a bulk purchase of the ink, about 20 to 30 bottles in all, recalled Lisa Vanness.
Then the "accident" happened.
A Hot Springs man who makes custom pens, Shawn Newton, was at the shop one day and snapped a photograph of the Akkerman ink bottles. He posted it on his blog, and it made its way elsewhere on the Internet. Phone and email orders began arriving for the ink, Lisa Vanness said.
It turned out that Vanness Pen Shop was the only place in the United States that offered Akkerman ink. That's not the case now.
"The Internet found us, we didn't find the Internet," she said. "Once the accident happened, I became focused."
Up to that point, Vanness Pen Shop had sold online items only sporadically on eBay, an online selling venue. Vanness Pen Shop then developed its website. This year, it introduced a website that allows people to order online.
The Internet operation soon took over more and more of the store's retail business. Vanness Pen Shop just recently sold its cake-decorating operation to make more room and allow the owners and staff members to focus more on pen, ink and paper. The store also will continue to do engraving.
January was the last month in which the retail store outperformed the Internet side of its business, Lisa Vanness said.
Vanness Pen Shop now is one of the largest ink sellers in the United States. At last count, the store offers nearly 4,000 different inks.
"We're saying [to our vendors], please don't ship yet," she said. "My garage is full."
The pen show circuit is integral to the shop's success, too, which has allowed its staff to further mine the Internet for business. By her count, Lisa Vanness said the staff has been to nine pen shows or events in eight states, including Denver, where Mike Vanness was last week.
Fountain pens have a substantial online presence, including sellers and bloggers. The Internet is the first place people go to read pen reviews and view videos on how to use them.
"The bloggers are the new network TV stars," Lisa Vanness said.
Their knowledge of fountain pens and inks, and their willingness to share it is a large part of the Vannesses' success, said Matt Armstrong, a product manager by day for a large telecommunications company in Seattle and a blogger by night under the nom de plume, The Pen Addict.
"As soon as they realized the Internet [fountain pen] community was out there, they really worked hard to find ways to reach out to contact them and share their knowledge," he said.
Pen enthusiasts in Arkansas can rest easy. Lisa and Mike Vanness have no plans to close their store and go online only, which would have less overhead.
Lisa Vanness well remembers how important the Arkansas Pen Club was in helping the store through its tough times.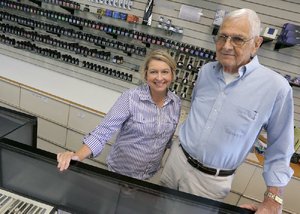 Photo by John Sykes Jr.
Lisa Vanness and her father-in-law, Dennis Vanness, at their store, Vanness, a shop that primarily sells fountain pens. The store was on the verge of closing until the internet found them.
"Arkansas has the best pen customers," Lisa Vanness said. "I could always ask them for help. They knew we were struggling.
"Brick and mortar is not an afterthought for us."
SundayMonday Business on 10/08/2017