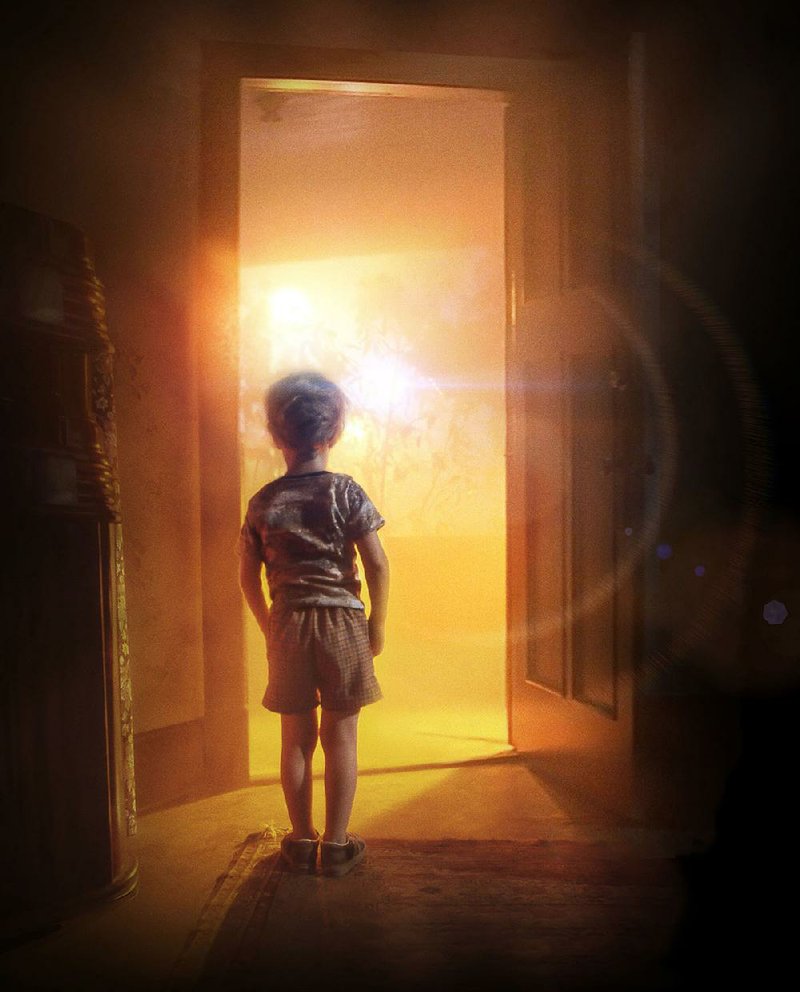 Cary Guffey plays Barry Guiler in Close Encounters of the Third Kind
Steven Spielberg's Close Encounters of the Third Kind is a movie about running away. It's about escape, about lighting out for the territory.
If you think about it, you come to the conclusion that its protagonist, a Muncie, Ind., electric company lineman named Roy Neary (so close to "Nearly") played by Richard Dreyfuss (after Steve McQueen, Dustin Hoffman, Al Pacino, Jack Nicholson, Gene Hackman, and James Caan turned down the role), is a horrible person. Or at least he's a very childish man.
He experiences an inexplicable event. He becomes obsessed. He drives away his handsome family with disturbing behavior and soon hooks up with a similarly obsessed, similarly bereft woman named Jillian (Hope native Melinda Dillon). Together they are drawn to the wilderness, to Devil's Tower in Wyoming, to witness the arrival of an enormous spacecraft. Finally, Roy leaves with the aliens, off on a frolic of his own, abandoning everyone he ever cared for, whoever cared for him.
It's not the sort of film that could be made today; no mainstream movie would dare take as its hero a father who abandons his children (even if they are, as is made clear, a soul-sapping pack of brats who refuse their father's offer to take them to see Pinocchio, the Disney film that features "When You Wish Upon a Star," the song that Spielberg says inspired his story and which composer John Williams interpolated in the climactic moments of his score). But that's what some daddies do when they feel an existential crisis bearing down on them. They check out.
I remember feeling weird about it when I saw it 40 years ago; I still feel weird about it. But even if Close Encounters is, as Pauline Kael called it, "a kid's film in the best sense," I understand it better today. It feels honest as it moves from humdrum to awe; it reminds us of both our mortal limits and the infinite possibilities of the imagination. Roy Neary seems very much like people I know, people who strain against the mundane while hoping and believing there's something more. He's selfish, he's human.
On the other hand you can understand why some people see him as Moses, with those slender, luminous aliens standing in for God. At the end of the movie, Roy goes to the mountaintop. We might presume he'll be reunited with those he left behind, just like little Barry was with his mom Jillian. Or maybe he'll return decades later like the Flight 19 pilots (who in real life disappeared in the Bermuda Triangle in 1945) staggering down the gangway into the 1970s. (It's for sure they'll be debriefed; will they be prophets?)
Anyway, there's a heartlessness to Roy. He seems to have an inexplicable confidence in his own specialness -- a fever common to sociopaths -- even though his earthly life signals merely the sort of domestic comfort available to most Americans in the '70s. Maybe the aliens selected him when they levitated his truck and burned his cheek, maybe they chose him for his typicality. (Spielberg has said he wanted a regular-guy hero, that he personally found it difficult to relate to a man in uniform.)
More like it was random, some interstellar lottery. (Like the ads say, somebody's gotta win.)
The movie is odd in another way: The aliens are benign. They've come here to look around, to catch and release a few of us, to get to know us better. Surely they could use their technology to disinfect our watery planet. But they're chill. They dig our crazy tunes -- that five-note motif literally speaks to them. (Hey, that's Jerry Garcia in the crowd scene near the end!)
People seem to remember the ending spectacle best, the sequence that now seems like an elaborate commercial for Milton Bradley electronic light and tone game Simon (which came out a few months after the movie). But I'm drawn to the early domestic scenes, and the building creepiness of Roy's mania. The eerie awakening of Barry's toys before he disappears. That wonderful scene Spielberg shot with real air traffic controllers in a real control tower: A pilot has seen a strange light in the sky, the controllers watch the blips on their radar console and comment dryly on the uncanny. No one wants to suffer the paperwork that would be involved with reporting the incident.
It was a nice touch casting director Francois Truffaut as UFO expert Claude Lacombe. (Truffaut's appearance might be read as endorsement, a way of connecting Spielberg's New Hollywood to the New Wave. But the truth is Truffaut only took the role because he was researching acting for a book he never got around to writing.)
There is some compromise. Spielberg wanted to bring the movie out in the summer of 1978, he wanted six more months to tweak the editing. But Columbia Pictures, in dire financial straits, needed it out by Christmas 1977. Spielberg, the 30-year-old wunderkind who'd invented the summer blockbuster with Jaws, was being counted on to save the studio.
And he did. The film went on to earn $303 million worldwide on its $20 million budget -- for a while it was Columbia's biggest hit ever -- and was nominated for eight Oscars, winning best cinematography and a special achievement award for sound effects editing.
But the rush to finish left Spielberg unhappy with the film's ending, and in the wake of the movie's box-office success he secured the right (and the financing) to make a special-edition director's cut of the film. In the 1997 documentary The Making of Close Encounters of the Third Kind, Spielberg says the studio agreed to the special edition provided he give them "something to hang a [marketing] campaign on."
"I should never have shown the inside of the mothership," he says. The rest of us can't unsee it.
Spielberg added seven minutes of new footage but cut 10 minutes, making the special edition shorter than the original theatrical release. And that special edition has become the definitive version of the film. It's the one being re-released today, remastered in 4K, for theaters across the United States and Canada.
It's part of the canon. If you haven't seen it, you should. And if you've seen it 100 times, once more wouldn't hurt.
MovieStyle on 09/01/2017
Print Headline: Back to the future: 40 years after its first release, Steven Spielberg's favored cut of Close Encounters of the Third Kind returns to theaters
Sponsor Content