Body cameras help police write reports, submit evidence, verify how an encounter with the public went and improve community relations, according to local and state agencies.
Fayetteville soon will join a growing list of police departments adding them to their toolkit.
Photo by David Gottschalk
The docking station in the office allows Fayetteville officers to charge the cameras and upload video to a server simultaneously. Plus, they make writing reports a whole lot easier, said Cpl. Stephen Mauk.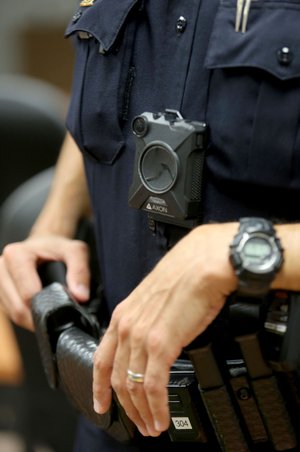 Photo by David Gottschalk
Cpl. Stephen Mauk with Fayetteville's Police Department wears a body camera. Deputy Chief Mike Reynolds said he expects to have all 129 sworn personnel equipped with cameras by December.
The debate
Pros
• The necessity to record every interaction with residents is bound to minimize complaints about police officer behavior and the unnecessary use of force, because interactions are captured for everyone to see. Both officers and civilians may tend to be more restrained, knowing their words and actions are being captured.
• Use of the cam while on duty provides hard video evidence of decisions made by officers in intense situations.
• Video recorded by body cameras protects any false accusations, misconduct or abuse against officers.
• Increases transparency and accountability of officers.
• May help prevent and de-escalate confrontational situations between officers and civilians.
• May help provide valuable evidence in obtaining accurate witness and victim statements.
• Video footage captured may help speed up court proceedings by providing indisputable proof of situations. This may lead to a reduction in court expenses because of an increase in pre-trial plea bargains or possibly an increased rate of convictions.
Cons
• According to early versions of policies governing their use, law enforcement officers must activate the camera when they exit their patrol car. The recording equipment must be manually activated when interacting with civilians or recording statements during investigations. However, officers decide when to activate the camera, and for how long the footage is stored, and if and when should it be made accessible to public. For example, the camera can be deactivated when interviewing a victim of sexual assault to maintain the victim's privacy.
• Privacy issues are of concern for both police and civilians. How to deal with those concerns is still being evaluated.
• Use of body cameras may prevent people from coming forward as credible witnesses to help assist with investigations because of fear of retaliation or fear of public exposure.
• Technological issues related to the cameras may prevent proper functioning at times. This could be because of a dead battery, damaged components, obstructed lens or other problems. This could result in personnel missing important witness statements or crucial behavior by officers or citizens.
• The equipment is expensive. Costs include the device, ongoing maintenance, storing and maintaining the video footage and recorded data. Storage costs and decisions about who should have access are some of the most hotly debated issues. In addition, costs would be associated with cataloging and retrieving footage in response to subpoenas, investigations and public information requests.
Source: eInvestigator.com
The City Council on Tuesday will consider a $762,680 contract with Axom Enterprises, formerly Taser International, in Tucson, Ariz., for 129 body-worn cameras, associated equipment and 90 stun guns. The item is on the consent agenda, meaning council members should pass it without discussion.
Deputy Chief Mike Reynolds said he expects to have all 129 sworn personnel equipped with cameras by December. The contract covers five years and includes two upgrades.
The contract will be paid for with a combination of federal money, police impact fees, which are tacked onto new building developments, and money from the city Capital Improvements budget.
The Police Department has tested a handful of the devices for the past few months. Cpl. Stephen Mauk said the cameras clip easily to a magnet in the center of the uniform. The docking station in the office allows officers to charge the cameras and upload video to a server simultaneously. Plus, they make writing reports a whole lot easier, he said.
After working patrol for 12 years, the biggest challenge for Mauk is remembering to tap the camera to turn it on.
"I think it's a great tool," he said. "I'm sold on it."
Other police agencies in Northwest Arkansas either already have body cameras, are in the process of getting them or have decided against them for the time being.
Taking a pass
Last year, Fayetteville, Springdale and Washington County applied for a matching grant from the U.S. Department of Justice to start a body camera program. The three agencies got approval for a combined $186,496 in federal money.
Fayetteville was awarded $67,680, Springdale got $73,696 and Washington County was approved for $45,120.
The Fayetteville City Council in December approved matching its part of the grant. They've since used some of the $135,360 in combined federal and city money to test the equipment. What's left of that pie, $104,528, will go toward the five-year contract.
Springdale's council signed off on matching their $73,696 in March. The department has purchased 10 cameras and is in the field-testing phase.
The test phase will have to be complete before buying more, Lt. Jeff Taylor said.
"I am not sure how long we are going to test the cameras," he said. "We have just started the process and I have not heard any feedback from the officers yet as I think it is still too soon for them to tell."
The Washington County Sheriff's Office ended up withdrawing from the grant. Its money went back in the federal government's coffers and didn't affect what Fayetteville and Springdale received.
The Sheriff's Office simply didn't have the staff or resources to keep up with the administrative requirements of collecting and reporting data, Maj. Rick Hoyt said.
Instead, deputies received 30 free body cameras as part of a package deal to replace 30 old dashboard cameras from its regular vendor. The cameras haven't been used yet because, again, of staffing issues, he said.
The Arkansas Freedom of Information Act makes police video a public record, so someone has to redact things such as children's faces or other sensitive information. It's easy to take a black marker to a report but editing video requires some degree of know-how, Hoyt said.
The Sheriff's Office also needs to work out a policy regarding body cameras. No timetable has been set, Hoyt said.
"I've always said putting a body camera on an officer -- that's the easy part," he said. "You can buy one on the internet and I can hang it on an officer five minutes from now. It's what you do after that once you've got the video. Now you've got to manage it."
Wait and see
Not every Northwest Arkansas agency has determined the cameras are needed. Rogers police cite privacy concerns as well and want guidance from state leaders.
"We still continue to monitor the advancements in technology, and await further action by legislators," Officer Keith Foster said. "Again, we are not saying we will never adopt this technology, we just need to have our concerns addressed."
A House bill that would have kept from the public footage related to ongoing investigations and depicting "third parties" involved in police encounters died in committee. Another bill, which puts a permanent seal on any footage showing an officer's death, became law.
Bentonville police started testing a few brands of cameras just more than a year ago, but the program is on hold for now, Officer Gene Page said.
The department wants to make sure its policies and procedures will match whatever state statutes might emerge before making the investment, Page said. Time is on the department's side, Page added, because Bentonville hasn't historically had a high volume of complaints against officers or instances of deadly force.
"If you implement it, once you start something like that, you can't go back," he said. "Especially with a transparency item such as cameras, because then it looks like a lack of transparency."
Benton County deputies have ordered five cameras to try out. The department figured it would cost about $750,000 to outfit the entire agency, so starting off small serves as a cost-prohibitive measure, Capt. Ed Motsinger said.
"We are interested in it," he said. "We're looking at the technology and we're trying to employ that to see how it works for us with the five. If that materializes, we're going to try to purchase others as the funds become available."
Trailblazers
The Lowell Police Department in late 2015 became one of the first agencies in Northwest Arkansas to get body cameras for all its officers.
J.B. Hunt and Firehouse Subs picked up the $21,000 tab. Upgrades and additional purchases are up to the city, but it's been worth it, Chief Randy Harvey said.
Lowell police wear their cameras on a ball cap, glasses or lapels.
"It helps an officer out when they do a report. They can just pull the video up and refresh their memory," Harvey said.
Lowell uses the same online storage service, Evidence.com, that Fayetteville does. The software that comes with it makes things like blurring faces simple, Harvey said.
University of Arkansas police started wearing body cameras in late 2015. Aside from the occasional camera malfunctioning, officers haven't had any complaints, Capt. Gary Crain said.
"I've been in law enforcement long enough that I was an officer when video cameras first went into vehicles," he said. "Some people liked them and some people were opposed, but they turned out to be very useful. With these body cams, it's the same thing."
Every department is different as far as personnel, resources and money, but more are finding ways to get body cameras, said Gary Sipes, former Jacksonville police chief and president of the state Association of Chiefs of Police.
It's hard to know exactly how many departments use them or are buying them, but a 2016 Arkansas Democrat-Gazette report identified at least 37 agencies had them. The state had 237 law enforcement agencies according to a 2008 census from the U.S. Bureau of Justice Statistics.
The association encourages police departments to get body cameras for their officers when feasible. Sipes said having the footage in an officer-involved shooting, for example, can prove invaluable in showing the appropriateness of the officer's actions.
On the flip side, the cameras have a lofty price tag, knowing when to turn them on or off is murky at best and how long records should be kept differs with each agency depending on resources, Sipes said.
A department such as Fayetteville's can use impact fees and capital money for body cameras, but that's not going to be the case for everyone, he said.
"So many agencies right now budgetarily are strapped," Sipes said. "If it becomes state-mandated, they would have to come up with some assistance, somehow -- grants, or something -- to help these smaller agencies that just couldn't afford them. They're not cheap."
NW News on 09/03/2017