A chorus of cicadas fills the mid-August twilight as the wide, muddy Arkansas River rolls by Rockwater Marina in North Little Rock.
Samuel Ellis is on the marina's dock, readying a pair of green kayaks for an evening trip down the river and talking about Rock Town River Outfitters, the kayak tour startup he opened in April.
The 29-year-old Ellis had done some canoeing with his family but got into kayaking while attending the University of Central Arkansas in Conway. He also worked as a white-water guide in Colorado, where the headwaters of the Arkansas are found.
"It's a little different up there," the Little Rock native says. "There's Class 3, 4 and 5 rapids. But here it's essentially a big Class One. It's perfect for beginners."
NO PLACE LIKE HOME
Returning to Little Rock and spending time in his kayak on the usually peaceful river sparked Ellis' inner entrepreneur.
"When I got back, I kept coming out and playing on the river. I was out here all the time, but I was the only person out here," he says. "I took some photos [from the kayak] and my friends saw those and they wanted to go, then more friends wanted to go and I realized I couldn't keep this to myself anymore."
He figured, at first, that he'd run his river outfitters business from his garage. But one day while he was paddling along, he spied the marina and realized this could be a match made in river heaven.
"I thought that would be a great spot, if I could just talk to them about having some boats out here."
It didn't take much talking.
"They were like, 'when do you want to start, how can we make this work?' They've been awesome."
"They" are Jim and Lisa Jackson, owners of the Rockwater Village development and its nearby Rockwater Marina -- which features boat slips, a store and round-the-clock marine-fuel service.
"We were thrilled when Sam suggested his idea," Lisa Jackson says. "We've really seen it grow since he started there. People love to have stuff to do on the water and having him come with this unique idea has been a great service for folks interested in the water. And it adds a new dimension to the river."
Ellis started with three boats. His fleet has grown to about 12. His trips include 2-mile paddles from the marina downriver to North River Landing, a concrete ramp below the Interstate 30 bridge in North Little Rock, where his car is parked for the return trip. Tours last about an hour to an hour-and-a-half. Daytime versions of this route on the weekends are $45.
An evening version, which starts at 7 p.m. Wednesday through Sunday, costs $65 and offers paddlers up-close views of the shimmering, colorful lights dancing on the water from the bridges connecting Little Rock and North Little Rock -- as well as a unique perspective of the Little Rock skyline from the low-slung comfort of a kayak.
Another option is a three-hour, six-mile trip that starts at Murray Park in Little Rock just below Murray Lock and Dam and features stops at a sandbar or two before coming ashore at North River Landing.
"That is a beautiful trip," Ellis says of the $65 excursion. "You have Murray Park, you go through Emerald Park. It feels like you're not even in Little Rock, you don't see anything but trees. As you come around Emerald Park, you come around the bend, and the first thing you see is the Capitol building and then right behind it the skyline shows up. It's really cool."
Ellis has branched out into paddleboard trips and also has guided trips along the Little Maumelle River. Kayak and paddleboard rentals are available, he says. For information on guided trips and rentals, check rocktownriveroutfitters.com.
KAYAK CONFIDENCE
"Let's get you set up in your boat," Ellis says.
He has already strapped your correspondent and novice kayaker into a small blue life vest and has our two 13-foot kayaks ready to launch into the Arkansas, which is the color of coffee with a tiny splash of creamer and has the occasional dark tree limb bobbing around in it.
"I'd say that about 98 percent of the people we take out have never been in a boat before," he says, "which is really great because I can show you how to be in a kayak, safety tips, how to handle it and how to be comfortable."
Lorraine Owens of North Little Rock and her daughter, Jessica Maxwell, took a daytime float with Ellis earlier this summer. Owens had been in a kayak maybe once before.
"I was nervous at first, but he was great with us," she says. "I felt confident by the time we were out there on the water. And you get a completely different perspective of where you live when you're on the river. It was really fun."
Buckley O'Mell, vice president for advocacy at the Little Rock Regional Chamber of Commerce, took an evening float trip from the marina with the chamber's Young Professionals group in June.
"I was really surprised at how still the water was," he says. "It was almost like a lake."
Like Owens, he was impressed with the views from the kayak.
"It's a way to see the city that you can't get anywhere else. Even if you're on a large boat, you still don't get that experience of being down at water level and going under the bridges and seeing it from that wholly new perspective."
On this August evening, the river has a bit of a current, although it's nothing unmanageable. Ellis says he won't launch if the river is flowing above 60,000 cubic feet per second and notes that with its current flow, we won't have to do a whole lot of paddling on our trip.
"It's good to see a little water," he says. "You won't be exhausted by the end."
The kayaks he uses are a bit wider in the middle to add stability. They have adjustable footpegs, and he instructs me to bend my knees and press them against foam padding inside the boat. The long-handled scooped paddle, he notes, is pretty easy to operate. If you can read the writing on the paddle ends, that means they are facing the right way. There are rings on each side of the foam paddle grip that help prevent water from slopping into the boat.
Ellis has built a small launch ramp at the end of the dock that allows him to shove boats easily into the water with their paddlers aboard. My vessel is in position at the ramp. He switches on sleek lights built into the starboard and port sides of the boats.
ROLLING ON THE RIVER
"We have rules," he says, "and one of them is that when I push you in, you have to say 'Wheeeee.'"
"Wheeeee?"
"Or 'Wooooo.' I had one guy say 'Woooo, pig, sooey!'"
And so, with a firm push and a confident "Wheeeee," I am afloat.
As O'Mell noted, floating in a kayak means being close to the water. In a canoe or a fishing boat, the occupant is higher above the surface. In a kayak, the water is right there, seemingly level with one's elbows. It's almost intimate.
Another notable thing about this particular boat is how stable it is. The idea of flipping over like some cascading white-water rafter seems remote at best.
"These boats are made for beginners," Ellis says. Stable and wide, "they're essentially day-touring kayaks. We do have people that see them as a little intimidating. They think that if you roll over you will be stuck inside, but that's not the case at all."
Paddling is instinctive, just scoop one end into the water and then the other. Ellis demonstrates a few pointers, including how to turn more efficiently by using one end of the paddle as a sort of brake. Then we are off.
Before we head downstream, though, we paddle upriver briefly to circumnavigate a small island near the marina. I get stuck in a little eddy at the tip of a jetty and have to exert a little more force to paddle through, but quickly I liberate myself and join Ellis in the placid water between the island and shore. A pair of beavers check us out before swimming away.
We make our way around the island, enter the main river and hang a left to eventually float beneath the series of bridges that link North Little Rock and Little Rock, the sun setting at our backs.
We see a party barge and a motorboat, but we otherwise have this swath of river to ourselves as we keep to the left of the main channel. Cars cross the various spans, and downtown Little Rock lights up while we float serenely with the current, away from the hustle and bustle.
It's dark by the time we reach North River Landing, about an hour after we paddled away from the marina. Ellis docks first and then guides me onto the concrete ramp. He helps me out of the boat, which he pulls next to his on the ramp.
Earlier in the day, he parked his Subaru at the landing and rode his bicycle to meet me at the marina.
Ellis backs the Subaru down the ramp and loads the boats onto a trailer he built. We take off our vests, pile in and head back toward Rockwater.
He has plans for other trips and features. He'd like to do a tour that would stop for brunch at Cajun's Wharf, say, or picnic on the island near the Clinton Presidential Center. The main thing, though, is exposing people to what this stretch of the Arkansas has to offer from the cockpit of a kayak.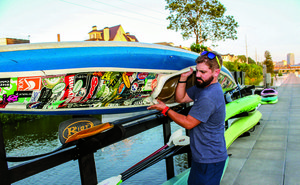 Photo by Sean Clancy
Samuel Ellis refurbished this 1950s-era white-water boat, a gift from a friend, and uses it sometimes on the kayaking tours he leads from Rockwater Marina.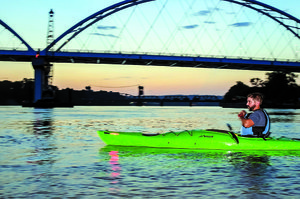 Photo by Sean Clancy
With the Baring Cross Bridge in the distance and the Broadway Bridge nearby, Samuel Ellis, owner of Rock Town River Outfi tters, leads a paddling tour of the Arkansas River.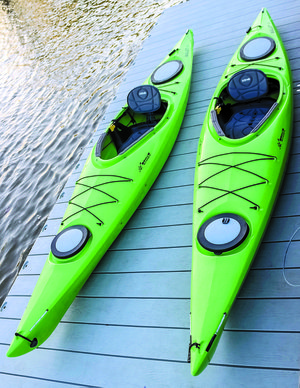 Photo by Sean Clancy
Kayaks await their pilots at twilight in August at Rockwater Marina on the Arkansas River.
"I just wanted to get people out on the river little by little," Ellis says. "I want them to see that it's safe and not this big, bad, scary river."
ActiveStyle on 09/04/2017