The percentage of Arkansans living below the poverty line has declined to its lowest level since 2005, according to new figures from the U.S. Census Bureau.
Arkansas' poverty rate of 17.2 percent moved the state from 47th in the nation to 44th when compared with other states and the District of Columbia from 2015-16, according to the data. The state's median household income of $44,334 moved one spot -- from 50th to 49th nationally, ahead of West Virginia and Mississippi.
The decline in poverty and an increase in income are consistent with recent years of economic growth and decreasing unemployment, said Michael Pakko, chief economist at the Arkansas Economic Development Institute at the University of Arkansas at Little Rock. Unemployment in the state dropped during 2016 and reached a record low of 3.4 percent in 2017.
"From 2014 right up till today, we've seen fairly strong job growth in Arkansas," Pakko said.
Arkansas' drop in poverty rate was the fourth-biggest in the nation, surpassed only by New Hampshire, Hawaii and Oregon. Oregon saw the greatest change in its poverty rate, dropping from 15.4 percent in 2015 to 13.3 percent in 2016.
Arkansas' poverty rate in 2015 was 19.1 percent, according to one-year estimates from the Census Bureau's American Community Survey. For 2016, that rate dropped to 17.2 percent, matching the state's 2005 level. It's only the second time since 2005 that the state's poverty rate has decreased; the last time was in 2014.
"That is a statistically significant decline," Pakko said.
[EMAIL UPDATES: Get free breaking news alerts, daily newsletters with top headlines delivered to your inbox]
The federal government has many ways of measuring poverty and median household income, and the figures released Thursday are just one of them. The Census Bureau also has multiple ways of calculating poverty.
The American Community Survey provides one-year figures and five-year averages. On Tuesday, the Census Bureau released two-year averages and three-year averages for poverty that showed Arkansas' rate at 16.1 percent based on two-year averages and 16.8 percent based on a three-year average through 2016.
The national poverty rate was 14 percent in 2016, compared with 14.7 percent in 2015. That figure includes Puerto Rico.
In 2015, the Census estimated 46,153,077 Americans -- 550,508 of those being Arkansans -- to be living below the poverty line. In 2016, those numbers dropped to 44,268,996 Americans, including 499,225 Arkansans.
As of Friday, county-level census data were available for only 11 counties within the state's largest metropolitan areas. Those counties had a combined average poverty rate of about 15.9 percent, lower than the state average.
Some of the biggest county-level drops occurred in Sebastian County, where the poverty rate declined from 24.5 percent to 17.4 percent, and White County, where the rate decreased from 21.5 percent to 14.6 percent.
David Hudson, the county judge of Sebastian County, said the improvement was probably the result of recent years' economic growth, including the redevelopment of Fort Chaffee.
Michael Lincoln, county judge in White County, said he was a bit surprised to hear the poverty rate in his county had decreased so much. White County experienced an economic boom from the natural gas industry, but that boom turned to bust in 2015 and 2016.
The county is growing, Lincoln said, and businesses are adding jobs. He noted that Yarnell's Ice Cream has added positions and that American Marksman recently announced the opening of an ammunition factory in Searcy that will add up to 100 jobs.
"I'm just very pleased that something's happening to help people better their life standards," Lincoln said.
Of the 11 counties with available poverty data, only two saw increases in poverty rate. Faulkner County had 15.5 percent poverty in 2015 but saw that rise to 19.1 percent in 2016. In Lonoke County, the rate increased from 11.7 percent in 2015 to 14.8 percent in 2016.
Faulkner County Attorney David Hogue, who often responds to media calls to the county, pointed to the floods of 2015 and early 2016 as possible contributors to economic hardship for many county residents. Dozens of homes flooded after a levee failed twice in the county.
The drop in poverty in Arkansas has coincided with an increase in census figures for median household income.
Median household income was an estimated $41,995 in 2015 and increased to $44,334 in 2016. When factoring in inflation, according to the U.S. Bureau of Labor Statistics' Consumer Price Index inflation calculator, $41,995 in December 2015 has the buying power of $42,866.24 in December 2016.
Including Puerto Rico, the national median household income was $57,617 in 2016, up from $55,775 in 2015.
Pakko said the increase in median household income could be the result of growth in the number of high-paying jobs rather than wage increases on a wider scale.
Mervin Jebaraj, interim director of the Center for Business and Economic Research at the University of Arkansas, Fayetteville, said statistics at other federal agencies indicate that wages aren't rising much. So the increase in median household income could be attributable to more Arkansans entering the workforce and earning salaries that lift the median, he said.
Jebaraj said wages would rise beyond inflation levels if the labor market were tighter and if Arkansans attained higher levels of education.
If those things happened, he said, more Arkansans would take up available jobs and cause employers to pay workers more to keep them.
Currently, Jebaraj said, the state's labor force participation remains lower than it was before the recession that began in 2007.
Jebaraj noted that the percentage of Arkansans who are at least 25 years old and have bachelor's degrees rose from 21.8 percent to 22.4 percent. The national average is closer to 30 percent, he said.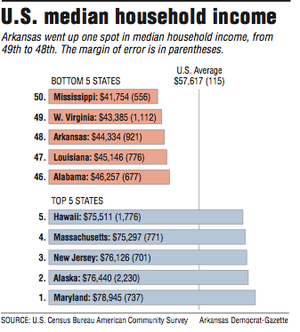 Photo by SOURCE: U.S. Census Bureau American Community Survey / Arkansas Democrat-Gazette
Graph showing information about the U.S. median household income
"That's still a place where we need to catch up to other states," he said. "That moves median income."
A Section on 09/18/2017