EL DORADO -- The town was definitely back in the atmosphere as musical acts like Train played to sold-out crowds at grand opening festivities for the $100 million Murphy Arts District.
The festival, which coincides with the 30th annual MusicFest began Thursday evening and continues through Sunday with more than 30 musical acts, a zip line and a downtown full of food and arts and crafts vendors. There was a constant buzz of excitement as crowds flowed through metal detectors into the six-block area in downtown El Dorado that was transformed into an entertainment district.
About $60 million has been spent for the first-phase of the project, which includes an 8,000-person capacity outdoor amphitheater, a farm-to-table upscale restaurant with a cabaret stage and a 2,500-seat indoor concert venue. A children's playscape will be completed before the second phase -- which will include the revival of the 1920s-era Rialto theater as a venue for plays, musical acts and movies, and the opening of an art gallery -- begins next year.
"The place was packed with such a diverse crowd," said Bob Tarren, Murphy Arts District's chief marketing officer. "Young and old. It was really amazing. Everybody was on their feet. The sound was great. It was a goosebump kind of moment because it was real. It was finally real."
El Dorado's award-winning historic downtown was barricaded off Friday morning to hold musical stages and vendor tents that were lined up in front of sidewalks. Traffic to the square was bumper to bumper as parking lots filled up.
The gates opened Thursday at 6:30 p.m., an hour and a half before Natasha Bedingfield took the stage. While most people stood in a line that snaked around the new Griffin Music Hall as they were guided through the double doors into the concert venue, several roamed the district, checking out the amphitheater, the temporary children's play area or eating at the Griffin Restaurant.
"They took a concept from nothing and now this," said Sallie Barron of El Dorado as she swept her arms wide to take in the arts district. "This is very exciting. This is going to really rejuvenate El Dorado. I just think it's a wonderful concept to have this, bringing in acts that don't normally come down this far south. This is the first time I've seen it. They've just done a beautiful job."
[INTERACTIVE: 360° photos offer interactive views of new Murphy Arts District]
Standing behind the Griffin Music Hall, reading an informational sign on the district, Terry Kilby, an El Dorado native who now lives in Hot Springs, widened his eyes and shook his head back and forth in disbelief.
"I didn't really expect this. When I was walking in ...," he said, pausing to point at the Griffin Restaurant.
"I remember Griffin being the glass company and I remember seeing pictures of it back when it was a car lot."
Lainey Jordan, 9, of Fordyce spent her time before the concerts at the empty amphitheater, skipping across a patch of green artificial turf to a meandering sidewalk.
She was waiting to see Train's performance.
"This is one of my favorite things," Lainey exclaimed. "It's amazing!"
Her mother, Andrea Jordan, laughed.
"I might have had a little influence on that," she said. "We're just glad to have something so close to home."
Mike Meadows said he was skeptical when he toured the area two weeks ago while it was still under construction.
"The streets were not paved. This was wide open," he said, pointing to the amphitheater field of green. "Everyone is hoping this will be a big boost for, well, all of Union County."
Linda Sinclair of Magnolia was sitting on a bench waiting for a friend as she looked out over the artificial turf.
She only had one complaint: lawn chairs were permitted only if they were 9 inches from the ground or shorter, like beach chairs that sit at sand level.
"I have a bum knee. They didn't post that until it was too late," Sinclair said. "The only thing I'm figuring is that I'm going to have to get me some knee pads and crawl into the chair. There was another woman a little older than me who said she's going to have to roll into hers."
Sinclair's face crinkled in laughter, then grew serious.
"Oh my God. It's going to skyrocket El Dorado," she said. "Magnolia, I think, is taking the hint. They're supposed to be putting in a water slide and everything over there. Rumor has it that the reason they're doing it is because of all this stuff going up."
Griffin Restaurant assistant manager Labryant Crew said the crowd was "booming the walls out."
"We have people bouncing around. Our servers are flying here and there. We've got drinks going out the wazoo," he said. "Everything is great. We can hardly catch up."
Bekah Mitchell, administrative assistant with the Murphy Arts District, said younger people will flock to the district.
"I'm 26. This is going to bring a whole new dynamic to the music industry and the art industry that young people love, too," Mitchell said. "I'm really excited. To watch it start to come to pass beyond the doubt of anyone, it's rewarding. Rewarding is an understatement."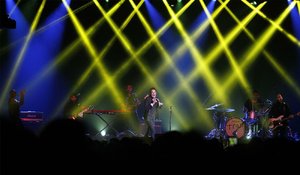 Photo by El Dorado News-Times/TERRANCE ARMSTARD
Train frontman Patrick Monahan performs in El Dorado on Thursday.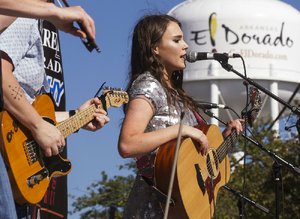 Photo by Benjamin Krain
Mary Heather Hickman plays with her band Mary Heather and the Sinners, from Fayetteville, during one of several concerts Friday at the El Dorado music festival.
A Section on 09/30/2017