FAYETTEVILLE — Several biomedical engineering students at the University of Arkansas and local health care providers have joined to try to solve everyday problems for providers and their patients.
A program started this semester sent 16 students to watch University of Arkansas for Medical Sciences therapists and residents at work. Their task is to find where a little engineering could make a difference. Several students and therapists at UAMS's Outpatient Therapy Clinic this week said the resulting projects could, for example, create a better support to keep patients steady during physical therapy or a smart-phone app to make sure they do their exercises at home.
"You always have something to make better," said Kaylee Henry, a junior in the program, noting biomedical engineering is behind such technologies as medications, pacemakers and contact lenses. Henry proposed a pen with a sensor that could measure patients' grip strength over time for those working on their hand control and upper-body strength.
The primary goal behind the partnership is giving real-life experience to everyone involved, including several medical residents training to become fully licensed physicians, said Dana Engelbert, UAMS Northwest spokeswoman.
"It's important for them to figure out how to be teachers as well" throughout their careers, she said, for students, future residents and patients.
Sign up for breaking news
& daily updates delivered
right to your inbox.
The university's College of Engineering already partners students in the industrial, mechanical and electrical engineering departments with companies to develop senior design projects and hone skills students will need after graduation. Participating companies have included locals such as Walmart and others overseas, said Nick DeMoss, college spokesman.
The biomedical projects could also be genuinely useful, said several therapists at the outpatient clinic.
"I was inspiring future biomedical engineers to create the things I would actually like to see in my clinic," said Jennifer Steinauer, a physical therapist assistant. It's often unclear whether the bulky equipment she and others use had therapist input throughout the design process, she said. "This gives us the opportunity on the front end."
Connecting engineering and medical perspectives is an increasingly popular idea, Engelbert said. She pointed to the University of Illinois at Urbana-Champaign, which is phasing out its traditional medical school to create a new one with engineering integrated into every class in partnership with Carle Health System.
"This group will be the bridge between the people who understand the technology and the people who deliver the health care," Dr. King Li, the Illinois school's dean, told the Chicago Tribune in February. "There are very few people who can cross between these two groups."
Health providers in Arkansas and other states are also exploring new medical technologies like telehealth, in which doctors can evaluate patients for some needs over long distances.
Several shadowed Steinauer and her colleagues for a few hours over the course of this semester.
James McGee noticed the providers often wished they had eight arms, to hold a patient steady, help them work on leg joints and the like, so he suggested a kind of standing frame that's smaller and lighter than what they use. Henry, with the sensor pen, worked with an occupational therapist who tried to eyeball her child patients' arm strength by watching them color with crayons.
Shelby Johns and Wallis Akinson, also juniors, learned home exercises, away from the clinic and watchful therapists, are important for recovering from injuries or illness, but patients can sometimes neglect them. They proposed an app to help, perhaps by counting repetitions or tracking heart rate.
The therapists heard all of their ideas over lunch Tuesday and gave advice and critiques.
Several liked the app idea but suggested modifying it, using a smart watch or other sensors for people's arms and legs, for instance, or using it to coach patients through exercises by showing example videos. Nathan Jowers, clinic manager, said the sensor pen could measure downward pressure as well as grip. Others said the standing frame would need more detail, but could help with weight-bearing exercises.
The observation part of the program was just for one semester, but students could keep working on their proposals as their senior projects, said Hanna Jensen, a research assistant professor in biomedical engineering who's overseeing the projects. Some might also require teamwork with other engineering departments, such as computer science.
"The feedback was overwhelmingly positive from our students," Jensen told the therapists. "This was a fantastic observation kickoff."
DeMoss said the program will grow, with the next group of students expected to number around 25 or 30.
Dan Holtmeyer can be reached at dholtmeyer@nwadg.com and on Twitter @NWADanH.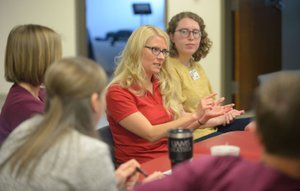 Photo by Andy Shupe
NWA Democrat-Gazette/ANDY SHUPE Hanna Jensen, a research assistant professor of biomedical engineering at the University of Arkansas, speaks Tuesday, April 10, 2018, to clinicians as students present ideas for solutions to everyday problems health care providers encounter during a meeting with staff at the UAMS outpatient therapy clinic in Fayetteville.