It's time, John Jeter says -- time for jubilation, Time for Three, time for Chaplin, time for the Fort Smith Symphony to lead the way into a new approach to concerts for the 95-year-old orchestra.
"It's time for people to come to the symphony," adds the music director, who has been around for 21 years himself. "It's a season sort of geared to folks who haven't been before, or have only been once in a while, or haven't been in a long time.
"There isn't really a traditional concert -- well, maybe Christmas -- but everything else is a pretty mixed bag, so you can enjoy a lot of different types of music on one program," he continues. "That said, we also wanted to do a season that highlighted our terrific guest artists. The Chaplin concert is the only one without a guest artist. The rest are 'A list' folks, one of the strongest lists of guest artists we've ever had. And that's an extra element of variety."
That "A list" includes Jubilant Sykes, an internationally renowned baritone who performed with the Fort Smith Symphony for a Christmas concert in 2011.
"And we've been asked about him every year since then," Jeter says. "He's a super nice guy, super easy to work with, and so versatile. He's doing an unusual selection -- songs by Aaron Copland, one by Nat King Cole and some American spirituals -- plus we'll also do "Scheherazade" by Nikolai Rimsky-Korsakov (1888), and we've sort of paired the nautical atmosphere in 'Scheherazade' with music from the 1940 film 'The Sea Hawk,' an old Errol Flynn movie.
"The Golden Age film scores have been a great hit," Jeter muses. "And I could argue there's a certain relevance to that music that Mozart just doesn't have -- no matter how much I like Mozart."
Concert two makes it Time for Three, another international name, a trio that brings together classical musicians in nontraditional ways. Jeter calls them "the most sought-after group of their kind in the music world, period." The orchestra will present a more traditional first half, he says, then add music from "Hamilton" and the Beatles in Act II. The rest of the season includes the entire film score to Charlie Chaplin's film "City Lights" from 1931; "some of the most lyrical singing and piano playing on the concert stage today" with guest Tony DeSare; and original visual art created just to be paired with "Pictures at an Exhibition," written by Mussorgsky and orchestrated by Ravel.
Those choices -- plus dining partnerships and after-hours performances to keep audiences downtown -- are "all part of a changing philosophy of how we view the symphony and how symphonies are going to be viewed as we move into the future," Jeter says. "So many orchestras are still giving concerts the way they were given in 1920. We do want to keep the tradition of great music, but I think there is a recognition that the orchestras have to move forward. We can't just do it the same old-fashioned way."
Not that the Fort Smith Symphony hasn't already been mentioned by the League of American Orchestras as an orchestra currently moving forward in a very progressive way, Jeter says proudly, with Earquake, a concert series for young people, the Kool Cats jazz band and the Wind Wizards, which next season will introduce third-graders throughout the area to the magic of wind instruments.
"We like to keep it new and different," Jeter says. "There's a huge interest from the board and staff to constantly reevaluate everything and a real openness to the idea of doing a great job and then doing it better the next time. We do sell out our concerts. But as we expand what we do, a lot will happen in those areas outside of the subscription concerts. There are so many plans to do all these neat things downtown, and I think we're going to be very involved in a lot of that. It's very exciting. We want to see our philosophy in action and see how people like it."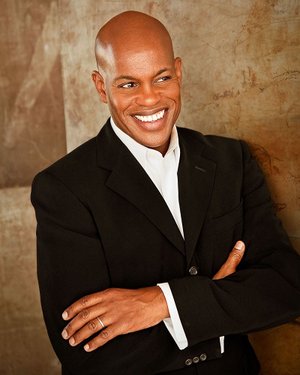 Courtesy Photo Baritone Jubilant Sykes returns to the River Valley to open the 2018-19 Fort Smith Symphony season on Sept. 9.
NAN What's Up on 04/15/2018