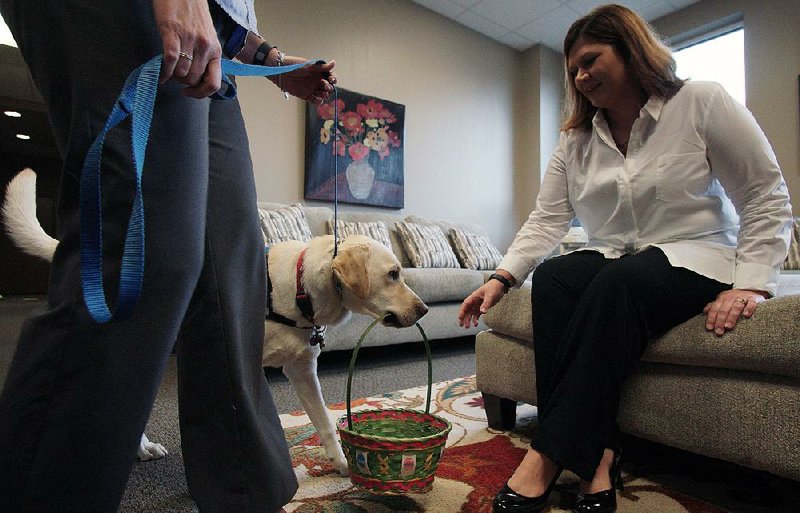 FILE PHOTO: Barb, a courthouse dog, shows off her skills in 2016 by taking a basket to Fawn Borden, a victim witness coordinator, at the criminal-justice building in Conway. ( Mitchell PE Masilun)
An Arkansas law that allows child victims of sex crimes to testify with a dog sitting next to them for comfort is unconstitutional because it usurps the ability of the state's judges to run their courts, Pulaski County Circuit Judge Wendell Griffen ruled on Monday.
Arkansas legislators exceeded their authority when they enacted the Courthouse Dogs Child Witness Support Act, the judge determined. The law allows child victims to testify in court with a specially trained dog to comfort them.
The problem Griffen found with Act 957 of 2015 is not about the dog. The judge ruled that the law violates the Arkansas Constitution's separation of powers clause by usurping the judiciary's authority over courtroom procedure and operations. The separation of powers doctrine bars one branch of government from wielding the power of another.
Lawmakers have the power to define rights and duties by enacting laws, but they do not have the authority to command how the courts enforce those rights and duties, according to the judge's three-page decision.
The statute, Arkansas Code 16-43-1002, mandates court procedures such as how prosecutors must petition the court to use a dog, how the child must be seated in court and when jurors should be brought in to hear the child's testimony.
Amendment 80 of the constitution, passed by voters in 2000, gives the Arkansas Supreme Court sole authority over court procedures, Griffen stated in his decision. Prosecutors can appeal Monday's ruling.
"The General Assembly's law is perfectly constitutional," a spokesman for Attorney General Leslie Rutledge said on Monday. "Furthermore, the attorney general applauds the use of comfort dogs with child witnesses, as those young people are in an extraordinarily intimidating venue having to testify on matters that are often deeply personal and difficult to discuss in front of strangers."
The issue was before Griffen on a motion by defense attorneys Andrew Thornton and Cheryl Barnard on behalf of Ricky Hawk Snuggs of Conway, who is charged with rape in Perry County. Pulaski and Perry counties make up the Sixth Judicial Circuit.
Snuggs' accuser is an 11-year-old girl, and prosecutors Jason Ables and Michelle Quiller had petitioned the court to allow a "certified facility dog" sit with her at Snuggs' jury trial this week.
The 34-year-old father of three is facing two counts of rape, both involving the same girl, but at different times and in different counties. In Perry County, he's accused of raping the girl sometime in April 2017. In Faulkner County, prosecutors contend he similarly abused her over a 17-month span between March 2014 and July 2015.
Quiller and Ables had asked the judge to allow the girl to have the 70-pound dog with her when she testifies. Prosecutors have had the girl spend time with the dog to establish a relationship with the hopes of reducing the girl's anxiety about testifying.
Barb II, a Labrador-golden retriever mix, has been specially trained as a "certified facility dog" to sit still with the child to keep her calm. She's trained to lie near the child but out of sight so jurors can't see her.
Barb would be on loan from the 20th Judicial Circuit, which encompasses Faulkner, Searcy and Van Buren counties. Barb was the first courthouse dog in the state and was first approved by judges to accompany child witnesses since September 2016.
The courthouse dog law was sponsored by state Rep. Rebecca Petty, a Rogers Republican who became an advocate for child victims after her 12-year-old daughter, Andi Brewer, was abducted, raped and murdered in Polk County in 1999.
Karl Douglas Roberts, 50, the girl's uncle by marriage, was convicted of capital murder for the girl's slaying and sentenced to die in May 2000.
Information for this article was contributed by Ginny Monk of the Arkansas Democrat-Gazette.
A Section on 04/17/2018
Print Headline: Judge rejects law to let dog comfort witnesses
Sponsor Content