Razorback Foundation officials participated in job interviews for candidates seeking positions in the University of Arkansas, Fayetteville athletic department and were allowed to provide feedback, according to public records and officials.
In other examples of coordination, a university athletics ticket salesman offered to fill out a fan's donation paperwork for the nonprofit foundation; top foundation staff members regularly attend high-level department strategy sessions; and the foundation's director was part of a discussion over whether to restructure an open position in the UA athletic department.
Yet, foundation officials maintain that the nonprofit is separate from the university and receives no public money, and therefore is exempt from the state's Freedom of Information Act.
Scott Varady, the foundation's director, has rejected several open-records requests by citing those distinctions. Leaders of other publicly aligned foundations across Arkansas also say they are exempt from transparency and purchasing laws that their foundations' public partners face when doing similar work.
Emails obtained from UA through the state public-records law show that the public university's employees coordinate with their nonprofit counterparts on a range of day-to-day business -- including employment -- blurring the line between the two entities, open-records experts said.
The Arkansas Democrat-Gazette since late last year has reviewed 22,000 pages of emails exchanged between Razorback Foundation and UA staff members to examine whether the nonprofit is the "functional equivalent" of the athletic department, one test of whether the state's open-records law should apply to it.
Arkansas Press Association general counsel John Tull, who specializes in open-records issues, said department applicants interviewing with foundation officials supports the argument that the entities are tightly linked, but noted that it is "a matter of degree."
"As you know there is no bright line rule for when an entity is so intertwined with a public entity so as to be found to be the equivalent to the public entity; it is a matter of degree but generally the more closely involved in decision-making it is the more likely a court could so find," Tull said.
It's unclear whether Razorback Foundation officials offered feedback on individual hiring decisions or how much weight UA officials would give such input. In response to emailed questions, Varady said the foundation "does not have any decision-making authority with respect to any University hiring decisions."
Athletic department spokesman Kevin Trainor said by email that "anyone that participated in interviews" for the department positions "had the opportunity to provide feedback."
"As with many other positions, both inside and outside the Athletics Department, that have regular interaction with other entities, members of those entities are engaged on occasion to provide feedback," Trainor said.
"Those entities, or their representatives, do not make decisions related to hiring positions," he said.
Asked whether Razorback Foundation staff members have ever made recommendations to hire or not hire a candidate, Trainor said no.
"Recommendations are made by the hiring authority to their supervisor," Trainor said by email.
'A MATTER OF COURTESY'
The Razorback Foundation guaranteed severance pay of up to $18.6 million combined for the former UA athletic director and head football coach when both were fired in November. It paid search firms to help select their replacements.
After Chad Morris was hired as the new coach, the foundation paid his former employer, Southern Methodist University, $2 million to let Morris go.
Newly reviewed emails show the booster club also has a role when the department makes lower-profile hires.
Two candidates for a premium-seat account executive position in the athletic department were scheduled to interview in part with Razorback Foundation staff members last summer, according to schedules distributed by email.
Such positions, funded by the athletic department, were marketed as 16-month appointments to help sell new suites, boxes and club seats as part of the football stadium expansion and renovation, according to a job advertisement.
"At the request of the Razorback Ticket Center and as a matter of courtesy, Razorback Foundation staff members met with a job candidate to provide a first-hand viewpoint of the Razorback Foundation, its interactions with the Razorback Ticket Office, and to respond to any questions the candidate might have about the Foundation," Varady said in response to emailed questions.
Other records show how UA account executives sometimes work in tandem with foundation officials.
In September, for example, a foundation staff member emailed a note to senior associate director John Matsko that said a season ticket-holder wanted information on club seats.
Matsko forwarded the note to Mike Sisco, a premium-seat account executive with the university, saying: "FYI. Please follow up...if you haven't already."
A different foundation staff member told a fan interested in new club seats that Sisco "is our club seat representative and can share information" on those options.
Sisco, in another case, asked Matsko for permission to reach out to a high-level foundation member. The member was "disgruntled," but wanted to talk about new seating options after learning he would be displaced from club seats on the stadium's east side. Sisco had met the man at a game.
"Would you like to talk to this guy, or are you okay with me reaching out?," Sisco asked, not naming the person.
"Who is it?," Matsko responded.
No follow-up emails were provided.
Sisco was not one of the two known candidates scheduled to interview with foundation staff members.
One of the two, Anthony Rimoli, was hired. A file of Rimoli's emails to the foundation -- provided by the university -- included only six pages, mostly about setting a lunch meeting so he could better understand his new job.
"I just want to make sure any information I am relaying to our donors and prospects is correct," he told a foundation staffer.
Patrick Kamerling, an account executive but not for premium seats, in one case offered to fill out foundation paperwork after Mica Strother, the nonprofit's director of development, closed a deal with a fan for men's basketball tickets.
Strother told Kamerling about the sale and said she anticipated receiving the person's payment information by the end of the day.
"Perfect," he responded. "Just give me a call when you have that and I can get his account set up. Will I need to fill out his letter of intent for the foundation or will you take care of that?"
No follow-up emails were provided.
Kamerling did not fill out that letter of intent, Varady said. Citing privacy, he declined to say whether there were any cases of UA employees filling out a donor's pledge form.
"In the interest of the privacy rights of individual Razorback Foundation members, we do not address individual donor requests or information," Varady said.
Trainor also sidestepped the question.
"For the convenience and benefit of donors and ticket holders, the [university-funded] Razorback Ticket Office and the Razorback Foundation work together to make the donation and ticket purchasing process as convenient as possible," he said.
"However, the Razorback Ticket Office processes all transactions related to ticketing while the Razorback Foundation processes those related to donations."
Two other candidates for a separate athletic department job -- associate director of ticket operations -- were scheduled to meet with the foundation's chief financial officer, Billye Veteto, as part of their interviews in August. Assistant Athletic Director Aaron Parris, who supervises three such positions, coordinated the interviews.
"Do you have resumes we can see for the two candidates?," Veteto asked. Parris later provided the resumes to her and athletic department staff members who received the interview schedules, emails show.
OPEN JOB DISCUSSED
Early last year, a group email discussion that included top UA and foundation officials focused on how the athletic department should handle an events position within the department that had recently been vacated.
The position had previously been divided between special events, such as an annual holiday party, and broader event management.
Former Athletic Director Jeff Long, Senior Associate Athletic Director and Chief Financial Officer Clayton Hamilton and Varady were among those who shared input.
"Conversation I'm hearing is [a] Special Events [position] attached to a [fundraising] role with portion of salary supported by RFI," Senior Associate Athletic Director Matt Trantham wrote, using the acronym for Razorback Foundation Inc. "AD supportive provided funding and the creation of new position is possible."
Hamilton then asked whether the group was "on board" with the plan. Long replied that he thought a meeting was going to be set to discuss the position. Senior Associate Athletic Director Jon Fagg then said he did not "recall us settling on an athletics position with funding split."
Varady replied next.
"Obviously, from the Foundation perspective, we respect whatever you all need or decide to do with your open position," he wrote. "One idea or question to explore was simply this: With 'special events' appearing to have been an ongoing issue for the department and the foundation, does it make any sense to talk about options given the position opening in the department? If not, that's fine. If so, I'd love to visit."
Ultimately, the foundation created a full-time special events coordinator job and pays the entire salary, Varady said.
"The Razorback Foundation provides this service at no charge to the Athletic Department," he said.
'EXTREMELY UNLIKELY'
Varady and Matsko, respectively, attend meetings of the athletic director's executive and senior staffs, groups that meet regularly to discuss and execute department business, records show. Varady confirmed that he and Matsko meet with the groups but said they do not make decisions for UA and are not considered "part" of the staff.
"To be clear, our attendance in these meetings does not make us 'part' of the 'athletic director's executive staff' or the senior staff," Varady said. "In these meetings, we do not make decisions for the Athletic Department, and the Athletic Department does not make decisions for the Razorback Foundation."
Last August, Long emailed Varady and 12 UA employees a note about "Staff Re-organization." The email outlined a shuffling of "the makeup of my weekly Executive Staff meetings." Varady was on the list of eight people who would attend such meetings in the future, he wrote.
Also last August, senior associate athletic director Julie Cromer Peoples emailed Varady, Matsko and other UA staff members about attending a welcome-back event for student athletes.
"As you heard in exec staff last week, Jeff would like exec and sr staff members to attend," she wrote in an email to Varady and a University of Arkansas System attorney who was also on Long's list.
Foundation officials have been invited to the meetings since roughly September 2012, Trainor said.
Access and input afforded by UA to the foundation is out of step with the description of the two as separate entities, said Frank LoMonte, professor and director of The Brechner Center for Freedom of Information.
"Would they let an ordinary private business send representatives to their strategy meetings and have input into university personnel decisions? That seems extremely unlikely," LoMonte said by email. "So the university itself does not treat the Foundation like a private business. It regards the Foundation as being an arm of the university, and as an arm of the university, the Foundation should be obeying freedom-of-information laws."
TIES THAT BIND
Foundation and UA officials have said they often work together as part of the broad effort to provide the best experience for fans. They also note the athletic department is self-sustaining and does not receive student tuition or taxpayer support. Last year, the department transferred $3.2 million to the university's general fund.
No one has sued the foundation for access to records or requested an opinion from Arkansas Attorney General Leslie Rutledge since the Democrat-Gazette began reporting on the relationship last year. Only specific public officials, such as state lawmakers, can request an attorney general's opinion on open-records issues.
A Jan. 13, 1988, opinion by then-Attorney General Steve Clark said all records belonging to what then was the Razorback Scholarship Fund were open to the public. The opinion only covered previously created records because university employees stopped working for the fund and relinquished their formal oversight roles just as the opinion came out.
Former Attorney General Dustin McDaniel in 2011 issued an opinion saying the foundation's seat-assignment contract with the university did not alone make its records public. The opinion was narrowly tailored to that $12 million per year agreement, through which UA allows the foundation to assign seats in sports venues based on how much fans donate to the nonprofit
Including the Razorback Foundation, the Democrat-Gazette has identified at least three dozen foundations statewide that support public higher-education institutions or their athletic departments. Those foundations in their fiscal 2016 tax filings reported a combined $1.8 billion in net assets and $172.5 million in spending.
Aside from avoiding public scrutiny of their records, they're also exempt from the strict purchasing and contract laws that their public partners would face.
That list includes the Red Wolves Foundation, which in support of Arkansas State University is paying for and managing a $29 million football stadium expansion.
ASU System President Chuck Welch last month apologized to a booster, Mark Fowler, for how the foundation awarded one contract for that project, saying he was "embarrassed and deeply sorry." Fowler said he was misled when bidding for work on the project; the foundation has denied wrongdoing.
Robert Steinbuch, a University of Arkansas at Little Rock law professor, called transparency laws a "bulwark" against public corruption. While profit typically motivates corporations to avoid illicit dealings, open-records and procurement laws serve that purpose for public agencies, he said.
"The government has a direct line to funding whether or not they're efficient, whether or not there's cronyism, corruption," Steinbuch said. "The bulwark against that are transparency laws, such as FOIA, and process regulation such as [contract] procurement rules, so that instead of looking at outcome, we ensure the process is fair."
"These laws are the means by which we root out corruption, cronyism and inefficiency, and if government entities [continue] to do end-runs around anti-corruption laws, guess what comes next? Answer: Corruption."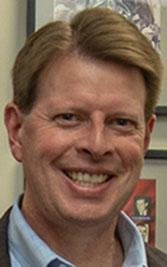 Photo by Cary Jenkins
Razorback Foundation executive director Scott Varady is shown in this file photo.
SundayMonday on 04/22/2018