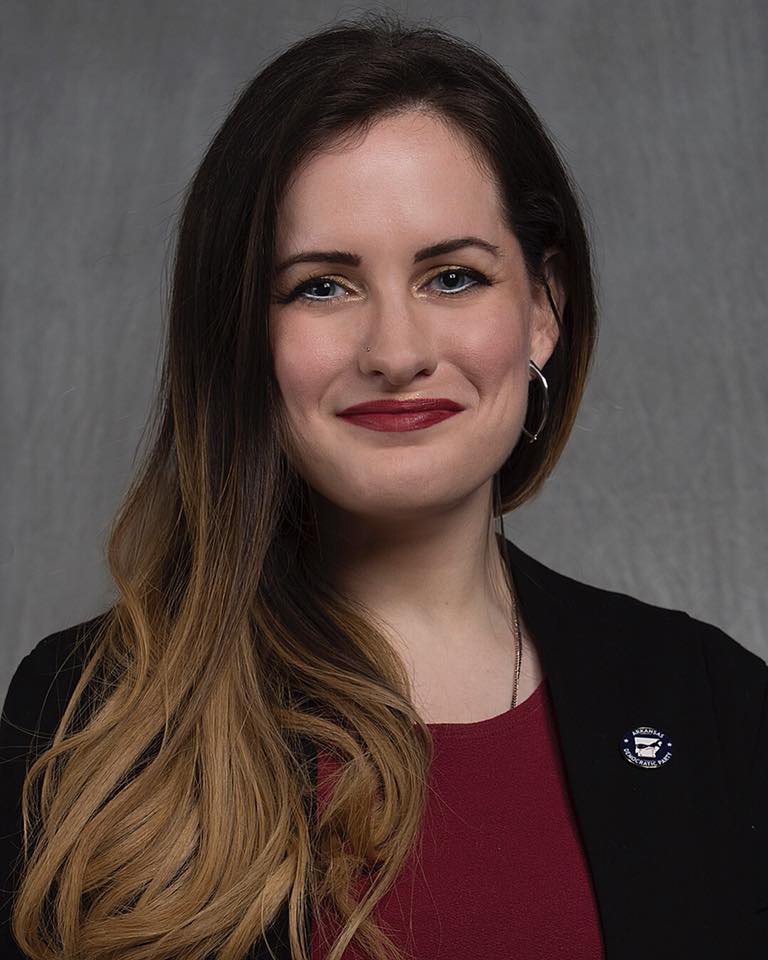 Katie McFarland is shown in this file photo.
ROGERS -- Democratic nominee Kati McFarland has filed none of the required monthly campaign finance reports in her bid to unseat Rep. Jana Della Rosa, R-Rogers, according to the Arkansas Secretary of State's Office.
McFarland, of Bethel Heights, is a first-time candidate running in the state House District 90 race. Every other state legislative candidate in either Washington or Benton county has filed the required monthly reports, records with the Secretary of State show. The latest reports were due Thursday.
Voice messages left on McFarland's cellphone Tuesday and again Thursday weren't returned. Messages were also left on her campaign's Facebook account Tuesday, Wednesday and Thursday. Text messages were also sent Tuesday and Thursday to her cellphone.
"Look, I don't think she's trying to hide anything," Della Rosa said Thursday. Della Rosa's campaign raised $33,150 as of the end of July, according to her latest filing.
Both Secretary of State candidate filing records and state Democratic Party headquarters confirmed McFarland's telephone number. Spokesmen for state Democratic Party headquarters said they also tried to contact McFarland without success.
"I sent her a friendly reminder she needed to file those reports last week by text," Della Rosa said of McFarland. "To my surprise, she replied a couple of days later and said she and others were working on it. It's not a difficult process, but it does take some time to get started, register and all. I think she just hasn't done it yet."
The reports are required from any state legislative candidate whose campaign has raised $500 in contributions, according to the Arkansas Ethics Commission website. A monthly report fell due for such campaigns every month since January, starting with the first month in which a candidate passes the $500 threshold.
"I know she's raised at least that much because she had to fundraise to pay her filing fee," Della Rosa said. "She had one of those little thermometer things on her campaign website that went up as she got closer to her goal."
The party filing fee to run for a House seat as a Democrat in Arkansas is $3,000, according to party rules. Spokesman Reed Brewer of state Democratic Party headquarters confirmed Thursday that McFarland's fee had been paid, but didn't know the source or sources of the money.
McFarland made news nationwide Feb. 22, 2017, when she questioned U.S. Sen. Tom Cotton, R-Ark., at a town hall meeting in Springdale during GOP efforts to repeal Obamacare. McFarland has a rare, genetic medical condition.
"Without the coverage for pre-existing conditions, I will die. That's not hyperbole," she told Cotton at the time.
Since then, she has participated regularly in activities in the Indivisible movement, which resists many of the policies of President Donald Trump.
The Northwest Arkansas Democrat-Gazette began a check last week of the 26 candidates in the 13 contested state House and Senate races in Benton and Washington counties.
Secretary of State spokesman Chris Powell was asked by the newspaper to check records at the state Capitol in Little Rock to see if a glitch hid McFarland's reports, or if there was some other problem. No records were found for McFarland, Powell said Thursday.
A first-time fine for filing a report late is $25. More violations after that can be $50 per late report. The fines go up the later the reports are filed. Being 30 days or more late can carry a fine of up to $200 a report.
NW News on 08/17/2018
Print Headline: Democratic House candidate files no reports
Sponsor Content