The difficulty in basing a comedy on Southern eccentrics isn't finding the eccentric, it's finding a way to make it relatable.
Nearly three decades ago, a young Richard Linklater made Slacker, in which his camera simply veered from one half-deranged Austin, Texas, loon to another, encapsulating the extreme idiosyncrasy of an entire generation in the process. As good as the film was, it has to be pointed out, Linklater had the advantage of not needing to link any of these offbeat folks into an intelligible, plot-driven story. That's far trickier to pull off when you have to cajole your wackadoo characters into something resembling narrative coherency.
This is the conundrum faced by filmmaker Daniel Campbell in extending his 2009 short into a full-fledged, 90-minute feature. In so doing, he utilizes the single most common device when one needs to anchor a film in recognizable reality: the Straight Man. A dude whose very normalcy can be measured against the collection of bugaboos, crazies, and straight-up lunatics he encounters at nearly every turn.
In coming to the town where his recently deceased father grew up, Walt (Andrew J. West), a young, good-looking man with equitable eyebrows, attempts to get to know his dad better, by essentially living in his shoes a while -- quite literally, when he wears what he believes to be his pop's old boots.
Staying with his terminally cheerful Uncle (Jeff Bailey), Aunt (Melanie Haynes), and cousin (Jason Thompson), who own a local grocery store, Walt gets a gig at the antiques pavilion his dad used to work in, where he meets a steady stream of further eccentrics manning their own booths, including the dour Blundale (Roger Scott, reprising his role from Campbell's short), who, among other things, makes tiny model re-creations of major Civil War battles but alters them so that the South always wins; Delaney (Michael Gladis), a slightly heavyset man who claims to be working out with his brother, a Navy SEAL; Jimmy Lee (Graham Gordy), a soft-spoken man whose booth is an exact re-enactment of his childhood living room during Christmastime; the neurotic Delores Jr. (Michaela Watkins), who debates about getting a nose job or breast equalizing surgeries; the general manager Dewey Ray (Troy Hogan), married to much older "Blundale's Mama" though once a classmate of the embittered Blundale himself; and the fetching Ellie (Ashley Greene), a curious woman also grieving after the recent loss of her beloved brother.
Being a romantic comedy, you can certainly fill in the plot mechanics: Walt ingratiates himself with this bevy of loons because of his very normalcy, while falling for Ellie and finding out about his father in the process. As far as storylines go, it's pretty much standard fare, where Campbell makes his bones is in the specific details of his quirky characters, and here it becomes clear that the man has spent considerable time in the presence of such curious specimens.
Walt, who spends the first half of the movie in full reaction mode -- raising an eyebrow, or desperately scheming escape routes away from whatever mad hatter has most recently engaged him -- gradually becomes more in focus as the film progresses. What starts out as a Bob Newhart-esque comedy of contrasts between an eternally normal figure amid a veritable thicket of crazed eccentrics -- Joe vs. the Weirdos -- eventually spreads beyond surface types and at least hints at deeper emotions underneath the bluster and oddball outlooks: Delaney asks out Delores Jr. only to promise her a limo and balloon ride and "puppies and roses, and fireworks," none of which he can possibly provide. In a moment of self-clarity later, he admits his low-esteem leads him to lie like this, a diagnoses made by his aunt, who is into "self-help and Sudoku and all that."
Dewey Ray, meanwhile, tells Jimmy Lee he can no longer maintain a booth in which he refuses to sell even the smallest trinket to a customer, an edict that renders what is clearly a crushing blow to the fragile man; and, eventually, Walt's staid composure begins to crack as he learns more about his father, who had wrestled with a drinking problem later in his life. This fact, he confides to his shrink (Mary Steenburgen), whose "therapy parrot" constantly interrupts her sessions with declarations of harsh truth ("dead father" it chants at Walt before he's finally had enough).
It is in these moments, with the characters' defense screens down, that they become less like amusing caricatures and more relatable, without the need for Walt and his eyebrows as a tour guide. This adds a necessary richness of flavor, making it more satisfying than just watching a bunch of offbeat types present their peculiar wares for the camera. If the film follows its stock formula a bit too closely, this loosening of the restraints on the characters gives it enough of an emotional charge to carry it to the finish line.
It doesn't have Linklater's commitment, or much in the way of investigation behind what makes these characters tick, but its genial manner and generosity with its cavalcade of eccentrics keep it enjoyably palatable. Campbell regulates his risk by keeping the pace brisk and not hanging on to any scene long enough for the seams to show, which avoids many of the pratfalls often found with such comedies.
There isn't all that much here to stick to your ribs, but its smooth finish goes down like a frigid limeade on a scorching afternoon.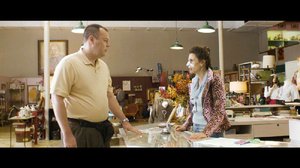 Delaney (Michael Gladis) claims to be training with Navy SEALs, but Delores Jr. (Michaela Watkins) has different ideas about self-improvement in Antiquities.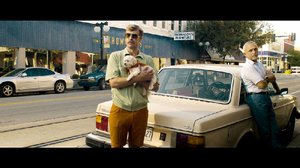 Jimmy Lee (Graham Gordy, who co-wrote the film) and Blundale (Roger Scott) are two of the idiosyncratic denizens renting space in an Arkansas antiques mall in the new Daniel Campbell feature Antiquities, which is screening as part of the Arkansas Cinema Society's Filmland series of events this weekend.
Antiquities in Little Rock, Fayetteville
The Arkansas premiere of Antiquities will be held tonight at Ron Robinson Theater in Little Rock as part of the Arkansas Cinema Society's Filmland series of events. While that event is sold out, a second screening is scheduled for 11 a.m. Sunday. For more information, go to arkansascinemasociety.org.
Antiquities will also screen as part of the Fayetteville Film Festival on Sept. 21; go to fayettevillefilmfest.org for more information.
MovieStyle on 08/24/2018
Antiquities
86 Cast: Andrew J. West, Ashley Greene, Michaela Watkins, Roger Scott, Graham Gordy, Melanie Haynes, Natalie Canerday, Michael Gladis, Ingrid Haas, Jennifer Pierce Mathus, David Bazzel, Mary Steenburgen
Director: Daniel Campbell
Rating: Not rated
Running time: 1 hour, 33 minutes