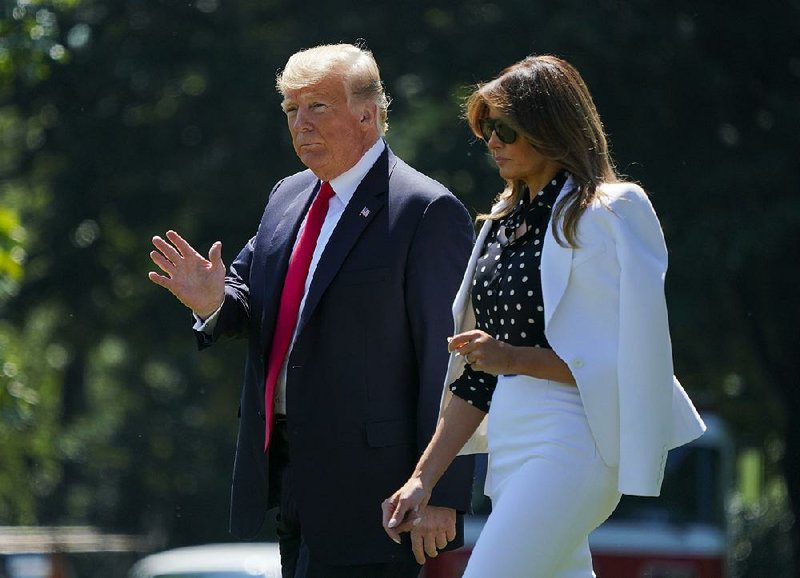 President Donald Trump and first lady Melania Trump walk across the South Lawn of the White House on Friday as they leave for a campaign rally in Columbus, Ohio.
A federal investigation that led President Donald Trump's longtime lawyer to implicate Trump in two campaign-finance crimes this week also secured the cooperation of one of the top-ranking executives at Trump's private company.
Allen Weisselberg, chief financial officer for the Trump Organization, was granted immunity by federal prosecutors in New York who were investigating Trump's former attorney Michael Cohen, according to people familiar with the probe.
On Tuesday, Cohen pleaded guilty to eight felonies, including two counts related to hush money paid to women who alleged affairs with Trump. Cohen admitted he violated campaign-finance law with the payments, which he said he made at Trump's direction. The president has denied knowing about the payments when they were made.
Weisselberg was one of the executives who helped arrange for Cohen to be reimbursed $420,000 for money paid to keep adult-film star Stormy Daniels quiet, according to a person with knowledge of his role.
The decision to grant Weisselberg immunity gave prosecutors access to one of the highest-ranking figures inside the president's private company, an executive who is considered practically part of Trump's family.
Over the decades, Weisselberg rose from working as an accountant to the keeper of Trump's personal books. After Trump's election, he was appointed to help run the trust that controls the president's assets, along with two of the president's sons, Donald Trump Jr., a fellow trustee, and Eric Trump, chairman of the trust's advisory board.
"Weisselberg knows everything about Trump entities that have taken in money and spent it," said Trump biographer Michael D'Antonio, who writes frequently about the president's businesses. "All of this would come into play if Trump was being audited or investigated for financial crimes."
It is unclear whether investigators in New York have sought to get information from Weisselberg beyond his knowledge of Cohen's reimbursements.
Whether the 71-year-old is continuing to help prosecutors was unclear. Asked if Weisselberg was cooperating further, one of the sources declined to comment.
Prosecutors also granted immunity to David Pecker, a longtime Trump ally and chief executive of a tabloid publishing company, to describe his company's role in suppressing stories about the alleged affairs, according to a person with knowledge of the probe.
The AP reported Thursday that the tabloid kept a safe containing documents about hush-money payments and damaging stories it killed as part of its cozy relationship with Trump leading up to the 2016 presidential election.
The Wall Street Journal first reported Weisselberg's immunity deal.
Weisselberg is the person identified in court filings as "Executive-1," who prosecutors said helped authorize payments to Cohen, according to one person familiar with his role. He testified last month before a grand jury investigating Cohen.
According to court filings, Cohen in early 2017 submitted an invoice to Weisselberg seeking to be repaid for legal expenses he said he made on Trump's behalf.
Among the expenses for which he was seeking reimbursement: $130,000 paid to Daniels to keep her quiet about an alleged sexual encounter with Trump.
A person familiar with the Trump Organization said Cohen explained that $130,000 expense, which he had paid to Daniels' attorney, was a settlement "of a personal nature."
Weisselberg did not know the nature of the settlement but approved the reimbursement because of Cohen's long-standing role as counsel to Trump, according to one person familiar with the situation.
In February 2017, Cohen sent Weisselberg an invoice seeking two monthly payments of $35,000 "pursuant to [a] retainer agreement," according to court documents.
Weisselberg forwarded Cohen's invoice to another Trump Organization executive, "and it was approved," prosecutors wrote.
Weisselberg then forwarded that email to another employee, writing: "Please pay from the Trust. Post to legal expenses. Put 'retainer for the months of January and February 2017' in the description," according to court filings.
In fact, prosecutors said, Cohen had no retainer agreement with the Trump Organization at the time, and the invoices were not in connection with any legal services he provided in 2017.
FIRSTHAND KNOWLEDGE
From Weisselberg's first job helping with the books for Trump's father, Fred, in 1973, the Pace University graduate has gotten his fingers into nearly every aspect of the family business -- vetting deals, arranging financing, auditing, managing cash -- eventually rising to oversee all finances of its far-flung operations.
And aside from Trump, he is perhaps best qualified to answer two of the big questions about the businessman-turned-president over the years: Is he really worth $10 billion, as he claims, and what's in his tax returns? Trump testified in a case years ago that Weisselberg was the one who values his properties and other assets, and he has reportedly helped with Trump's taxes.
In 2000, he was named chief financial officer of the company. But his role is greater than that: Weisselberg has been at the center of a financial operation that covered all parts of Trump's life: his corporation's finances, his personal accounts and his personal charity.
Weisselberg holds executive positions at many Trump entities, including director of the Donald J. Trump Foundation, which is being sued by the New York state attorney general over accusations that it tapped donations to settle legal disputes among other illegal uses. The White House has dismissed the suit as politically motivated.
In a deposition with the New York attorney general's office, conducted as part of a state investigation into Trump's charity, Weisselberg recalled being told to fly to Iowa with the foundation's checkbook in 2016.
Trump was holding a fundraiser for veterans as part of his presidential campaign, and Weisselberg was told that the candidate might want to give out checks that night.
Weisselberg said he was surprised to be asked to accompany Trump. "I had never gone anywhere with Donald on any kind of - anything," he said, according to a transcript of the interview.
Weisselberg started to describe what he thought of that odd order. But then he stopped himself.
"It doesn't matter what I thought," Weisselberg said. "He's my boss. I went."
A person close to the Trump family who spoke on the condition of anonymity to describe private discussions said Weisselberg is viewed with the highest respect by the family, calling him "truly a class act."
Peter Wu, a real estate broker who has worked with the Trump Organization, said Weisselberg was always quietly at Trump's side during negotiations and handled the payments to the company's partners.
"He gets involved in all the transactions, all the money flows, so he's quite an important man and I'm sure he's very loyal to Donald," Wu said. "I would be surprised if they would be able to get too much out of him."
The low-profile executive was thrust into the headlines last month, when Cohen attorney Lanny Davis released a secret recording Cohen made of a September 2016 conversation with then-candidate Trump.
In the recording, Cohen can be heard discussing the need for Trump to purchase the rights to Playboy centerfold Karen McDougal's story of an affair with Trump. In their conversation, Cohen told Trump that he had discussed buying the rights to McDougal's story with Weisselberg.
After the disclosure of the recording, Alan Futerfas, an attorney for the Trump Organization, disputed the idea that Weisselberg had signed off on Cohen's plan.
"Mr. Weisselberg is a bookkeeper who simply carries out directions from others about monetary payments and transfers," he said.
But federal prosecutors in New York quickly subpoenaed Weisselberg to appear before a grand jury.
GOFUNDME FOR COHEN
Separately, Cohen is asking the public for help paying for his legal defense, and one anonymous donor already has ponied up $50,000.
Through his lawyer, Cohen says collecting contributions through a GoFundMe page set up after his guilty plea this week is the only way to ensure the truth comes out about the president.
Trump's former personal lawyer owes at least $1.4 million to the IRS after pleading guilty Tuesday to tax evasion, campaign-finance violations and bank fraud, and has racked up millions of dollars in debt. Because of his plea, he is being forced to give up his New York City taxi medallions, which have shrunk in value as Uber and Lyft shake the industry.
"He's without resources and owes a lot of money," Davis, Cohen's lawyer, said in television interviews Wednesday.
By Friday morning, the GoFundMe page dubbed the "Michael Cohen Truth Fund" had raised more than $149,000 from about 2,770 donations. Most reaction on social media was incredulous and unsympathetic, but one $5 donor was encouraging, writing: "The USA would love you for your honesty."
Confusion over the Web address for the fundraising page, michaelcohentruthfund.com, led someone on Wednesday to anonymously register a shorter version, michaelcohentruth.com, that redirects to Trump's re-election campaign website.
It's not the first time someone who felt wronged by Trump has asked the public to pony up. Fired former FBI deputy director Andrew McCabe raked in more than $500,000 in just five days of his legal-defense campaign, and Daniels funded her lawsuit against the president with about $500,000 raised from nearly 17,000 donors.
Information for this article was contributed by Carol D. Leonnig, Devlin Barrett, Rosalind S. Helderman, David A. Fahrenthold and Jonathan O'Connell of The Washington Post; and by Bernard Condon, Tom Hays, Eric Tucker, Michael R. Sisak and Stephen R. Groves of The Associated Press.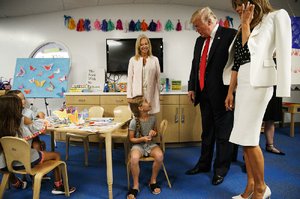 Photo by AP/EVAN VUCCI
President Donald Trump and first lady Melania Trump visit Nationwide Children's Hospital in Colum- bus, Ohio, where the president was campaigning Friday.
A Section on 08/25/2018
Print Headline: Trump company exec aiding Cohen inquiry
Sponsor Content