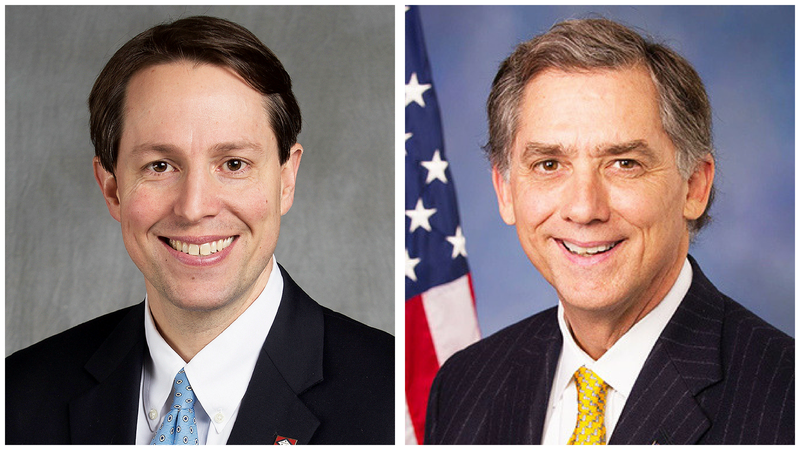 Clarke Tucker (left) and French Hill
U.S. Rep. French Hill, joined by a group of Republican state lawmakers, on Monday criticized state Rep. Clarke Tucker's voting record in the Arkansas House of Representatives, spotlighting Tucker's absent or "present" votes.
Tucker, a Little Rock Democrat who was elected in 2014, is challenging Hill for Arkansas' 2nd Congressional District seat in November's midterm election. Libertarian Joe Swafford of Maumelle is also running for the seat.
In an interview after Monday's event at the state Republican Party headquarters, Hill, of Little Rock, said Tucker has cast himself as a bipartisan leader on the campaign trail. By pointing out Tucker's record, Hill said he was bringing facts to that debate.
"I don't know any constituent that asks me to do my homework, work hard to learn the issues, get to understand the complexity of federal policy and then turn around and vote present," Hill said. "In my view, there seems to be a pattern on tough topics where there's no decision taken and Mr. Tucker votes present, which obviously is a no vote. You can't get away with that in Washington."
In a phone interview Monday evening, Tucker called the attack "very silly and petty." He said he welcomed the debate over his legislative record, adding that he'd win the race if that's what the campaign focused on for the remaining 10 weeks.
About 15 Republican members of the state House of Representatives joined Hill on Monday at their party's headquarters. Six of the members attacked Tucker from the podium for his positions on issues ranging from education to abortion and tax policy.
Several called Tucker a "liberal Democrat," equating him to House Minority Leader Nancy Pelosi, D-Calif. While Tucker has said repeatedly that he wouldn't support Pelosi for House leadership, Hill and his supporters have consistently invoked the Democratic leader.
Rep. Andy Mayberry, R-East End, pointed to a series of abortion-related bills that Tucker ultimately voted present on or didn't vote at all.
"The list goes on and on," Mayberry said. "Clarke Tucker did not vote."
Tucker said there was a multitude of reasons that legislators vote present. He pointed to one bill that authorized a pair of Pulaski County schools to municipalize if they elected to. While he agreed that voters in those cities should be able to create their own school districts, he thought the bill would violate a judge's order in a desegregation lawsuit, so he voted present.
"I took over 3,000 votes over the course of two 80-day sessions," Tucker said. "I'd guess I voted present 1 percent of the time. That's common in the Arkansas Legislature and probably on the low side."
Tucker acknowledged that there's differences between the lawmaking processes in Congress and the state General Assembly, but he noted that he sponsored 22 bills that were approved by a Republican majority in the past legislative session. Meanwhile, Hill was the primary sponsor of just two bills that became law since being elected to Congress in 2014, Tucker said.
"That's part of the problem with Congress," Tucker said. "If you take someone like me that knows how to work across the aisle and put them in Congress, maybe Congress will pass more bills."
Tucker also said it was ironic that Hill would attack Tucker's record of being accountable to the public but also turn down television and radio debate invitations. Tucker's campaign has asked Hill to participate in at least three debates.
Hill said he agreed to participate in a debate hosted by AETN that will be broadcast across Arkansas. He also said he was going to participate in a variety of public forums. That schedule, Hill said, mirrors his schedule from his past two congressional campaigns.
Rep. Michael John Gray, D-Augusta, said that it was "not uncommon" for members of both parties to vote present for a variety of reasons. Sometimes it's out of deference to the bill's sponsor; other times it could be because there's solid arguments on both sides of the issue depending on the context, said Gray, who is also the chairman of the Democratic Party of Arkansas.
Gray added that it was frustrating that Hill was neglecting to address other issues of importance to the campaign.
"Instead of debating policy, we're trying to play gotcha politics," Gray said. "That's what's wrong with the whole system right now. Instead of offering solutions to problems, we're pointing fingers."
State House Majority Leader Marcus Richmond, R-Harvey, led Monday's event, and he criticized Tucker for drafting an ethics bill in a past legislative session without approaching Republicans.
However, Richmond in a phone interview Monday evening said he spoke with state Rep. Carol Dalby, R-Texarkana, who told him that she had spoken with Tucker about the ethics legislation during the bill's early stages.
"That's my mistake to say he didn't talk to anybody," Richmond said. But he argued that Tucker was content with voting present or not voting on other legislation rather than seeking bipartisan compromise.
Tucker said that Richmond's mistake demonstrated the flaws in the Republican attacks.
"The fact that one of their main allegations was factually inaccurate shows that this was a political stunt, and it casts a pall over the entire episode," Tucker said.
Hill said Monday's event didn't demonstrate that he was "in trouble" in the race. However, he added that he was taking the race seriously, particularly because Tucker has been a strong fundraiser.
"I haven't seen any polling data whatsoever that indicate I have more of a race than normal this year, but I see financial resources that cause me to step up, pay strong attention, run an aggressive campaign in all seven counties and across the whole district," Hill said.
Tucker, through June, has raised $975,518, according to the Federal Election Commission. Hill has raised $1,954,935.
Hill also addressed questions about the death of U.S. Sen. John McCain, R-Ariz., and special counsel Robert Mueller's investigation into Russia's involvement in the 2016 presidential election.
Hill said he supported flying the American flag at half-staff for the appropriate amount of time in McCain's honor. The White House lowered the flag over the weekend, but the flag was at full staff for much of Monday until it was again placed at half-staff in the afternoon.
The Russia investigation, Hill said, should continue until it's complete, and he praised Mueller's past performance as FBI director.
Hill was thrust into the Russia controversy last year after a meeting he had with Russian-American lobbyist and a Russian attorney in 2016 became public. The lobbyist and attorney were also present at the meeting with Trump campaign officials at Trump Tower in 2016.
Metro on 08/28/2018
*CORRECTION: Since he took office in 2015, U.S. Rep. French Hill, R-Ark., has been the primary sponsor of 26 bills, two of which passed both the U.S. House of Representatives and U.S. Senate before becoming law. Also, the language from legislation Hill introduced in January was included in another bill that President Donald Trump signed into law in May. A previous version of this article incorrectly stated the number of bills Hill has sponsored. In a Monday event about the race, Rep. Andy Mayberry, R-East End, attacked state Rep. Clarke Tucker, D-Little Rock, for voting "present" or not voting at all on several abortion-related bills sponsored by several different members of the General Assembly. A previous version of this article incorrectly described who sponsored those bills..
Print Headline: Hill goes on attack but rival hits back
Sponsor Content