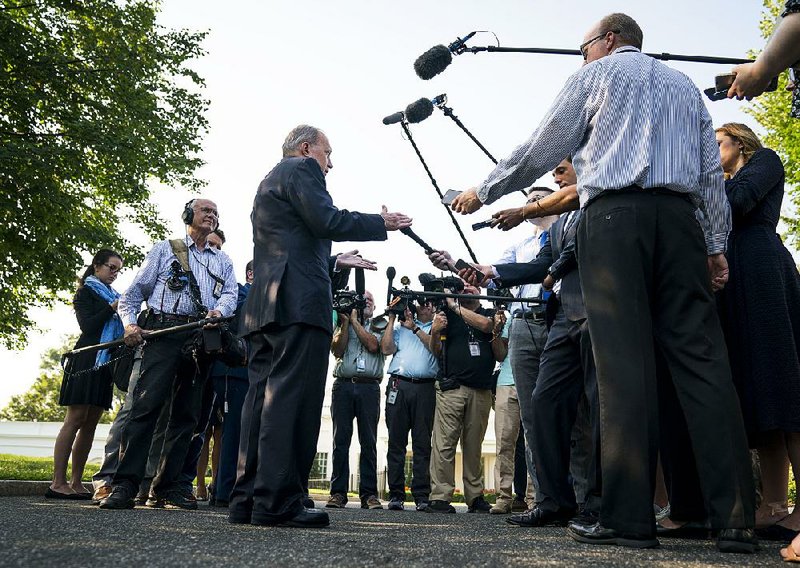 Larry Kudlow, President Donald Trump's top economic adviser, told reporters Tuesday that the White House is "taking a look" at whether Google searches should be regulated.
WASHINGTON -- President Donald Trump on Tuesday accused Google and other U.S. tech companies of rigging search results about him "so that almost all stories & news is BAD." He offered no evidence of bias, but a top adviser said the White House is "taking a look" at whether Google should face federal regulation.
Google pushed back, saying Trump's claim simply wasn't so: "We never rank search results to manipulate political sentiment."
The president's tweets echoed his familiar attacks on the news media -- and a conservative talking point that California-based tech companies run by CEOs with liberal leanings don't give equal weight to opposing political viewpoints.
Early Tuesday, Trump tweeted complaints about alleged suppression of conservative voices and positive news about him.
He later followed that up with vague threats in Oval Office comments.
"I think Google has really taken advantage of a lot of people, and I think that's a very serious thing. That's a very serious charge," Trump said, adding that Google, Twitter, Facebook and others "better be careful, because you can't do that to people."
Trump claimed that "we have literally thousands and thousands of complaints coming in. ... So I think that Google and Twitter and Facebook, they're really treading on very, very troubled territory and they have to be careful."
Larry Kudlow, the president's top economic adviser, told reporters later that the White House is "taking a look" at whether Google searches should be subject to some government regulation.
In his tweets, Trump said -- without offering evidence -- that "Google search results for 'Trump News' shows only the viewing/reporting of Fake New Media. In other words, they have it RIGGED, for me & others, so that almost all stories & news is BAD. Fake CNN is prominent. Republican/Conservative & Fair Media is shut out. Illegal?"
He added, again with no evidence, that "96% of results on "Trump News" are from National Left-Wing Media, very dangerous."
It was unclear whether the president had Googled himself or whether he was referring to a recent piece in PJ Media, a conservative blog, alleging that 96 percent of Google search results for news about Trump were from "left-leaning news outlets." His accusations appeared to mirror those in the Saturday piece.
"Is Google manipulating its algorithm to prioritize left-leaning news outlets in their coverage of President Trump?" asked Paula Bolyard, the supervising editor of the site.
She said she searched "Trump" on Google News and weighed the results using a media bias chart developed by Sharyl Attkisson, a former CBS News correspondent. Bolyard said left-leaning outlets accounted for 96 percent of the results, with CNN stories making up "nearly 29 percent of the total." She said she performed the search several times using different computers, and the results did not differ considerably.
Bolyard did not address the fact that the volume of content produced by different outlets plays a major role in determining the share of results they claim. She did, however, acknowledge that her methods are "not scientific."
A search query Tuesday morning, several hours after the president tweeted, showed stories from CNN, ABC News, Fox News and the MarketWatch business site, among others. A similar search later in the day for "Trump" had Fox News, the president's favored cable network, among the top results.
Google, based in Mountain View, Calif., said its aim is to make sure its search engine users quickly get the most relevant answers.
"Search is not used to set a political agenda and we don't bias our results toward any political ideology," the company said in a statement. "Every year, we issue hundreds of improvements to our algorithms to ensure they surface high-quality content in response to users' queries. We continually work to improve Google Search and we never rank search results to manipulate political sentiment."
HOW SEARCH ENGINES WORK
Experts suggested that Trump's comments showed a misunderstanding of how search engines work.
Google searches aim to surface the most relevant pages in response to a user's query, even before he finishes typing. The answers that appear first are the ones Google's formulas, with some help from human content reviewers, deem to be the most authoritative, informative and relevant. Many factors help decide the initial results, including how much time people spend on a page, how many other pages link to it, how well it's designed and more.
Trump and some supporters have long accused Silicon Valley companies of being biased against them. While some company executives may lean liberal, they have long asserted that their products are without political bias.
Media analyst Ken Doctor said it doesn't make sense for mass-market businesses like Google to lean either way politically. He characterized the complaints as a "sign of our times," adding that, years ago, if the head of General Electric was supporting a Republican candidate, people who disagreed wouldn't then go out and boycott GE products.
"The temperature has risen on this," Doctor said.
Steven Andres, who teaches about management information systems at San Diego State University, said people often assume that if you give a computer the same inputs no matter where you are that you "get the same outputs."
But it doesn't work that way, he said. "You're seeing different things every moment of the day, and the algorithms are always trying to change the results."
In July, Trump accused Twitter of using a "discriminatory and illegal practice" to silence conservative voices. Jack Dorsey, the chief executive of the social media giant, said the company's employees are "more left-leaning" but maintained that political ideology doesn't affect what appears on Twitter.
"We have a natural and long-term incentive to make sure our products work for users of all viewpoints," said Juniper Downs, who works on policy for Google-owned YouTube.
Representatives of major technology companies appeared before Congress in July to answer allegations of censorship.
Trump also brought up the issue earlier this month as social media companies moved to ban right-wing Infowars conspiracy theorist Alex Jones from their platforms. The president also argues regularly that the news media avoid writing positive stories about him and his administration.
Jones is being sued for saying the 2012 shooting massacre at Sandy Hook Elementary School was staged. Jones has since said he believes the shooting did occur and has argued that the lawsuit should be dismissed because he was acting as a journalist.
The issue is also of concern on Capitol Hill, where the House Energy and Commerce Committee, chaired by Rep. Greg Walden, R-Ore., recently announced that Dorsey is scheduled to testify before the panel Wednesday about the platform's algorithms and content monitoring.
Information for this article was contributed by Darlene Superville and Barbara Ortutay of The Associated Press; and by Isaac Stanley-Becker and Tony Romm of The Washington Post.
A Section on 08/29/2018
Print Headline: President says tech firms rig searches
Sponsor Content