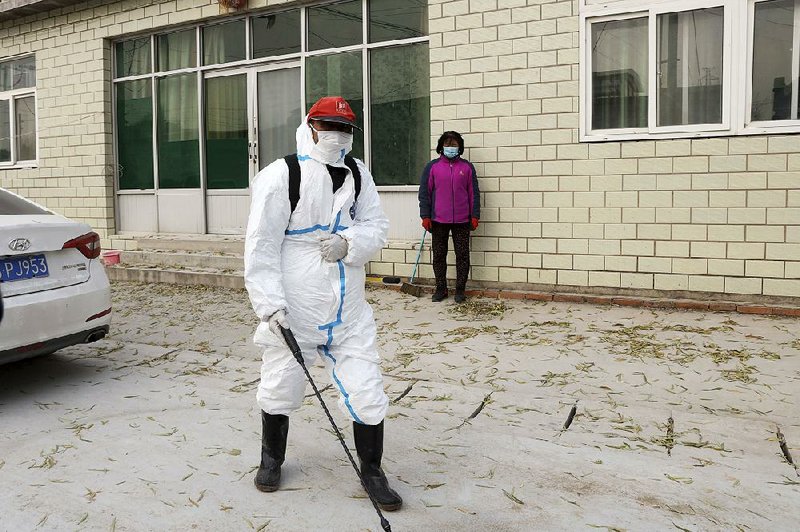 A worker sprays disinfectant near a sealed-off pig farm last month on the outskirts of Beijing as an African swine flu outbreak continues to curtail pork production in China.
A disease wiping out China's hog herds has spurred U.S. pork sales back to pre-tariff levels.
China, the world's largest producer and consumer of pork, recently purchased a shipment of processed swine from the U.S. despite retaliatory import tariffs the Chinese placed on the American commodity in April. The sale signals to industry insiders that the scope of recent African swine fever outbreaks in China may be worse than expected.
African swine fever isn't known to harm humans but typically causes hogs to die within days. Authorities have stepped up surveillance around border areas after the disease was found near North Korea, Burma, Vietnam and Laos.
A commodity report on Thursday from the U.S. Department of Agriculture showed a 3,637-ton purchase of fresh and frozen hogs headed for China, the third-largest sale for the week ending Nov. 22. Mexico bought the most (7,936 tons), followed by Japan (5,070 tons).
"For them to come in and buy that much" is an indication that "it could be more of an issue than the initial reports that came out," said Travis Justice, chief economist of the Arkansas Farm Bureau.
Export sales data from the Agriculture Department show the last time China bought this much U.S. pork was February 15, a reported 10,492 tons. Since then, pork sales to the Asian powerhouse have declined as tariffs on billions of dollars of goods made in China and the U.S have increased. Tariffs on various commodities have shaken the markets for meat producers like Tyson Foods. Domestic gluts resulted in lower prices that led to lower sales in the latest quarter, particularly in pork.
However, China seems to have changed its tune as African swine fever outbreaks continue to curtail its hog supply. U.S. pork exports to China had remained relatively unchanged for most of the year until Thursday's report.
Considering the U.S. is a key pork producer, second-largest to China, Justice said "it's not surprising they came to us."
"I get the sense that they are stockpiling a little bit of pork," said Chad Hart, a professor of agricultural economics at Iowa State University. "We've seen some moves here where China is looking more to the international market in case it continues to spread."
As of Thanksgiving, outbreaks have been reported at farms in 20 Chinese provinces since August, with about 600,000 hogs culled, Bloomberg News reported Friday.
The continued spread of the disease is leading to increased pig slaughter in China, transport bans and volatile prices, Rabobank said in a report this week.
"Given the sheer size of production and the fragmented structure, it will be a great challenge for China to control the disease spreading in the coming year," said Angus Gidley-Baird, an analyst with the Dutch bank in Sydney.
Justice and Hart said China's outbreak reports may be inaccurate or misleading.
"What I think this purchase does show is preventative measures to make sure they have ample pork supplies going into the winter," Hart said.
China also agreed to buy a reported 10,344 tons of U.S. pork next year.
This comes just before Chinese President Xi Jinping and U.S. President Donald Trump are scheduled to meet at the G-20 Summit for trade talks today.
Hart said China's willingness to buy this much pork may be an "opening salve to get those talks on a positive note."
Information for this article was contributed by staff members of Bloomberg News.
Business on 12/01/2018
Print Headline: Hog virus in China spurs buying
Sponsor Content