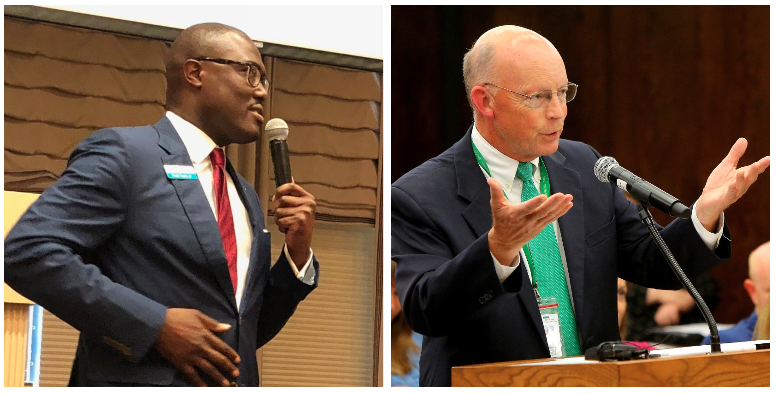 Frank Scott Jr., left, and Baker Kurrus are shown in these file photos.
After months of raising funds and chasing voters, either Baker Kurrus or Frank Scott Jr. will be elected as Little Rock's next mayor Tuesday.
The two face each other in the runoff election after none of the five candidates vying for the mayoral position managed to secure at least 40 percent of the vote in the Nov. 6 general election.
Scott was the top vote-getter with 25,076 votes, or about 37 percent. Kurrus received 19,620 votes, about 29 percent. Warwick Sabin, Glen Schwarz and Vincent Tolliver failed to make the runoff.
Early voting ends Monday.
Community policing and improving public schools have been among the top issues in the campaign.
Kurrus, a 64-year-old attorney and business consultant, said in a recent debate that he would focus on fully staffing the Little Rock Police Department and preventing violent crime.
Scott, a 35-year-old bank executive and associate pastor, outlined a plan to hire roughly 100 additional police officers, which he said would require $15 million of the city's roughly $265 million annual budget.
Kurrus has touted his managerial experience as the past state-appointed superintendent of the Little Rock School District. If elected mayor, he said he would focus on building good communities and that improved schools would follow. He also will work with legislators to restore the schools to local control, he said.
Scott, a former state highway commissioner who also worked in former Gov. Mike Beebe's administration, said he would appoint a chief education officer to ensure better coordination between the school district and city officials in implementing youth opportunity programs.
Ian Wren, a 24-year-old student, said he was unsure of whom to vote for in the runoff election. He cast his Nov. 6 ballot for Sabin, who fell roughly 600 votes short of Kurrus in the general election.
Wren said he felt he needed to dig beyond campaign rhetoric to differentiate between the remaining candidates' platforms.
"Most of their ads have been light on policy issues," Wren said. "I mean, no one is going to say they want more crime in Little Rock."
Both candidates have spent thousands of dollars trying to reach voters with televised, digital and paper advertisements.
Campaign finance reports filed with the Pulaski County clerk's office Tuesday show that Kurrus and Scott each raised more than $100,000 in the weeks leading up to the runoff.
[2018 ELECTION: Full Democrat-Gazette coverage of Arkansas races]
Before the race narrowed, campaign finance reports submitted to the Pulaski County clerk's office showed that the initial five candidates together netted close to $1 million. The bulk of the money went to Kurrus, Scott and Sabin.
Kurrus said in his report filed at the end of October that he had raised $324,999 and spent $273,442 since June 1.
In his latest report filed Tuesday, Kurrus reported raising $119,150 between Oct. 28 and Nov. 23 and spending $128,501, leaving him with a balance of $42,200 in campaign funds going into the final days before the runoff.
Scott started raising money through an exploratory committee in September of 2017. One week before the Nov. 6 general election, he reported that he had raised $229,893 since July 1, which included a transfer of $64,993 from his exploratory committee. He reported expenditures of $195,580.62 during that same time period.
A week before the runoff election, Scott said he had raised $110,334.22 between Nov. 6 and Nov. 24, which included a transfer of $3,476 from his general campaign funds. He reported spending $86,070 during that period, leaving him with a balance of $24,263.
Kurrus' largest expenditure in the month before the election was $43,667 for advertising. He reported spending $29,639 for television advertising and $24,682 on direct mail.
Scott's largest expense was $29,000 on television advertising. He spent $25,000 on radio advertising and $21,100 on direct mail, according to his report.
Metro on 12/03/2018
Print Headline: LR mayor race heads to vote
Sponsor Content