Frank Scott Jr., a banker and associate pastor raised south of an interstate that divides Little Rock by race and economic status, was elected mayor of Arkansas' capital city Tuesday.
His win marks the first time Little Rock has popularly elected a black mayor.
Scott's competition in the runoff election for the city's top political office was attorney and business consultant Baker Kurrus, after the Nov. 6 general election narrowed the field of five candidates to two.
On Tuesday, Scott took a sizable lead early on, and Kurrus conceded about 8:30 p.m., shortly after early votes and absentee ballots were counted.
Election day voters narrowed the margin, but Scott's victory was clear.
With all precincts reporting, the unofficial vote totals were:
Scott 22,622
Kurrus 16,282
Scott, 35, has served on the state Highway Commission and was a senior adviser to former Gov. Mike Beebe. During his campaign, Scott stressed unifying what many see as a divided city and creating more job opportunities. He grew up and still lives in southwest Little Rock, which encompasses some of the city's poorest areas.
Addressing a cheering crowd at his watch party at Cajun's Wharf, Scott thanked voters and volunteers.
"I thank you. For every text message and phone call, I thank you," he said. "And for the voters who did not vote for us, I want to earn your support."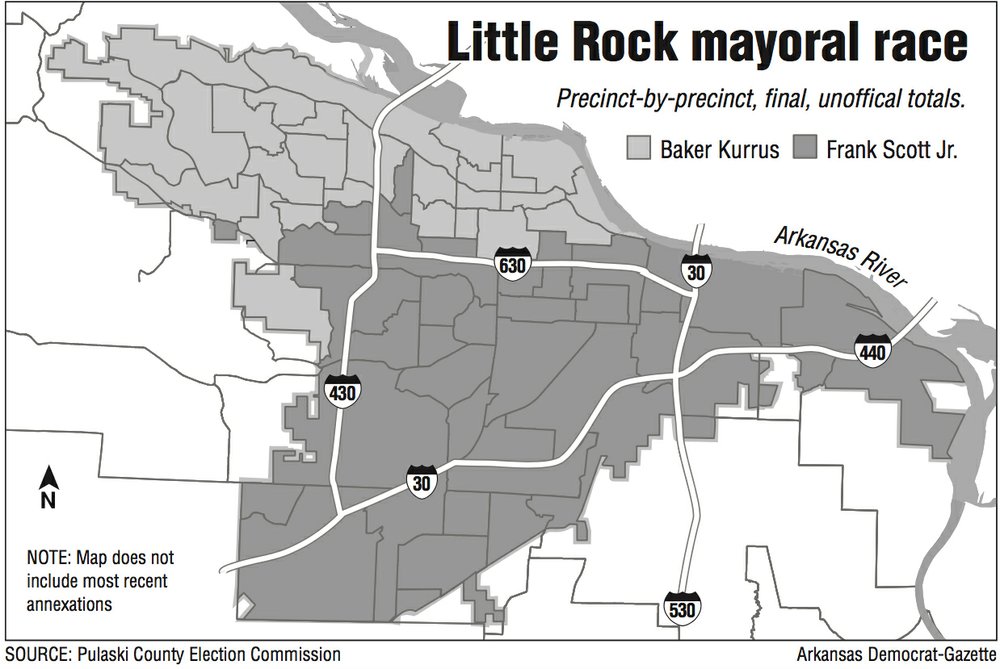 Little Rock mayoral race map
Scott is the third black candidate to be elected to a high-profile office in Pulaski County this year. Eric Higgins was elected county sheriff in May, becoming the county's first black sheriff, and Terri Hollingsworth was elected circuit/county clerk in November.
Little Rock has had two black mayors before, both of whom were elected city directors who later were chosen for the post by fellow board members. The city of nearly 200,000 is approximately 42 percent black.
Kurrus, the former state-appointed superintendent of the Little Rock School District, did not return a phone call seeking comment on the election. Social media posts from his campaign thanked his volunteers, supporters and staff.
This year's election drew national attention, with Scott gaining endorsements from Sen. Cory Booker, D-N.J., and activist Shaun King.
Current Mayor Mark Stodola announced in May that he would not seek a fourth term. Stodola, 69, will leave the office he has held for nearly 12 years in January.
Scott was the top vote-getter in the general election, but he fell about 3 percentage points shy of the 40 percent threshold needed to avoid a runoff in accordance with state law.
Kurrus, 64, pulled about 29 percent of the vote in November. He outraised and outspent Scott during the campaign, reports filed with the Pulaski County clerk show. Both raised additional sums of more than $100,000 in the weeks leading up to the runoff.
In a recent interview, Scott said the race spoke to the importance of a "people-powered campaign" with an emphasis on getting people to the polls and gathering support from every ZIP code in the city.
The message of change resonated early on in the campaign, Scott said in his victory speech.
The 2018 mayoral race also marked the first without an incumbent since the city strengthened the office. In 2007, voters approved an ordinance giving the once-ceremonial position additional powers.
The passage of ordinance No. 19761 made the mayor a full-time position with authority over issues including preparation of the city budget, as well as veto power. The ordinance states that the mayor "shall be compensated with a salary and benefit package comparable to the highest ranking municipal official." The current salary is $160,000; it was $36,000 in 2006.
The mayor presides over city Board of Directors meetings but votes only in the event of a tie. If the mayor does not break the tie, the resolution in question fails.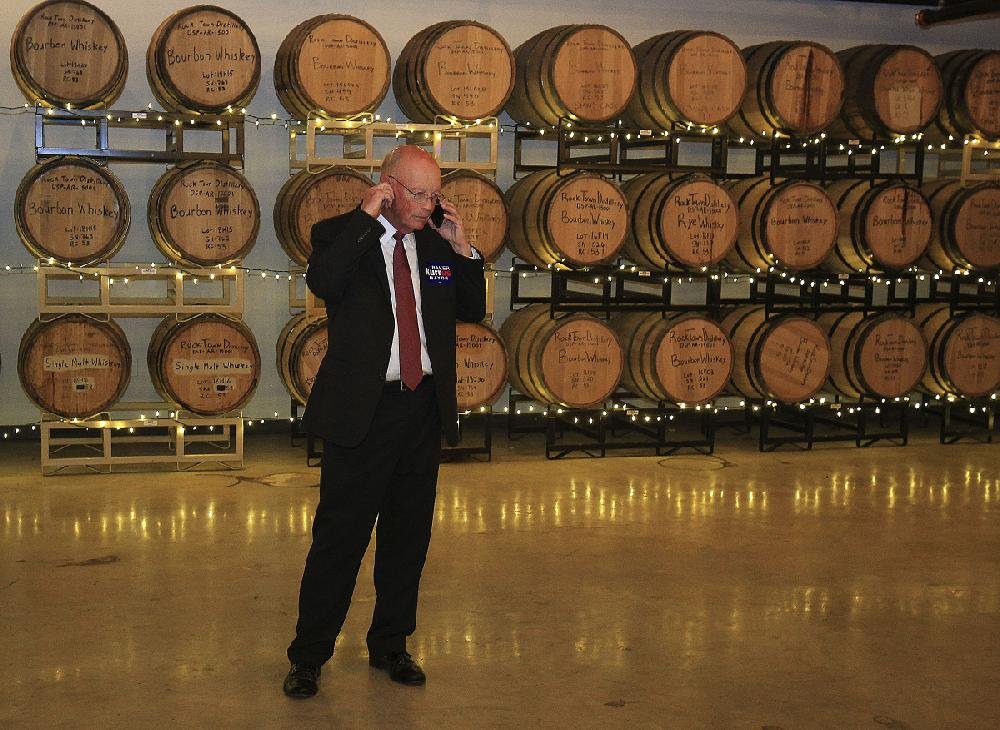 Baker Kurrus talks to Frank Scott Jr., Tuesday night from his watch party to congratulate Scott on winning the Little Rock mayor's runoff election.
Little Rock's current form of government of seven city ward representatives, three at-large board seats, a directly elected mayor and a city manager was approved by voters in 1993.
Scott will preside over a board that is on the whole older than him -- the youngest current member is 50 -- and has years of government experience.
[2018 ELECTION: Full Democrat-Gazette coverage of Arkansas races]
All incumbent board members whose terms were up in November won their bids for re-election. Of the 10 members, seven have served for more than a decade. Three have been on the board for more than 20 years.
Kathy Webb, the vice mayor and Ward 3 representative who was first elected to her seat in 2014, congratulated Scott on Twitter shortly after 9 p.m.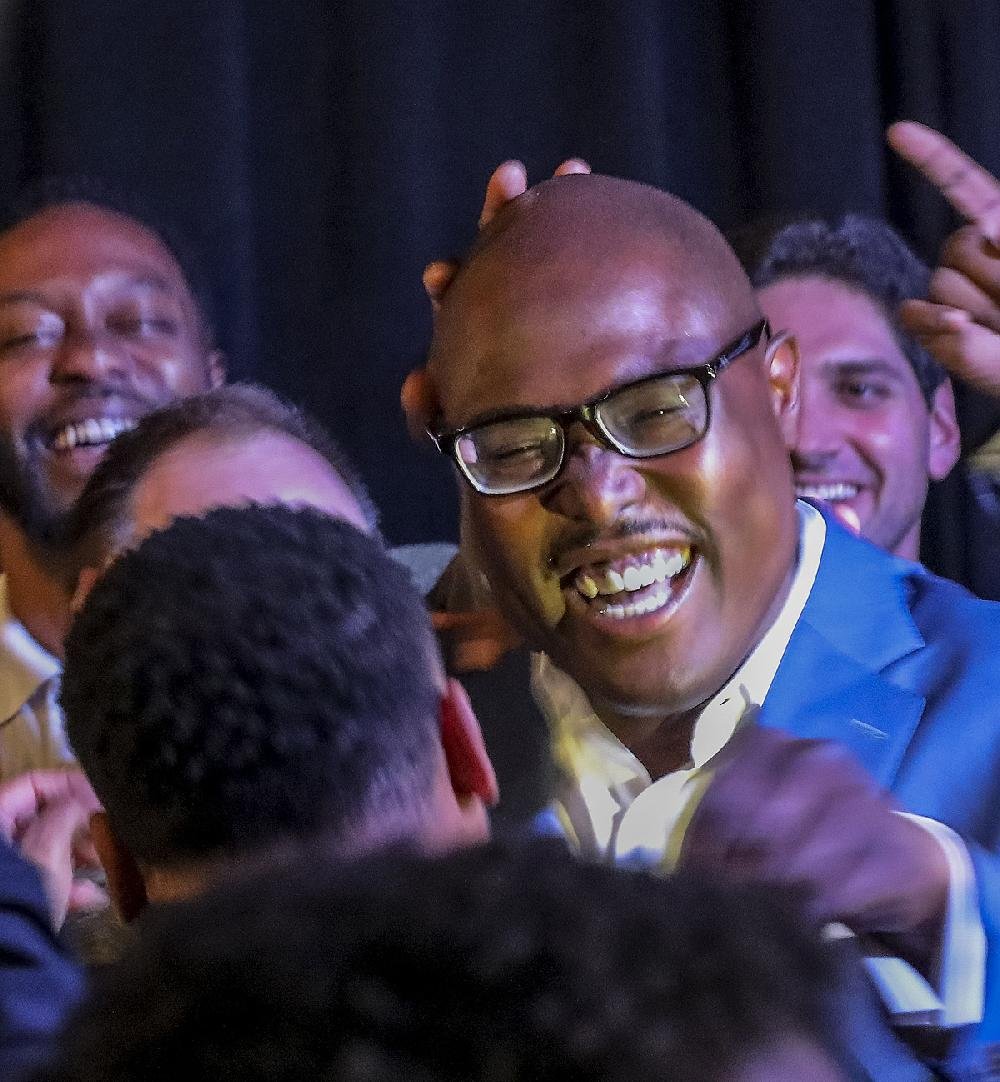 Frank Scott Jr. hugs family and friends at his watch party Tuesday night at Cajun's Wharf. "I thank you. For every text message and phone call, I thank you," he told supporters. "And for the voters who did not vote for us, I want to earn your support."
"The long campaign is over; it's time to work together to move this city we love forward," Webb wrote.
Among the first issues facing the city in the coming year are the hiring of a new police chief, managing a tight budget and studying the city's form of government.
Scott will take office Jan. 1.
At the end of his election night speech, Scott said he was reminded of a verse from the Book of Esther. The Old Testament story tells of an adoptee in the king's palace who enjoyed the pleasant surroundings but found she had a job to do, he said.
"You shall not remain silent for such a time as this," the future mayor quoted. "So if you believe it's time to unify Little Rock, let's join this movement. It. Is. Time."

Little Rock mayor's race runoff vote totals by precinct
A Section on 12/05/2018