Elsewhere in entertainment, events and the arts:
FRIDAY
'Madrigal Feaste'
Trinity Episcopal Cathedral, 310 W. 17th St., Little Rock, will hold "A Madrigal Feaste," 6-9 p.m. Friday in the church's Morrison Hall, featuring a fully costumed and staged Renaissance fair and feast. Tickets are $50, $500 for a table of eight. Call (501) 372-0294 or visit eventbrite.com.
SATURDAY
'Ujamaa' celebration
Marking the fourth day of Kwanzaa, "Ujamaa," or "cooperative economics," the Mosaic Templars Cultural Center, 501 W. Ninth St., Little Rock, will offer its Arkansas Made, Black Crafted Initiative, 1-3 p.m. Saturday. Children can learn crafting skills, business basics and money management and select items in the Museum Store will be discounted up to 50 percent. Admission is free. Call (501) 683-3593 or email info@mosaictemplarscenter.com.
AUDITIONS
Chorus Line
The Argenta Community Theater, 405 Main St., North Little Rock, will hold auditions 2-6 p.m. Jan. 12 for A Chorus Line (music by Marvin Hamlisch, lyrics by Edward Kleba, book by James Kirkwood Jr. and Nicholas Dante). Director Vincent Insalaco, choreographers Christen Pitts and Allison Wilson and vocal director Karen Q. Clark will cast performers of all genders, races and ethnicities, ages 18-35-plus; all roles will require some singing and dancing. Auditions will consist of cold readings from the script from sides available at auditions; 16 bars of a song that showcases your vocal range, from the show or with the same feel; and a dance combination. Production dates are July 17-27; rehearsals begin in mid-June. Email casting@argentacommunitytheater.com; walk-ins will also be welcome. Call (501) 353-1443 or visit argentacommunitytheater.com.
Mamma Mia: Musical
The Studio Theatre, 320 W. Seventh St., Little Rock, will hold auditions for Mamma Mia: the Musical (music and lyrics by Benny Andersson and Bjorn Ulvaeus, some songs with Stif Anderson; additional material by Martin Koch; book by Catherine Johnson) by appointment Jan. 5, starting at 10 a.m. Director Mark A. Burbank and choreographer Lisa Harper are seeking a multi-ethnic/multiracial cast for roles of all ages, sizes and abilities. No roles have been cast. All those auditioning must be 15 by May 1 to be considered. There are no roles for young children. Auditions will consist of a 16-bar selection of pop music in the same style of the show but not from the show. An accompanist will be provided; no tracks and no a cappella auditions, please. Auditioners may be asked to read and/or sing from the script. There will also be a teaching session for a dance number to evaluate movement; come prepared to dance with appropriate clothing and shoes, and provide a head shot and resume, if available. Callbacks, if needed, by invitation, start at 3. Production dates are July 11-Aug. 4. Rehearsals will begin in mid-May. Make appointments and get more information by emailing studiotheatreauditions@gmail.com.
ETC.
Wonka workshop
The Arkansas Repertory Theatre will hold an audition workshop and question-and-answer session with Anna Kimmell, the theater's director of education, 10:30-11:30 a.m. Jan. 5 at the Rep Annex, 518 Main St., Little Rock, for young actors, ages 9-18, interested in auditioning for the Rep's 2019 summer student production of Willy Wonka Jr. (music and lyrics by Leslie Bricusse and Anthony Newley, adapted for the stage by Bricusse and Timothy A. McDonald from Roald Dahl's book Charlie and the Chocolate Factory). The workshop is open to youngsters who have already signed up to audition and those interested in auditioning -- Kimmell, who is directing the production, has added appointments, 4:30-9 p.m. Jan. 11. Admission is free. Visit therep.org/work-with-us for details. Reserve a spot at the workshop by emailing akimmell@therep.org.
The Rep will also offer an MLK Day Camp, 9 a.m.-4 p.m. Jan. 21 for youngsters in grades K-6, featuring theater activities centering on the theme of "unity" and creating visual and performance art inspired by the life and mission of Martin Luther King Jr. Cost is $60; scholarships are available. Visit therep.org/education/day-camps.
Achievement award
Current Poet Laureate of Arkansas Jo McDougall will receive a $2,000 Lifetime Achievement Award from the Porter Fund at a June 20 gala at the Clinton Presidential Center. The organization, which supports the literary arts in Arkansas, gives that honor every five years to an Arkansas writer with a substantial and recognized body of work. Previous winners: Donald Harington in 2004, Miller Williams in 2009 and Charles Portis in 2014.
TICKETS
DeMent at Tech
Tickets -- $50, $100 VIP (includes a pre-concert reception) -- are on sale for a 7 p.m. March 3 performance by singer-songwriter Iris Dement at the Center for Humanities and Arts, University of Arkansas-Pulaski Technical College main campus, 3000 W. Scenic Drive, North Little Rock. Doors open at 5:30. Singer-songwriter Claire Holley and guitarist Ben Harris will open the show. Visit charts.uaptc.edu.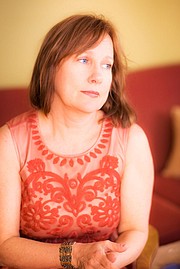 Weekend on 12/27/2018