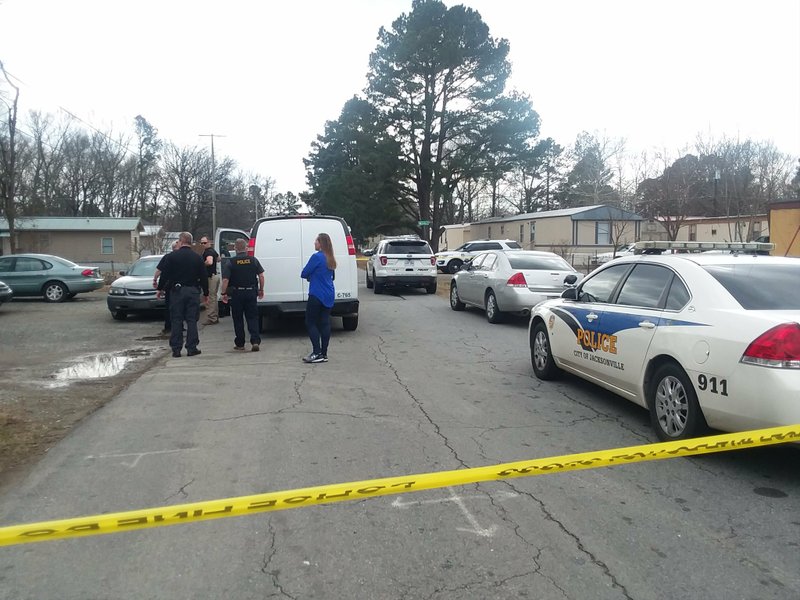 Jacksonville police investigate a possible murder-suicide at a crime scene on Hamilton Street on Thursday, Feb. 15, 2018. ( Ryan Tarinelli)
Police say they are investigating a suspected murder-suicide after two people have been found dead at an address in Jacksonville.
Thursday afternoon, a crime scene had been set up on Hamilton Street, which is about two blocks west of Jacksonville High School.
A male and a female were discovered dead in a residence, a spokesman for the city's Police Department said, who added that a child was in the home at the time of the deaths.
No other information was provided.
An Arkansas Democrat-Gazette reporter at the scene said investigators were in and out of what looked like a mobile home.
This is the second murder-suicide reported in Pulaski County this week. A man fatally shot a 19-year-old, then himself, outside the Maybelline cosmetics factory in North Little Rock around 3 a.m. Tuesday, Arkansas Online previously reported.
Chasity Denise Canady was found dead in her vehicle, a black Toyota Corolla, with 32-year-old Jim Gilot deceased nearby, according to a Thursday news release from North Little Rock police.
Investigators said Gilot and Cannady were not involved in any type of romantic relationship but did work in the same area of the plant at one point.
Detectives are still working to determine a motive, the release states, but have determined that Gilot shot and killed Cannady while she was sitting in her vehicle, then died by suicide before police arrived.
Cannady was from Pine Bluff, while Gilot was from Kansas City, Mo., according to the police report.
Read Friday's Arkansas Democrat-Gazette for full details.
Sponsor Content