SAVANNAH, Ga. -- A brutal winter storm smacked the coastal Southeast with a rare blast of snow and ice Wednesday, hitting parts of Florida, Georgia and South Carolina with their heaviest snowfall in nearly three decades.
Forecasters warned that the same system could soon strengthen into a "bomb cyclone" as it rolls up the East Coast, bringing hurricane-force winds, coastal flooding and up to a foot of snow.
At least 17 deaths were blamed on dangerously low temperatures that for days have gripped wide swaths of the U.S. from Texas to New England.
A winter storm warning extended from the Gulf Coast of Florida's "Big Bend" region all the way up the Atlantic coast. Forecasters said hurricane-force winds blowing offshore today could generate 24-foot seas.
Schools in the Southeast called off classes just months after being shut down because of hurricane threats, and police urged drivers to stay off the roads in a region little accustomed to the kind of winter woes common to the Northeast.
In Savannah, snow blanketed the city's lush downtown squares and collected on branches of burly oaks for the first time in nearly eight years. William Shaw, a Savannah native, used baby steps to shuffle along a frozen road from his home to the post office.
"It almost seems the town is deserted just like in the last hurricane," said Shaw, 65. "There's no one on the street. It's got a little eerie feeling."
Dump trucks spread sand on major streets in Savannah ahead of the storm and police closed several bridges, overpasses and a major causeway because of ice.
Georgia Republican Gov. Nathan Deal declared a state of emergency for 28 counties, warning that the snowfall and freezing rain could melt and then refreeze, "producing additional ice related hazards."
Across the Georgia-South Carolina line in Charleston, the weather service reported 5 inches as the snow was winding down at 5 p.m. That's the most snowfall in Charleston since December 1989, and plenty for Chris Monoc's sons, ages 4 and 2, to go sledding outside their home near the city's iconic Ravenel Bridge.
"They probably will be teenagers the next time something like this happens, and that's kind of sad," Monoc said. "But we'll enjoy it while it is here."
Airports shut down in Savannah, Charleston and elsewhere as airlines canceled 500 flights Wednesday, and at least 1,700 more were canceled today. Interstate 95 was nearly an icy parking lot for almost all of its 200 miles in South Carolina. Troopers couldn't keep up with the reported wrecks, which numbered in the hundreds.
In Tallahassee, Fla., Michigan transplant Laura Donaven built a snowman 6 inches tall. The city tweeted that snow fell there for the first time in 28 years.
"I made a snowball and threw it at my dad," said Donaven, a 41-year-old hair salon owner.
Farther south, Florida Republican Gov. Rick Scott ordered transportation crews to prepare state roads and bridges amid the winter storm warnings and advisories issued across the Sunshine State.
"As this weather system moves through state, families and visitors across North Florida should prepare for potential hard freezes and below-freezing travel conditions," Scott said in a statement.
In Raleigh, N.C., the area's National Weather Service office reported that the temperature dropped to 9 degrees Wednesday morning, tying a record low set on the same date in 1887.
North Carolina Democratic Gov. Roy Cooper said that while it was hard to predict the snowfall totals, the impact could make it treacherous for people to drive.
The weather service said the winter storm will probably intensify into a "bomb cyclone" that could dump more than 8 inches of snow on the Boston area today and at least half a foot of snow in the New York City region.
Meteorologists have been using the term "bomb" for storms for decades, but the phrase went viral on social media Wednesday. A storm is a bomb -- or bombogenesis happens -- when it drops 24 millibars of pressure in 24 hours. This storm looks like it will intensify twice that rate, said Bob Oravec, lead forecaster at the National Weather Service's Weather Prediction Center.
Blizzard warnings were issued from Rhode Island to Maine. Oravec said he expects they could be extended as far south as parts of New York.
"It's sort of akin to a hurricane traveling up the coast," says Ryan Maue, a meteorologist at the private firm Weather.US.
School systems on the Alabama coast waived uniform requirements so students could bundle up.
Florida's largest theme parks announced that water attractions such as Disney's Typhoon Lagoon, Universal Orlando's Volcano Bay and SeaWorld's Aquatica were closed. Temperatures were running well below normal for this time of year, and the lows are expected to hover right around freezing.
In Prairieville, La., Valerie Anne Broussard struggled overnight to keep warm in a house that is being rebuilt after the 2016 floods that hit the small community southeast of Baton Rouge. Her home has exterior walls and floors but no insulation, no central heating and only a few working electrical outlets. Eggs that she left on the kitchen counter froze and broke open.
"It's like a camping trip that I didn't sign up for," said Broussard, who's been huddling with her 8-year-old daughter, newborn baby and boyfriend in a bedroom warmed by space heaters.
Information for this article was contributed by Russ Bynum, Seth Borenstein, Jay Reeves, Tammy Webber, Jeff Martin, Freida Frisaro, Brendan Farrington, Gary Fineout, Jonathan Drew, Jeffrey Collins, Rebecca Santana, Brian Witte and Stephen Morton of The Associated Press and by Mark Berman of The Washington Post.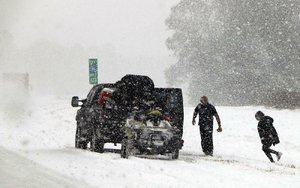 Photo by AP/ROBERT RAY
People on Interstate 26 near Savannah, Ga., attend to their vehicle as heavy snow falls Wednesday during a winter storm that smacked parts of Florida, Georgia and South Carolina. The storm is predicted to roll up the East Coast, carrying possible hurricane-force winds, coastal flooding and up to a foot of snow.
A Section on 01/04/2018