GILLETT -- According to the professionals, it takes the better part of a week to make a raccoon fit for eating; acquiring a taste for the critter takes a while longer, if ever.
Friday morning, in Gillett, Chad Philipp and Kevin Murphy stopped by the town's volunteer Fire Department to check on how 29 beef briskets totaling 405 pounds were faring over smokers set at about 250 degrees. The briskets were doing fine and, in less than 24 hours, they'd be wrapped up and replaced over the coals by 400 pounds of babyback ribs.
About a mile north, the star of the show -- 800 pounds of raccoon -- was soaking in large vats of brine.
By 9 tonight, all the ribs, the brisket, a variety of side dishes and desserts and, presumably, the coon will have been devoured by some 650 people attending the 75th annual Gillett Coon Supper in the gymnasium that was the home of the Gillett Wolves until the school was consolidated with DeWitt in 2009.
The supper got its unofficial start in about 1935 by a group of men who decided fellowship could somehow be had through the hunting and eating of coon.
The Gillett Farmers and Businessmen's Club turned it into a communitywide event in 1943, mainly to raise money for the school's sports teams. At $25 a ticket, proceeds will go toward scholarships for seniors graduating this year in the Gillett area. This year's event, as in most years, is sold out.
Sometime in the 1970s the supper became a must-attend event for politicians and those who wanted to be one.
That is still the case, said Philipp, the club's president the past six years. This is his 16th coon supper.
The supper has raised more than $65,000 in scholarship money, and that doesn't count the years of contributions to the school's athletic teams before consolidation, Philipp said.
A Texan by birth, he retired early from a career as a wildlife biologist to become a Lutheran preacher and, after graduating from seminary, was placed in Gillett nearly 16 years ago. He leads the St. Luke's congregation in DeWitt at 9 a.m. on Sundays and the St. Paul congregation of Gillett at 11 a.m.
One might say leading the coon supper for Philipp is a second calling.
"This is a wonderful community, and I'd be happy to stay here the rest of my life," Philipp said. "All this is put on by the [men only] club, but we couldn't do it without the women of the community."
While the brisket was smoking and the coon was soaking, households in Gillett and in the countryside beyond were being filled with the aroma of pies and cakes being baked and rice being barbecued. The cafeteria of the still-open Gillett Elementary School will be used today for the baking of sweet potatoes.
Scott Place, 64, is the supper's coon chef, a position he came by honestly: his father was the supper's sometimes off-color master of ceremonies for decades until not long before his death in 1997. "Dad was a nervous wreck between Christmas and the coon supper, trying to find jokes to tell," Place said.
Place said he had "mentors" who, over the years, taught him the "procedure" of cooking coon.
But first things first: the coons are from Arkansas County, delivered by hunters who this year were paid $1.60 per pound. His son, Seth, is the "main coon buyer," Place said.
"We had all the coon we needed -- about 300 -- in just eight days," Place said, in either a tribute to the hunters' expertise or to the proliferation of raccoons.
The hunters skin and clean the animals and keep the fur, but every delivered raccoon must have one paw still attached. "That's so you know it's a coon, not a possum or an armadillo -- or a cat," Place said. "Then they're cut up into delicious bite-size pieces and put into a brine, a really strong salt, for 24 hours, to take out some of the wild taste." Place pronounced "delicious" with a grin.
The coon will be boiled today for several hours in a mix of chicken broth, celery, carrots, onions and pepper "until you can take a small leg bone and nearly pull it out of the meat," he said.
"Any longer than that, the meat will fall right off and then you'll just have coon soup."
The coon will be placed on a smoker for a few hours and then into a "coon warmer," a homemade tank on wheels fueled by propane.
"That's about it," Place said. "If something goes wrong it's all my fault."
As for the taste, reviews are always mixed but there will be barbecue sauce on the tables tonight for diners who need a little camouflage.
A party from south of Gillett was disappointed last year when the coon ran out and the diners couldn't take some home. "They were really disappointed they had to settle for ribs and brisket, but I can't say they're our usual sort of diners," Place said.
Place said he doesn't eat much of it, nor does Philipp, the Lutheran preacher.
One time, then-U.S. Sen. Dale Bumpers took a seat at the supper and immediately declined an offering of coon. "I'm full," he said. "I have had too much coon already to eat another bite." Perplexed table mates asked Bumpers when he ate it.
"Three years ago," Bumpers deadpanned.
Perhaps the final word on the taste of coon boils down not to comparing it to another animal but to a color.
"No, raccoon does not taste like squirrel or rabbit or like a combination of the two," reporter Mike Trimble wrote in the Arkansas Gazette in 1980. "Raccoon has a taste all its own, and this is it: Raccoon tastes brown."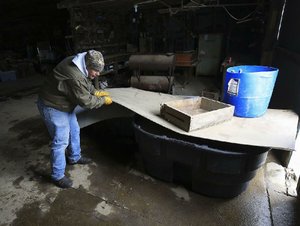 Photo by Staton Breidenthal
Chad Philipp, president of the Gillett Farmers and Businessmen's Club, puts a cover on a tub full of raccoon meat Friday. The meat will sit in brine overnight and be ready to cook today.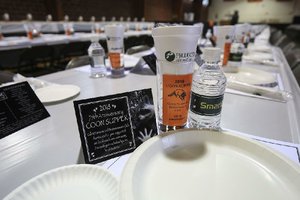 Photo by Staton Breidenthal
Place settings await today's Gillett Coon Supper. The event got its unofficial start in about 1935 by a group of men who decided fellowship could somehow be had through the hunting and eating of raccoon.
A Section on 01/13/2018