Among the hawks, vultures and ospreys that flit between branches at Pinnacle Mountain State Park, an observant hiker might spot a nest of Pikachus, hidden in the arboretum.
Marjorie Greenberg and Theresa Huber spent a recent morning hunting the canary yellow cartoon creatures. The two friends met by playing the mobile phone game Pokemon Go.
The game displays collectible critters of the Pokemon universe as well as "coins, balls and potions" on a player's smartphone, Huber said. It's the gamer's job to track them down.
The state park's arboretum, with 200 species of trees, is an ideal place for the virtual scavenger hunt. Sometime soon, the women could have a new trail to explore.
Park officials recently applied for a grant to help fund a new pedestrian and bike path. It would connect the parking lots of the arboretum and the boat ramp on the southern side of the park.
The path is part of the state Department of Parks and Tourism and Pulaski County's joint effort to improve biking conditions in the area, said Lynn Warren, a landscape architecture specialist with the state agency.
Widening Pinnacle Valley Road -- part of the Arkansas River Trail System that winds through the park -- has been a county goal for years.
Though construction dates haven't been set, both projects are solidly underway. When finished, there will be a safer, continuous biking route for central Arkansas cyclists, supporters say.
The 12-foot-wide path marrying the arboretum with the park's day-use area would stretch a little under a mile in length. Pedestrians and bikers could both use the paved trail.
Right now, bikes and cars share parts of Pinnacle Valley Road, often with little shoulder. A cyclist must ride north around the mountain to reach Arkansas 300.
That route has "some blind spots and some danger areas," Warren said.
One of those spots is the intersection with the Little Rock & Western Railway tracks. A train passes once or twice a day, Warren estimated.
Experienced cyclists know they have to approach the tracks straight on.
"If you don't hit the tracks right, you'll go down," she said. The proposed path is a way to skirt car congestion altogether.
Grady Spann, director of state parks, said the shared-use path is part of his vision of "connectivity," both at Pinnacle and other parks around the state.
"If you were to go to one of our state parks, you could park your car, camp or stay with us, and you are able to go anywhere in that park without having to get back in your car," he said.
Constructing the path will cost about $480,000, Warren estimated.
In October, the department was awarded $200,000 in a federal Transportation Alternatives Program grant, which requires the state agency to put up $50,000 in matching funds.
The agency applied earlier this month for a $182,900 grant through Metroplan, the federally designated metropolitan planning organization for central Arkansas.
If that money is awarded, the parks department will put up another $45,700 in matching funds to meet the project total.
Warren presented the proposal to Metroplan's technical committee on Tuesday. That pitch, and 15 others, will be discussed by the board of directors on Wednesday.
Metroplan has about $1.6 million to work with, said Casey Covington, the organization's deputy director.
Pulaski County has also secured considerable funds to work on three phases of bike lane improvements to Pinnacle Valley Road.
In 2016 and 2017, the county was awarded three grants totaling about $828,000.
That money will widen Pinnacle Valley Road by 5 or 6 feet on each side between County Farm Road in Two Rivers Park to the east side of Pinnacle Mountain State Park, then from the west side of the park to Arkansas 300, a county spokesman said in an email.
It's a 6- to 7-mile stretch altogether.
The widened shoulders will be striped for bike lanes. Another $100,000 from the state Department of Transportation will cover utility relocation, the spokesman said.
Barry Hyde, county judge of Pulaski County, said the plans are being reviewed by the state transportation department, and he hopes construction will begin in the next 60 days.
Right now, that stretch of road is "the most dangerous part of the entire [Arkansas] River Trail," Hyde said. Cyclists and cars both jockey for space.
"It's an unsafe situation, and it's both sides," he said.
In 2013 and 2014, news outlets and blogs reported on a series of "tack attacks." Bikers described getting flat tires from tacks dumped on popular cycling routes, including on County Farm Road and on Barrett Road west of Pinnacle Mountain State Park.
Cyclist Brian Waller said the only time he had a "close call" with a vehicle was along Pinnacle Valley Road while heading toward Arkansas 300.
An angry man driving a truck behind Waller swiped the cyclist with his side mirror, Waller said.
The affront "pissed me off more than scared me," he said.
Waller said he pedaled after the truck, which slowed for a turn, and grabbed onto the tailgate. The driver sped up, and Waller said he realized, "This is a terrible idea," and let go.
When those lanes are widened, he said, there will be "a lot of happy cars."
Standing in the arboretum parking lot, Huber put her index finger to her smartphone. She lobbed a "Poké Ball" to catch a Diglett, a squat brown cartoon creature that pops out of the ground like a mole.
Huber and Greenberg both approve of the proposed shared-use path, so long as not too many trees are cut down.
The game they love maps onto existing loops of arboretum trails. Since the Pokemon characters are cemented in space, players must go to where they are.
"You can't play this at home," Huber said. "You have to be out here."
A new path gives them a new mile of Digletts, Charmanders and even a Bulbasaur or two to pursue.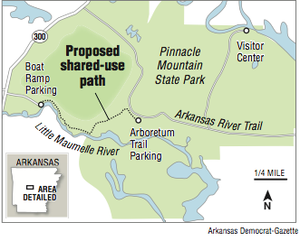 Photo by Arkansas Democrat-Gazette
A map show the location of the Proposed shared-use path in Pinnacle Mountain State Park
Metro on 01/29/2018