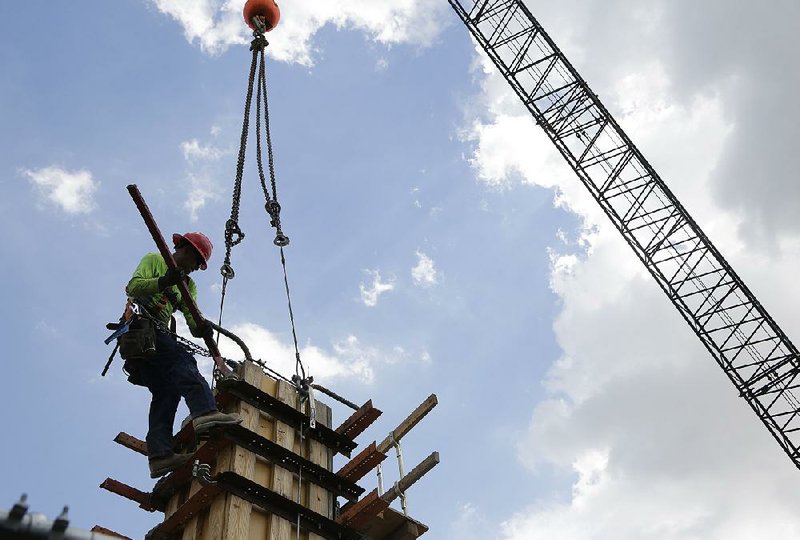 A construction crew works on the site of a mixed-use project that will feature apartments, retail, a hotel and cafes in Coral Gables, Fla., in this April photo. (AP Photo/Lynne Sladky, File)
U.S. construction spending rises 0.4%
WASHINGTON -- Spending on U.S. construction projects edged up 0.4 percent in May, while April's figure was revised down significantly -- signs that new building is still uneven despite a growing economy.
The uptick in May brought total construction spending to a seasonally adjusted all-time high of $1.31 trillion, 4.5 percent higher than a year ago, the Commerce Department said Monday. April's figure was revised down to 0.9 percent from what was originally reported as 1.8 percent gain, which would have been the largest increase in 24 years. That came on the heels of 0.9 percent drop in March, the first monthly drop since July of 2017.
Total private construction rose 0.3 percent, with residential projects up 0.8 percent in May. New single-family home construction rose 0.6 percent and the volatile apartment building sector jumped 1.6 percent. Private, non-residential building fell 0.3 percent.
-- The Associated Press
Walmart to appoint 2 new executives
Walmart Inc. on Monday announced plans to appoint two new executives this summer, with one of them taking on a newly created role as chief customer officer, according to an internal memo.
Janey Whiteside, a former American Express executive for more than 20 years, is scheduled to join Walmart on Aug. 1 as the retailer's executive vice president and chief customer officer for U.S. store and e-commerce businesses. Whiteside will be based in Hoboken, N.Y.
In this job she "will play a critical role looking after our brand and thinking through the customer journey," the memo said.
Barbara Messing, who spent seven years at TripAdvisor, will be Walmart's new senior vice president and chief marketing officer for U.S. store and e-commerce businesses. She will work out of the retailer's home offices in Bentonville, the memo said.
-- Nathan Owens
Dell back to public trading after 5 years
NEW YORK -- Dell is going public again after a five-year sojourn as a privately held company.
In the $21.7 billion agreement announced Monday, the personal computer and data storage company is offering to exchange tracking stock for a new class of common shares, simplifying the complex ownership structure that is still held mostly by founder Michael Dell.
The investment firm Silver Lake and Michael Dell took Dell Technologies Inc. private in 2013 as the company struggled, seeking a freer range of movement that comes with more distance from Wall Street and investors.
Dell, like all PC makers, was hit hard as people shifted from desktop units to laptops, to tablets and other mobile devices.
-- The Associated Press
Ruling: Can't force Yelp to erase review
Yelp Inc. can't be forced by a state judge to remove a defamatory review of a law firm from its website, the California Supreme Court said.
The state's top court agreed with the online review platform in a split decision Monday that it's shielded by the Communications Decency Act, the federal law that immunizes website operators from legal claims over users' postings.
The majority overturned an appellate court's ruling that San Francisco-based Yelp could be ordered to remove the review, even though the company itself wasn't sued by the law firm over the unflattering opinion by a disgruntled client. The law firm had won a default judgment that the reviews should be taken down after its former client didn't offer a defense against the defamation claims.
The judges said the law firm's decision not to sue Yelp was a legal maneuver -- an individual user can't claim protection from the Communications Decency Act -- that could subvert the law intended to promote online discourse and industry self-regulation.
-- Bloomberg News
Chicago window washers go on strike
CHICAGO -- The window washers who dangle from Chicago's glassy high-rises traded in their squeegees for picket signs Monday as they went on strike to demand higher wages and better benefits.
About 260 union window washers represented by Service Employees International Union Local 1 were covered by a three-year contract that expired Saturday as negotiations for a new contract drag on. The six companies they work for do the vast majority of window washing work at the city's downtown buildings, according to the union.
"It's a dangerous job," said Efren Salas, 27, who carried a bullhorn as he and other window washers marched near Trump Tower chanting for a new contract. "You put your life on the ropes every day."
The strike will continue until agreement on a new contract is reached, he said.
The union is asking for starting wages to increase from a range of $12 to $20.50 per hour now to a range of $16 to $25.
It also is seeking increased life insurance coverage, to $100,000 from $50,000, and a better deal on health insurance.
-- Chicago Tribune
Business on 07/03/2018
Print Headline: Chicago window washers go on strike hcb 2,16,1 U.S. construction spending rises 0.4% Dell back to public trading after 5 years Ruling: Can't force Yelp to erase review
Sponsor Content