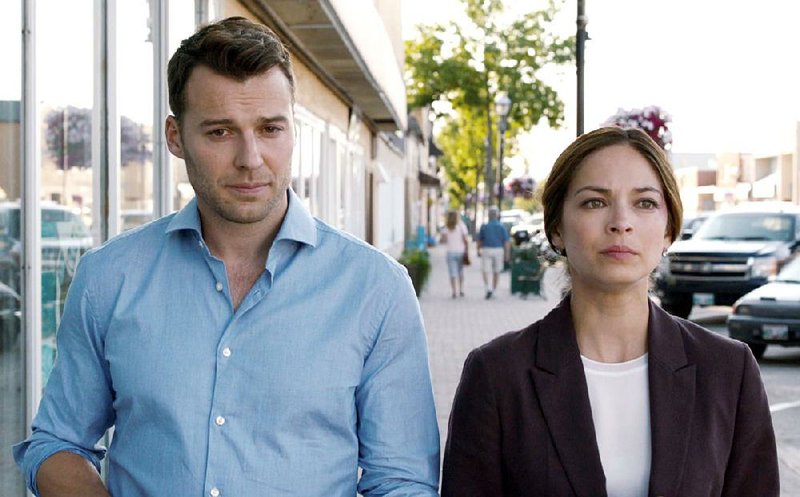 Burden of Truth premieres at 7 p.m. Wednesday on The CW and stars Peter Mooney and Kristin Kreuk as lawyers trying to solve a mysterious illness.
If you enjoy the inherently more polite drama from those impressively polite Canadians, here's a chance to catch a new series imported by The CW.
Burden of Truth debuts at 7 p.m. Wednesday and features Canadian actress Kristin Kreuk as Joanna Hanley, a high-powered partner in her father's big city corporate law firm returning to her small hometown of Millwood in Manitoba, Canada. She's there to quietly settle what she believes to be a simple case brought by some mysteriously ill high school girls against her large pharmaceutical company.
The CW describes Millwood as "a prairie town with an industrial past and an uncertain future." (The series was filmed in Winnipeg and Selkirk, Manitoba, for those who keep track.)
Joanna quickly wins her case, then discovers the girls are far more sick than anyone realized and they need her help. So she teams with her old high school classmate, local lawyer Billy Crawford (Canadian Peter Mooney, Rookie Blue), to track down the source of the illness and win justice for the girls.
Being back home causes Joanna to feel that something is just not right. Something in her life is amiss.
Joanna "becomes convinced all the answers she's seeking about her broken life can be found in her old hometown. And if she's going to fix herself, she has to start where it all began -- with uncovering all of her family's deepest secrets."
That's right! Deep, dark, Canadian family secrets about the reason her family was forced to suddenly leave town all those years before when Joanna was a teenager.
If you want drama with a deeper goal, The CW says Burden of Truth is more than a simple legal mystery. It "explores human relationships, highlighting the impact on the investigators fighting a case that might come to nothing, and the danger of a growing illness that they may never be able to identify or cure."
I've had a number of readers tell me they really enjoy previous Canadian TV series such as Heartland, Murdoch Mysteries, Orphan Black and Rookie Blue. Maybe Burden of Truth will become their new favorite.
Some will just like watching anything Kreuk is in.
I met the personable 35-year-old Kreuk on the TV critics summer press tour in 2001 when she was a fresh-faced 19 and on the verge of her big American TV break as Lana Lang on Smallville.
Kreuk went on to star on Smallville's 10 seasons on WB and The CW (2001-2011) opposite actor/model Tom Welling as Clark Kent. She then played Catherine Chandler on The CW's Beauty & the Beast (2012-2016).
Season 1 of Burden of Truth will have 10 episodes and the series has already been renewed for an eight-episode second season. If Season 1 does well, The CW will probably import Season 2 as well.
• Duck Duck Goose is now streaming on Netflix. Normally, we welcome the arrival of any new animated film, especially when the Netflix PR team describes the 90-minute offering from the team who brought us Shrek and Home as "funny and heart warming."
However, this is being written before the film was in the queue, so I've only seen the trailer. Some critics who have seen it have not been kind.
Bandied about are such terms as "tedious," "soul-suckingly bland," and "characterless and generic with a reliance on flatulance jokes and a hackneyed plot."
One reviewer laments, "Your kids, to say nothing of yourself, deserve so much better than this."
Ouch.
The film tells the tale of Peng (voice of Jim Gaffigan), a carefree, fun-loving bachelor goose preparing for the annual migration, but an accident causes two duckling siblings to be separated from their flock and attach themselves to Peng.
The trio must stick together on the journey to ensure their survival. Peng's paternal instincts slowly emerge.
Other than Gaffigan, voice talent was contributed by Stephen Fry, Jennifer Grey, Molly Shannon, Lance Lim, Zendaya and Carl Reiner.
• Miz & Mrs debuts at 9 p.m. today on USA. Duck Duck Goose may be fatuous, but it sounds better than this new reality series.
Miz & Mrs follows the lives of WWE Superstars and married couple The Miz (Mike Mizanin) and Maryse (Maryse Ouellet) as they "balance becoming first-time parents with their fast-paced lives."
In addition to his "wrestling" career, The Miz has starred in a number of WWE Studios films and MTV shows. Maryse starred in Total Divas and alongside her husband in Santa's Little Helper.
The couple announced Maryse was pregnant in September and in tonight's first episode, "Mike debates going full-frontal at Maryse's nude pregnancy photoshoot."
Duck Duck Goose is looking better all the time.
The TV Column appears Sunday, Tuesday and Thursday. Email:
mstorey@arkansasonline.com
Style on 07/24/2018
Print Headline: Truth brings popular Canadian back to The CW
Sponsor Content