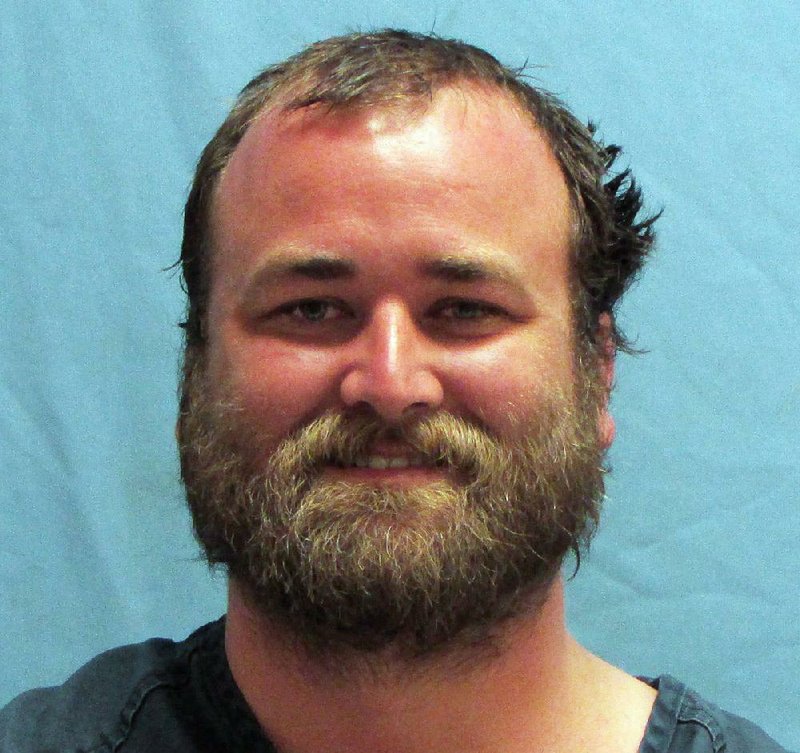 This photo provided by the Pulaski County Sheriff's Office in Little Rock, Ark., shows Michael Tate Reed, of Van Buren, Ark., who was booked into the jail Wednesday morning, June 28, 2017, on preliminary charges of defacing objects of public interest, criminal trespass and first-degree criminal mischief.
The 33-year-old Van Buren man who broadcast himself over the Internet demolishing Arkansas' first Ten Commandments monument at the Capitol was acquitted Thursday on mental-health grounds.
Michael Tate Reed II had been charged with felony criminal mischief, which carries a maximum 10-year prison sentence.
Pulaski County Circuit Judge Chris Piazza's finding that Reed is innocent by reason of mental disease does not mean that he will be released immediately. He will remain in state custody for at least the next five years.
Reed has suffered from religious delusions for about half his life, according to the psychiatric report presented in court.
According to that mental evaluation by state doctors, Reed has regularly acted out at the direction of various voices that he has believed to be divine, among them God, angels, saints and spirits, although some of the voices came from demons and false prophets.
"Mr. Reed has demonstrated a persistent belief that he serves a significant purpose, assigned to him by God, as an individual who is to bring about change and protect against the apocalypse and/or 'the genocide the country is trying to commit on us,'" the report states. "He has alternatively identified himself as the Prophet Elijah, the Greek Prince Daniel who will 'ride a white horse in the apocalypse,' and the Antichrist."
His religious beliefs also have included conspiracy material, some involving the illuminati, the Freemasons, the kingdom of Zion and government cover-ups, the report states.
Aside from destroying Ten Commandments markers in Oklahoma and Arkansas, Reed has spent weeks trying to walk to California, tried to cut off power to the city of Tulsa to protect Oklahoma from tornadoes, and acted out what he described as a Hopi Indian prophecy in a Tulsa shopping mall, among other things, the report states.
The report's final determination: Reed has schizoaffective disorder, a condition that combines bipolar-like mood swings with schizophrenic-type hallucinations.
The conclusion by state doctors that Reed was insane when he rammed the Arkansas monument was not surprising. It confirmed initial findings, reached in November, that Reed is mentally ill.
He also spent months in an Oklahoma hospital getting psychiatric treatment after he destroyed the Ten Commandments memorial at the Oklahoma Capitol in October 2014.
In both cases, Reed rammed his vehicle into the monuments, which were duplicates of a 6-foot, 6,000-pound marker at the Texas Capitol that commemorates the biblical laws of Judaism and Christianity.
When he drove his car into the Arkansas marker in June 2017, he streamed video of the crash over Facebook.
The Arkansas monument had been on the grounds less than 24 hours after being unveiled during a ceremony. It was replaced five weeks ago with a new marker. The replacement is identical to the original except for being shielded by four 3-foot-tall concrete posts to try to keep anyone else from using a car to topple it.
The monument's next challenge will be in federal court where two groups have sued to have it removed, claiming that the totem is an illegal endorsement of religion by the government.
Reed has spent the past six months in the State Hospital for treatment of his condition and monitoring by doctors to determine whether he was truly mentally ill and the extent of any such condition.
Deputy prosecutor Ashley Clancy told Piazza that Reed's examiners concluded that his mental illness prevented him from being able to tell the difference between right and wrong and kept him from being able to control himself when he knocked down the monument 11 months ago.
Sometime in the next month, state doctors will again examine Reed. They will determine a treatment program for him that will include a recommendation as to whether he should remain in a psychiatric facility or be allowed to return to the community.
Gallery: Ten Commandments monument at Arkansas Capitol
The decision will be up to another circuit judge -- one has yet to be assigned -- who will oversee Reed's progress. If Reed is released from the State Hospital, he'll be monitored with regular reports submitted to the judge. If he can go five years without any serious problems, he will be freed of all court oversight and no longer subject to court monitoring.
Reed appeared somber as he sat in handcuffs next to other defendants waiting to be called before the judge Thursday. He didn't speak during his brief hearing.
The ruddy-cheeked man wore a colorful patchwork coat over faded bluejeans and a purple shirt embellished with a quote from Ephesians from the New Testament of the Bible in green letters, "Put on the whole armor of God, that you may be able to stand against the wiles of the devil."
His lawyers, Robert Hodge and Laura Calhoun, said Reed's condition has improved dramatically since he has been in the hospital. Reed has made a "complete turnaround" and understands his situation, Hodge said after the hearing.
"It's night and day from where he was," the attorney told reporters.
Reed hopes to be released so he can return to his family in Van Buren County where his mother is ill, Hodge said. In a letter to the court, his mother and sister said he'd been diagnosed years ago with schizoaffective disorder. They pleaded for Reed to be hospitalized rather than incarcerated, stating he only had problems when his medication lapsed.
According to the 15-page mental evaluation presented to the judge, Reed reported he first began communicating with God when he was 16 years old, but doctors couldn't tell if those were hallucinations or just an expression of his Christian faith.
But what he was hearing around the time he turned 20 appeared to have been audio hallucinations, according to the report by Michael Simon, the supervising forensic psychologist for forensic services at the State Hospital,
Those communications led to Reed leaving home with only the clothes he was wearing and trying to walk to California. He carried a sign that said in part, "The kingdom of God is at hand. Repent and believe in the Gospel." He told doctors he stopped at various churches to testify about being saved by God but barely ate or slept during the weeks he spent walking. His trip ended in Oklahoma after God said his duty had been fulfilled.
About a year before he demolished the Oklahoma Ten Commandments, he was hospitalized in Tulsa after being found at the top of one of the CityPlex Towers with butane candles and a torch lighter. He told authorities he was trying to cut off electricity to the city at God's direction to prevent tornadoes from reaching the state.
After he rammed the Oklahoma monument in 2014, he told authorities he did so at the command of someone he believed to be God who told him to destroy it.
Three months earlier, he had gone to a faith healer at his church to drive out the voices he was hearing, describing what he was hearing as the work of a demon that the healer was able to drive out of his body. He said he was directed to destroy the marker when the voices returned. Reed said he also had made a covenant with the devil after watching a movie about Dracula, which led him to believe that he was God.
He told doctors that he was taken to the emergency room three times in the two days leading up to the destruction of the Arkansas marker. One of those trips was precipitated by him trying to fulfill an American Indian "prophecy" at a Tulsa shopping mall.
His third ER trip, shortly before demolishing the Little Rock monument, occurred during an incident at Bluff Hole Park outside Mulberry, Reed said. He said he climbed a cliff there to wait for angels to appear and tell him his divine purpose. Onlookers thought he was suicidal and called authorities.
Hours before the destruction of the Arkansas marker, a message, "Our Constitutional rights have been violated, and since no one will do anything about it I will," was posted on Reed's Facebook page.
His Facebook profile photograph at the time was a picture of Reed holding a small Ten Commandments plaque that he said was in his grandfather's home.
The moments leading up to the crash were captured in a 17-second video on Reed's Facebook page. The recording opens in the dark interior of the car, illuminated only by the orange dashboard display, with the song "Throne Room" by Christian singer Kim Walker-Smith playing.
For several seconds, the camera moves from the dashboard to the front window as the car's headlights turn on, directly across from the monument. The lights don't quite reach it. As the camera wobbles, a voice hoarsely speaks, "Oh, my goodness."
Then, as the car starts moving forward, the voice calls out "Freedom" over the music. Just as the marker starts coming into view, the camera dives sharply to the right and there's a brief sound of the crash just as the recording ends.
Reed was arrested almost immediately by Capitol Police patrol officer Chad Durham, who saw him ram the monument but was too far away to intervene. He found Reed next to his destroyed car.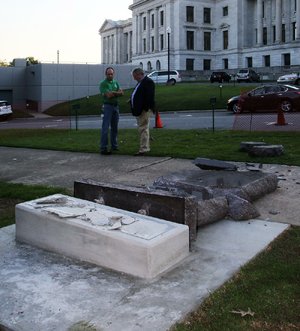 Photo by Democrat-Gazette file photo
Staffers with the secretary of state's office stand near the original 10 Commandments monument June 28, 2017, at the state Capitol, after a car destroyed the monolith.
A Section on 06/01/2018
Print Headline: Ten Commandments' destroyer is acquitted; Van Buren man declared mentally ill
Sponsor Content